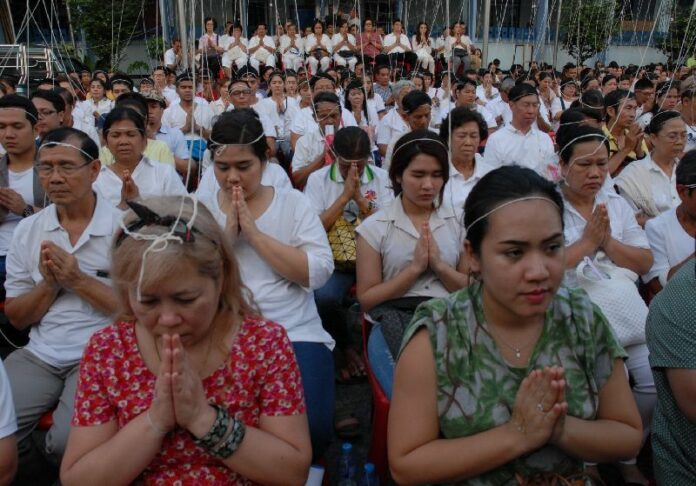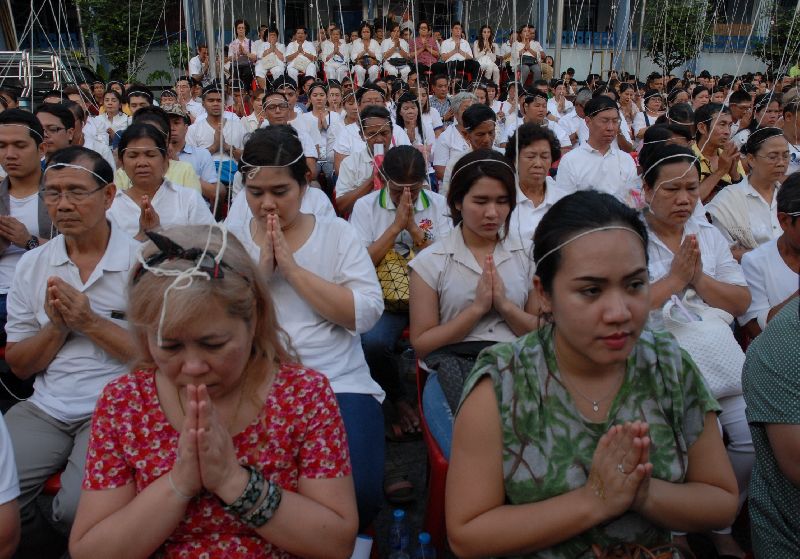 BANGKOK — Prayers were offered and merit made across the country Sunday in a frantic effort by some to ward off any evil influence a planet 2.5 billion kilometers away may have on the nation.
As Uranus completes its 84-year journey around the sun, the ice giant arrived Sunday to a portion of the sky designated by Thai astrologers as the Aries zodiac – upon which Thailand's collective fortune, or duang muang, is widely believed to rest upon.
An astrological phenomenon commanding far greater interest than the pending astronomical novelty of Wednesday's solar eclipse, Uranus is causing widespread anxiety. That's because the last time Uranus entered Aries 84 years ago marked the revolution that overthrew the absolute monarchy.
According to Thai astrological schools, Uranus is a harbinger of doom; the name of the planet itself is dao maruet ta yoo, or "Star of Death."
"The shifting of the Star of Death doesn't happen often," Phra Phrom Mangalajarn, deputy abbot of Bangkok's famed Wat Traimit told reporters last week. "The upcoming shift on March 6 will be the first in 84 years from the last time the Star of Death shifted itself in 1932, which was the year of the regime change."
To appease the planet's alleged demonic influence as it intruded into Aries, Wat Traimit and other major temples across the Kingdom held mass prayer sessions on Sunday.
Worshipers linked through 'sai sin' to the chedi of Wat Traimit pray Sunday in Bangkok
The most high-profile ceremony took place at Wat Traimit. It was attended by VIPs such as commander of Thai police Chakthip Chaijinda, Minister of Tourism Kobkarn Wattanavrangkul and executives of CP Group, one of the world's largest conglomerates. The event was live-streamed via Facebook by Matichon newspaper.
Feeding the hype in the run-up to March 6, Thai-language media ran apocalyptic analyses by numerous astrologers who said the kingdom is heading toward inevitable doom and chaos because of Uranus.
Even more bad news: It will take Uranus seven years to traverse Aries, which means Thailand's bad luck streak will run until 2023.
"There will be conflict and political upheaval," Boonlert Pairin, a former Democrat MP and senator turned astrologer told Khaosod newspaper on Sunday. "It includes reforms in education, religion, culture and laws. And the country's leader will be changed."
Famous astrologer Tossaporn "Ajarn Chang" Sritula also wrote online that though Uranus may not always cause bad luck, every Thai should still make merit, pray and donate to charity to reinforce the duang muang.
"Apart from asking for blessing yourselves, don't forget to pray for blessing to strengthen Thailand's duang muang and ask for positive change in the next seven years," Tossaporn wrote on his Facebook Feb. 29.
Thailand is deeply superstitious. Belief in astrology, feng shui and supernatural powers is common among rich and poor alike. Ordinary Thais consult temple monks and street fortune tellers, while many government officials and business executives have their personal feng shui masters and astrologers.
There is some earthly basis for a national mood of anxiety. The country is still ruled by a junta which has made it clear that democratic rule will not be restored for several years, the economy appears to be ailing, and two prominent Buddhist factions have clashed over question of who will be elevated lead Thailand's Buddhists as Supreme Patriarch.
Many people share anxieties over the possibility of royal succession as widely revered King Bhumibol, who has reigned since 1946, is recovering from several illnesses in hospital.
Related Stories:
Thai Govt Combats Drought With Rain-Summoning Ceremony
Astrologer Warns of 'Political Chaos' As Comet Zips By Mars
Thai Govt Chides Astrologers for Earthquake Predictions
Teeranai Charuvastra can be reached at [email protected] and @Teeranai_C.