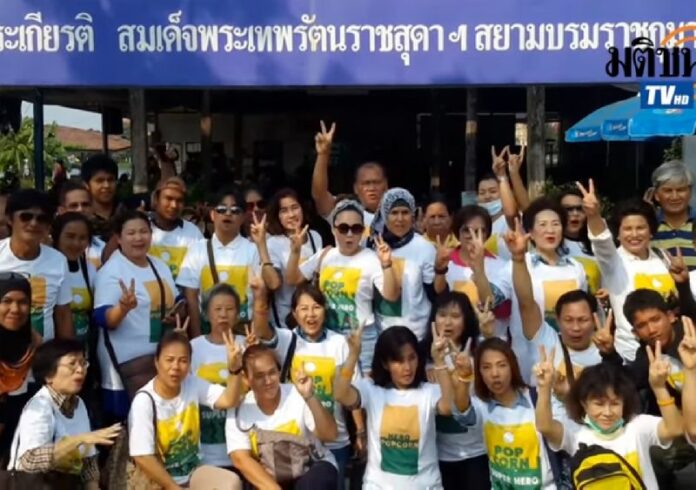 BANGKOK — A man convicted of opening fire on pro-election activists in 2014 got a prison visit and show of support from over 100 fans today.
Members of the People's Committee for Absolute Democracy With the King as Head of State, or PCAD, the ultra-conservative group that led protests opposing the February 2014 election, rallied Tuesday in front of Bangkwang Prison where Vivat Yodprasit recently began serving his 37-year jail term.
The demonstrators said they wished to express solidarity with Vivat, who, according to prosecutors, wrapped an assault rifle in a popcorn bag and shot at rival protesters on Feb. 1, 2014, in the northern Bangkok district of Lak Si. The shooting left a 72-year-old man paralyzed, before he died seven months later.
---
'Popcorn Gunman' Claims He Was Tortured
---
After the incident, 24-year-old Vivat became known as the Popcorn Gunman and received widespread acclaim from PCAD members. Many of the demonstrators at the prison today donned T-shirts emblazoned with the words "Popcorn Superhero" as a show of support.
Despite the ban on protests and public gatherings imposed by the current military government which seized power in May 2014, security officers did not interfere with Tuesday's prison rally.
Vivat's wife, along with four of his supporters, were allowed in to see him. After visiting her husband, Manasnant Amorasith told reporters he is in good health and spirits.
According to a report on Matichon Online, Manasnant said Vivat still loves and respects PCAD leader and monk Buddha Issara as "his own father" and is relying on the monk to provide him with legal assistance.
Vivat is also gathering money to post bail and fight his case in the appeals court, Manasnant said. His bail has been set at 4 million baht.
The "popcorn gunman" in Lak Si district on 1 Feb 2014.
The gunbattle took place after PCAD activists, led by Buddha Issara, marched to besiege Lak Si District Office to prevent officials from distributing ballots in the area. The siege was a part of the PCAD's campaign to block the Feb. 2, 2014 election called by former Prime Minister Yingluck Shinawatra two months after she dissolved the Parliament.
PCAD boycotted the poll and demanded Yingluck be replaced with a royally appointed government, which would then enact a series of unspecified national reforms.
In an attempt to lift the siege and rescue the ballot, pro-Yingluck protesters, some of whom were armed, moved on the PCAD position, and shooting broke out. PCAD's guard unit appeared to be better equipped, and the pro-government protesters eventually retreated.
Vivat was arrested a month after the shootings and has been held in prison since.
In the verdict delivered Thursday, the court said one person died and three others were severely injured by Vivat's actions. The court subsequently sentenced him to 37 years and four months in jail.
Related Stories:
Victim of Pre-Election Gunbattle Dies
'Popcorn Gunman' Linked To PCAD Guards Unit
Laksi Clash: 39 Shots Fired From Anti-Govt Position
Laksi Clash Victim's Family Upset By NHRC's 'Negligence'
Teeranai Charuvastra can be reached at [email protected] and @Teeranai_C.