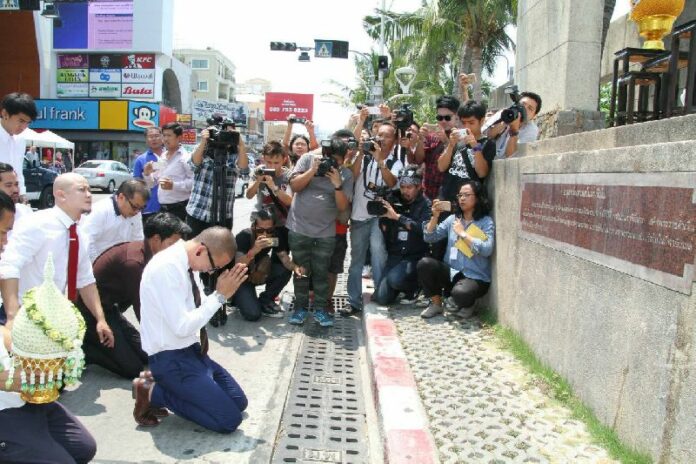 PATTAYA — A singer-cum-comedian was fined and forced to apologize to the public today for allegedly desecrating a monument to His Majesty the King's sailboat in a since-deleted music video filmed in Pattaya.
For showing fully clothed male dancers mimicking flashers atop a royal monument, Padung Songsaeng was charged with causing a public nuisance, which carries a maximum penalty of 10,000 baht. It was not clear how much he was fined.
"Officials from Pattaya Municipal Office came to the station and filed the charge this morning," said Col. Sukthat Pumpanmuang, commander of Pattaya City Police Station.
Several officials have expressed outrage over the video and accused the 31-year-old singer of damaging the good reputation of Pattaya, a resort town renowned for its freewheeling sex trade.
Before arriving at the police station to be charged and fined, Padung was escorted by officials back to the monument on Pattaya Beach, which is dedicated to King Bhumibol's favorite sailboat.

Video of Padung and his dance crew atop the monument. Photo: K Hyok Hyok / YouTube

Padung knelt and bowed in apology before the boat monument and the public for offending them.
A comedian by trade, Padung has appeared in many TV shows as a host and guest. He has also produced several humorous dance music videos with his band, the Jazz Spooknick Papiyoung Kookkook.
Padung's previous hit, "Van For Lor Fiew" (The Amazingly Handsome Street-Racing Gangster), was released March 2015 and became a hit during the Songkran Festival.
Padung and his crew filmed the MV for his new single "Yap Mae" on Jan. 29. Other locations included the Walking Street and Pattaya's beachfront road.
The video's main selling point is its racy word play; "Yap Mae" sounds very close to "Yed Mae," a Thai expletive that describes a graphic act with one's own mother. The music video mostly consists of male dancers raising their skirts for the camera, revealing red pants underneath while chanting "Yap Mae."
However after the video was posted to YouTube on March 2, it attracted so many negative comments that Padung removed it three days later, though an audio version and behind-the-scene videos are still available on YouTube.
Many comments on YouTube criticized Padung for his suggestive lyrics and provocative dance moves, according to media reports.
But the most visibly incensed were officials in Pattaya. Deputy mayor Ranakit Ekasingha told Thairath Online on Monday that Padung only asked for permission to film the video on Walking Street and identified the song name as "Mae Yap," not "Yap Mae."
"This has damaged the image of Pattaya," he said.
Wilailak Chuchart, a spokeswoman for the Ministry of Culture, also warned the now-deleted video may mislead Thai youths into doing inappropriate things, like unwittingly dancing to the words "Yap Mae."
Related Stories:
Thai Airline Apologizes for Insulting Phuket Heroines
Film Makers Sorry For Lingerie-Clad Lantern Scene
Teeranai Charuvastra can be reached at [email protected] and @Teeranai_C.