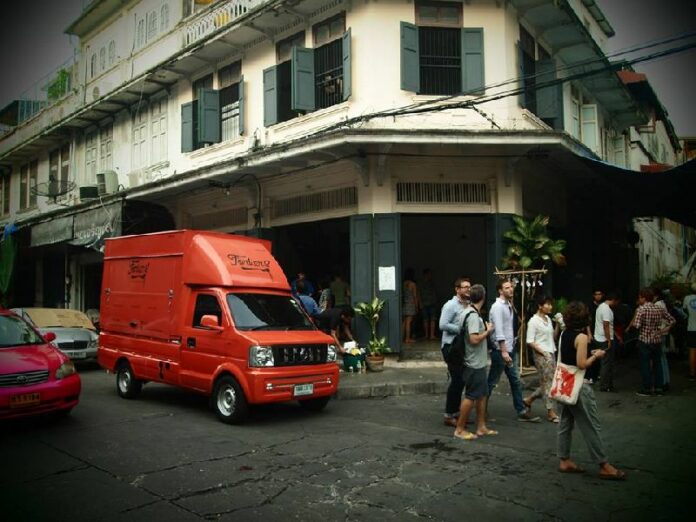 BANGKOK — Street food, art projects, crafts and more will transform a vintage street scene into a day-long festival Sunday near Chinatown.
More than 15 shops and galleries including Cho Why, Tep Bar, Patani Studio, Nahim Cafe and more will welcome visitors at Soi Nana Craft+Jumble Trail No. 3 with vendors, exhibitions, second-hand products and more this Sunday.
The event also welcomes a new eatery, Baan Yok, to its family of bars, restaurants and art spaces. Baan Yok will sling Vermouth alongside homemade Spanish tapas and seafood paella made by Broken Eggs.
Residents will get into the act by opening their private homes to the public and offering different activities, according to Cho Why's David Fernandez.
Fernandez said Cho Why has invited some friends to serve their exclusive dishes including Let The Boy Die's signature beer Golden Coins, coffee from Finca de Barn and food from Mad Moa and more.
This event is the best chance to let outsiders learn more about Soi Nana and its community, the owner of Nahim Cafe said.
"Sometimes people came to my cafe, and they didn't notice the gallery located opposite because it was closed," Chalocha "Pim" Ninthammachart said. "We will all open our spaces and welcome all visitors on that day."

Photo: Cho Why / Facebook
Sunday marks the third edition of the Soi Nana craft event since last May. It will take place from noon to 11pm.
Those interested in attending should note: Although they were both owned by the same families, don't confuse this Soi Nana near the Bangkok Railway Station with the seedier Soi Nana on Sukhumvit Road.
To get to the Soi Nana Craft + Jumble Trail No. 3, head to MRT Hua Lamphong and take a motorbike taxi or walk about 10 minutes to Soi Nana.

Photo: Cho Why / Facebook
Photo: Cho Why / Facebook
Chayanit Itthipongmaetee can be reached at[email protected] and @chayaniti92.
Follow Khaosod English on Facebook and Twitter for news, politics and more from Thailand. To reach Khaosod English about this article or another matter, please contact us by e-mail at [email protected].