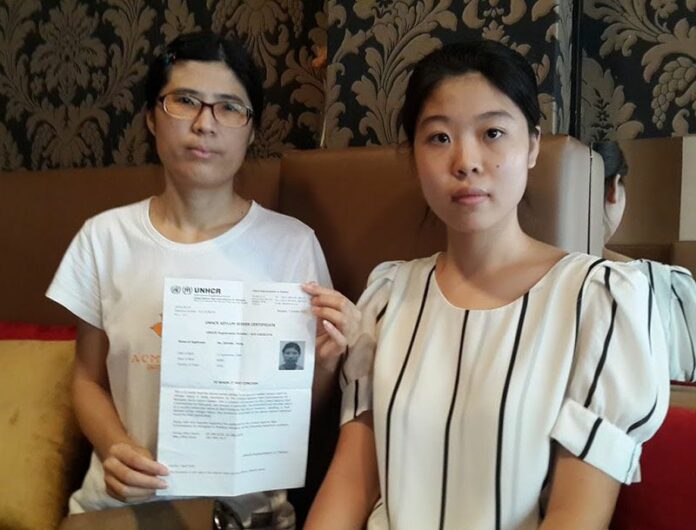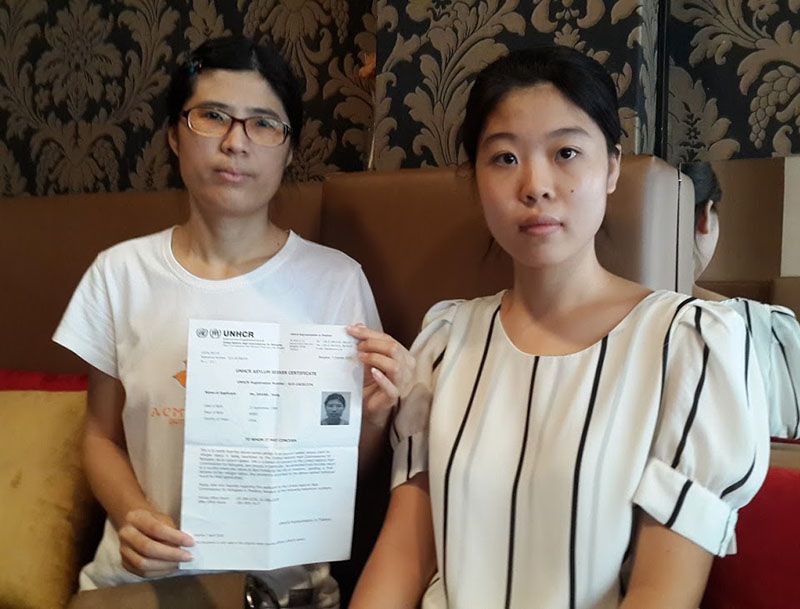 BANGKOK — Walking out of her school, home and life over a year ago to flee China with her family was one thing. Amity Dong couldn't tell her friends; she had to just disappear. But it was another thing when, just last week, the 17-year-old asylum seeker's father went off in search of a place for them.
Dong Junming, like the thousands of others in Bangkok awaiting resettlement, had a choice: wait in indefinite limbo for word that some nation would take them or strike out to find one.
After years of waiting for the former, Dong and eight other Chinese asylum seekers took a gamble by boarding a small boat they'd bought in Pattaya and setting a course to New Zealand.
None was an experienced sailor. The boat wasn't in great shape. One day into the voyage, it broke down in rough seas and ran aground in the surf off the shore in Chumphon province.
Read: Chinese Asylum Seekers Detained After Boat Founders in Storm
The stakes were high: Three are in custody and face being thrown into immigration detention centers, despite holding U.N.-issued certificates indicating their legal status as asylum seekers. The only woman in the group had her infant taken from her arms and carried away, not to be seen again. Those that remained free because they had valid visas quickly reported being hounded by unidentified men they suspect are Chinese agents.
"I can't sleep since he was arrested," Amity said Friday of her father. "My mother can't sleep. We can just wait."
Interviews with family members of those who washed up on the shore last Wednesday night describe a numbing wait for an asylum process that has grown hopeless.
Although they hold documents from the U.N. refugee agency certifying their status as asylum seekers, they are only paper shields. Thailand does not recognize their status, and they risk detention and deportation every day.
"When we came here, the UNHCR gave us a book. [It said] in three months you will be interviewed, in three months you will be recognized and in three months you will be resettled," said Lisa Zhang, whose 43-year-old husband Song Zhiyu also boarded the boat in hope of reaching New Zealand and then bringing her to join him.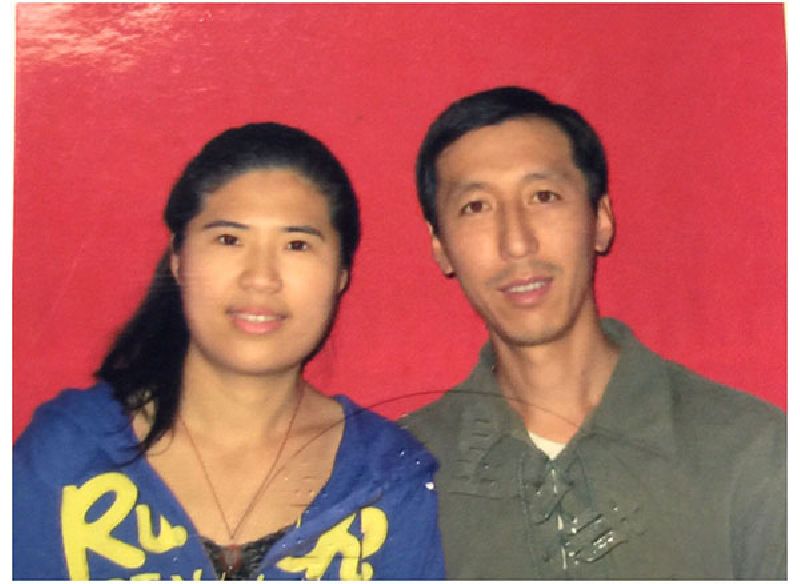 Instead of nine months, Lisa and others interviewed described a process they said has grown unbearably long, during which they can't do anything but live like church mouses and avoid contact with the authorities, who can place them in indefinite detention and possibly deport them back to China.
"Even [waiting] two or three years would be okay," Lisa said. "But now, when you are in Thailand they will tell you about two years later that you will be interviewed. But even then, postponed. Postponed a year; postponed again and again."
Repeated calls over several days to UNHCR's offices in Bangkok went unanswered.
The long wait for resettlement into a "third country" has long been a source of complaints, according to a regional human rights campaigner. But the refugee crises unfolding around the globe are making it worse.
"I think at this point, UNHCR is a little overwhelmed," said Phil Robertson, who heads New York-based Human Rights Watch in Asia. "It's quite clear that the crises in the Middle East in places like Syria and Iraq are pulling away significant resources from UNHCR's other regions. There is an impact."
A Rescue Turned Capture
Heading the failed voyage which set sail from Pattaya on March 1 was Li Xiaolong, a Chinese dissident who bought the boat to transport himself, his two brothers, wife Gu Qiao, their infant son and young son.
After the boat's engine failed again late Tuesday night during a storm, its hull was punctured by a rock, according to Lisa's account. They all swam to shore. Gu, Li and Lisa's husband Song were soon placed in detention. Their visas were expired and local officials were unswayed by their UNHCR paperwork.
A local official was said to have pulled the 1-year-old from her mother's arms and departed. In exchange for their infant son, they were handed a handwritten note they couldn't read.
A reporter called a number listed on the note and found the baby is being held at the state-run Chumphon Children and Family Shelter Home. A representative answering the phone said he will remain there until immediate family comes from China to take her back there, or her parents are released.
Li's brothers and another man, Wei Zhang, managed to keep the 7-year-old son of Li and Gu with them. They were eventually freed, along with Amity's father Dong, as they carried valid visas.
The five who remained free soon reported being hounded by Chinese men who took their photos. They believed them to be Chinese agents. On Tuesday morning, Lisa said Chinese men showed up at the immigration detention center where her husband is being held and were allowed to question him.
She did not know what they asked.
An Unwelcome Faith
Both Dong and Lisa's husband Song practice Falun Gong, a spiritual following which has long complained of persecution by Chinese authorities. In return, Beijing accuses them of belonging to a dangerous cult.
Reports of persecution began a few years after Falun Gong was founded, after the group surprised authorities in 1999 with a massive protest outside Communist Party headquarters in Beijing. From that point onward, China has treated the movement, a kind of New Age mystical Buddhism that emphasizes an exercise routine called Qi Gong, as a threat and attempted to eradicate it.
Lisa and another Falun Gong asylum seeker interviewed on Friday described life in China as one of discrimination, harassment and abuse owing to their faith. Lisa said she and her husband were sent to labor reeducation camps on multiple occasions.
A man in his 40s, who asked that he not be named for fear of reprisal against his family in China, grew visibly upset during an interview as he described escaping abduction from his home and leaving behind his job as a clerk to live semi-homeless.
Describing how he was arrested many times, the man jabbed his thumbs toward his head, where he said authorities subjected him to repeated torture by electrical shock.
"From the beginning until now in China, it's the same for us," he said. "There's no 'more relaxed' or 'more dangerous' time. Maybe you think the surroundings are okay, but maybe some day you will be arrested. Every day we see our friends in China arrested because they practice [Falun Gong.]"
They estimate between 100 and 200 Falun Gong asylum seekers are in Bangkok.
Although their specific claims cannot be independently verified, they are consistent with reports of widespread imprisonment, abuse and even torture from human rights groups and the U.S. State Department.
Lisa said she and her husband Song longed to escape the fear they lived under in China. Song was blacklisted from travel as Falun Gong, she said, and thus unable to move freely. So he snuck out of China and made his way overland to Thailand in April 2014. Her passport was fine, so she soon followed.
Waiting Game
Seeking asylum puts one in a purgatory state. In Thailand, you can't work, you can't travel freely.
Your best hope is to wait in semi-stateless limbo until the phone rings with news a "third country" will accept you to be "resettled."
Another outcome is being caught and placed into one of the country's Immigration Detention Centers, overcrowded facilities where families languish in captivity for months or years until they are forcibly deported back to the homes they fled or allowed to resettle in another country.
"Thailand is trying to discourage people from coming, and in a sense that means not letting them do anything, not letting them seek jobs, discouraging their children from going to school," Robertson of Human Rights Watch said. "What they should be doing is letting these people work legally until they're resettled."
More than 110,000 refugees and 8,166 asylum seekers live in Thailand, according to a 2015 UNHCR assessment. Historically, the UNHCR's efforts have been focused on the border with Myanmar, as the overwhelming majority of those refugees are from Burma.
But the flow of refugees and asylum seekers into Thailand is increasing, according to the agency, now from more than 40 nations.
For those like Lisa's husband Song, and all the others who end up in immigration detention, there are only two possible routes to freedom. One is ideal – being invited by another nation to resettle, at which point Thai authorities will release them on their way. The other is unthinkable for them: being forcibly returned to China or whatever home nation they originally fled.
For now Lisa, 35, has to continue alone in Bangkok. She's comforted by the thought that Song is still alive.
"When my husband decided to take the boat, I couldn't sleep," she said. "Even though he is detained, he is alive. And that is enough for me."
Amity has her father back, but she said that with the boat escape's failure, it's back to the waiting game. She isn't sure what to expect or hope for.
"I don't know. I want to go to a third country," she said. "Any country is okay."
More hardened was the older man, who had recounted being tortured in China.
"Here, we can't work, we can't study, we can't have a normal life," he said. "I don't know why it is like this. Nobody can help us."
Correction: An earlier version of this story identified the child of Li Xiaolong and Gu Qiao as their daughter; in fact he is their son. Also, those taken in custody after their boat ran aground are currently in police detention where they likely face detention in an immigration center.