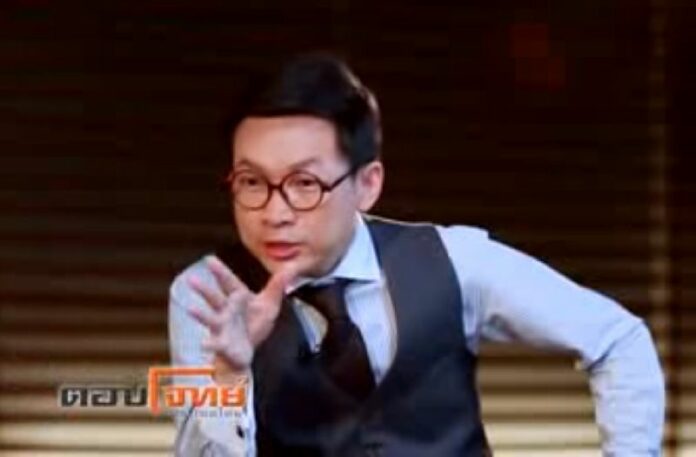 By Teeranai Charuvastra
Staff Reporter
BANGKOK — A former talk show host being investigated for royal defamation has not been seen or heard from in some time, leading to speculation that he has fled the country.
Pinyo Traisuriyathamma, who faces a charge of lese majeste for hosting a debate about the role of the monarchy on his show in March 2013, has been unreachable by any obvious means three weeks after police announced they were moving forward with a case against him.
Numerous calls to Pinyo's mobile phone and office since Monday have gone unanswered, while Facebook messages sent to the publishing company he owns have been received but gone unreplied.
---
Update: Former TV Host Pinyo Says He Will Return to Face Charges
---
Three people close to Pinyo declined to comment on his whereabouts.

However a man who's worked closely with Pinyo's company Openbooks said he believed the former Thai PBS newsman already fled.
"I can't confirm anything, but I'd say he's already gone," said the source, who asked not to be identified due to the sensitivity of the topic.
In March 2013, Pinyo invited famous historians Sulak Sivaraksa and Somsak Jeamteerasakul to debate the role of the monarchy on his talk show Tob Jote (Answering Questions).
In response, several hardline royalists filed complaints within days of the broadcast. Last month, nearly three years after the broadcast, police announced they would reopen an investigation into all three men.
Sulak is a self-identified royalist who has long called for reforms in the monarchy, while Somsak is well-known for fierce criticism of the royal institution's role in politics. Both Sulak and Somsak spoke frankly about their views on the shows – a rare occurrence in Thailand where discussion about the monarchy is not only taboo, but often deemed illegal.
The interviews, aired during prime time on state-owned Thai PBS, were swiftly met with protests from hardline royalists, prompting Thai PBS to cancel Tob Jote.
On March 9, deputy police commander Sriwarah Rangsipramkul named host Pinyo as one of the suspects, which also include Sulak, Somsak and former Thai PBS executive Somchai Suwanban.
Authorities have aggressively pursued lese majeste offenses since the military junta seized power in May 2014.
Related stories:
Monarchy Critic Faces Charge for 2013 Interview
State TV Fined For Airing Monarchy Debate
Lese Majeste Filed Against Historian For Questioning Ancient 'Elephant Battle'
Record Sentences Today For Facebook Lese Majeste Offenses
Teeranai Charuvastra can be reached at [email protected] and @Teeranai_C.