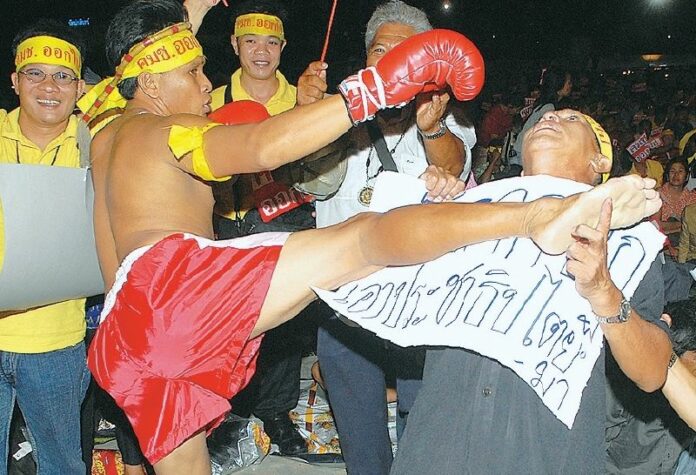 By Pravit Rojanaphruk
Senior Staff Writer
BANGKOK — Those planning to speak out publicly in the run-up to a vote on the junta-sponsored draft charter must formally register or risk arrest, Election Commissioner Somchai Srisuthiyakorn warns.
To avoid violating the junta's ban on political gatherings, anyone who wants to take a stand for or against the proposed constitution should visit the commission to register the details of where, when and how they plan to express themselves, the commissioner said Monday.
Asked whether the commission can guarantee no one who registers will be arrested if they gather in groups exceeding five people – an activity banned since the May 2014 coup – Somchai stopped short of saying so explicitly.
"We will take care of it," he replied.
The commissioner warned however that those holding signs criticizing the junta risk arrest under the ban, as the Election Commission will not request the National Council for Peace and Order, as the junta calls itself, to relax its ban on groups larger than four people gathering for a political purpose beyond the scope of the ballot.
"Say if they were walking and have a placard opposing the military dictatorship, then it has nothing to do with the referendum," Somchai said. Those interested in campaigning must register in groups of at least 15.
Those provisions fall short of what would qualify the poll as "free and fair," according to a veteran election observer.
"The least the Election Commission should do is to propose a temporary relaxation of the ban. They should make it a reality, as that is their job," said Pongsak Chanon of We Watch, a group of Thai election observers.
He said anything short of freedom to express opinions about the draft charter will undermine the legitimacy of the whole process.
Come voting day, Somchai confirmed there will only be two ballot boxes for voters to choose between: endorse or reject.
The penalty for disrupting the coming referendum, Somchai said, will be the same as that for general elections.
Anyone found guilty of disrupting the referendum during voting, which will take place from 8am to 4pm, could face up to 10 years in jail and a 200,000 baht fine, Somchai said.
In early 2014, the last time a vote was held, protesters in many locations effectively blocked voters from reaching polling sites, leading the Constitutional Court to throw out the results.
As an example of such disruption, Somchai cited an infamous incident from the failed February 2014 elections in which a supporter of the People's Committee for Absolute Democracy With the King As Head of State grabbed a would-be voter by the neck.
"Squeezing someone's neck is definitely disruptive," he said.
The man was never charged with a crime, and the only charges filed against a group of protesters were thrown out by a court.

Antigovernment protesters attack a voter on Jan. 26, 2014, near a polling station in Bangkok. Photo: Reuters