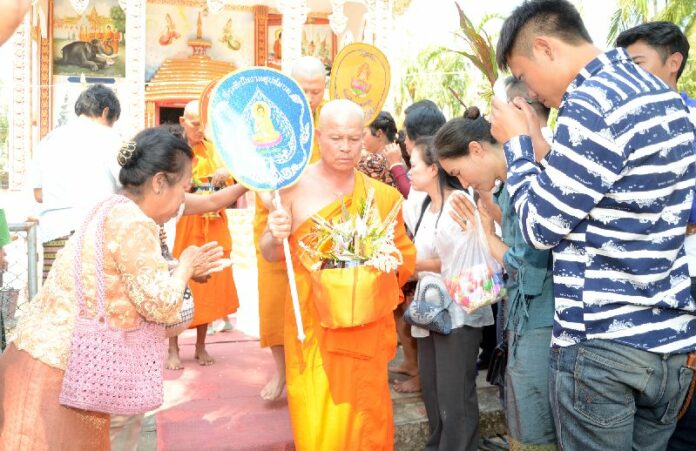 LAMPANG — The man who sparked an international row between Thailand and Saudi Arabia by stealing jewelry from a Saudi royal palace entered the monkhood today – for life, he said.
Kriangkrai Techamong, 65, told reporters at his home in Lampang on Wednesday that he chose to become a monk for the rest of his life to repent for the heist, which was committed while he served as a gardener at a royal palace two decades ago in Riyadh, Saudi Arabia.
---
Saudi Arabia Recalls Top Diplomat From Bangkok Over Court Ruling
---
His ordination ceremony was held Thursday morning at a local temple. Kriangkrai declined to answer questions from reporters there.
"I want to be ordained for life to erase the curse of the Saudi diamond," Kriangkrai was quoted by Thairath. "And to dedicate my merit to the people ensnared by my karma, and those who died in all these past events, I want everyone's forgiveness for what I've done."
The 1989 theft came to light shortly after it was discovered a trove of diamonds and other gems was missing from the palace. Then came a spiral of bloody events that saw three Saudi diplomats gunned down in Bangkok and prompted the Middle Eastern kingdom to sever its ties with Thailand. The diplomatic animosity continues to this day.
Former police lieutenant-general Chalor Kerdthes at Thursday's ordination of Kriangkrai Techamong
Abdulelah Alsheaiby, head of Saudi Arabia's diplomatic mission in Thailand, declined to comment today on Kriangkrai's ordination.
Some of the gems were eventually recovered and sent back to Saudi Arabia, though rumors have it that the so-called Blue Diamond, reputed to be one of the Sauds' most prized treasures, remains missing.
Kriangkrai believes the Blue Diamond was cursed and said the theft has brought series of calamities to his life and family. During the New Year holiday, Kriangkrai said he almost died in a car crash.
"I'm certain all these misfortunes are because of the curse of the diamond that I stole," he told Thairath.
Kriangkrai spent nearly five years in a Thai prison for his role in the theft. He said that despite being free for two decades, he is constantly haunted in his sleep by thoughts of what his theft brought upon Thailand.
---
Hajj Pilgrimage Continues Despite Thai-Saudi Tension
---
In 1989, three Saudi diplomats were assassinated in Bangkok, and three months later Saudi businessman Mohammad Al-Ruwaili was abducted and never heard from again. Furious at Thai authorities' reluctance to solve the cases, Saudi Arabia recalled its ambassador and downgraded its relations with Thailand. The post of ambassador has never been refilled.
In 1994, the wife and son of a Thai gem dealer were abducted and later murdered in a botched attempt by rogue police officers to determine the location of the stolen Saudi jewels. Lt. Gen. Chalor Kerdthes was later convicted of plotting the killing and sentenced to life in prison. He was granted a royal pardon and released in August.
Chalor was also present at Thursday's ceremony.
Related Stories:
Abrupt Judge Change Mars Al-Ruwaili Verdict
Al-Ruwaili's Fate 'More Important Than Diamonds'
Teeranai Charuvastra can be reached at [email protected] and @Teeranai_C.