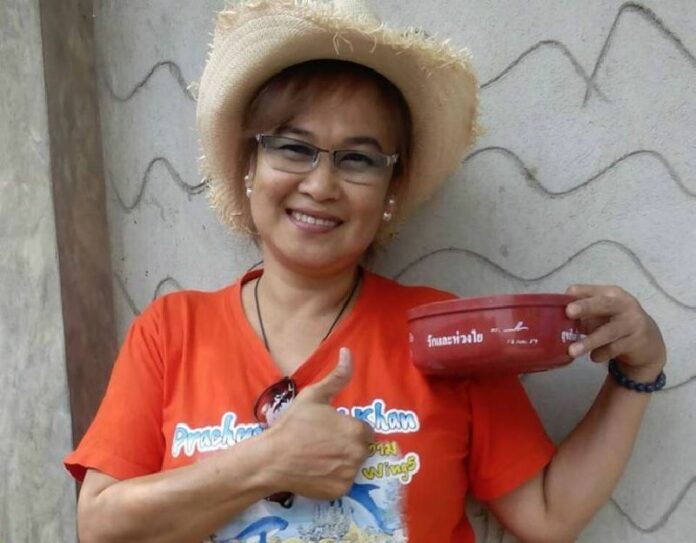 By Pravit Rojanaphruk
Senior Staff Writer
CHIANG MAI — Posing with water buckets printed with messages from ousted premiers could now be a crime in Thailand.
A 57-year-old housewife faces a military tribunal and seven years in prison for posting a photo with a red plastic water scoop emblazoned with a message from siblings and former prime ministers Thaksin and Yingluck Shinawatra, a human rights lawyer said Tuesday.
Police on Monday ordered Theerawan "Wan" Charoensuk, a resident of Mae Ping district in Chiang Mai province, to report to the military court this morning to hear a charge of inciting rebellion for the photo she posted to Facebook, according to human rights lawyer Anond Nampa.
Anond is a colleague of Theerawan's lawyer, who he said wants to remain anonymous.
Speaking on Tuesday afternoon at Government House, junta chairman Prayuth Chan-ocha defended the move, saying Theerawan's actions not only threatened national security but incited others to violate the law.
"You have to see: the photo is about a man who broke the law," Gen. Prayuth said, refering to Thaksin, who was convicted of corruption in absentia in 2008. "Isn't support for a person who broke the laws and ran away from the criminal case a wrong thing to do?"
Attorney Yaowalak Anuphan, head of Thai Lawyers for Human Rights, said Prayuth's comments held no logic.
"It's not a crime. This is a dictatorial mindset to support the thinking of a dictator," she said in response to his comments. "Otherwise Prayuth's photo with Thaksin could be taken as evidence of committing a crime."
Theerawan was released from detention at about 2pm on Tuesday afternoon after posting a 100,000 bond.
In undated images posted to the Pantip webforum on Saturday, Theerawan smiles as she holds the bucket and makes a thumbs-up gesture. In another she also holds a calendar printed with images of Thaksin and Yingluck.
The bucket is the type of scoop used to splash water during the Songkran festival, which takes place next month.
"The situation may be hot, but brothers and sisters may gain coolness from the water inside this bucket," read the message printed on the scoop.
The Shinawatras hail from Chiang Mai, where they retain a high level of popularity and support. Since seizing power in May 2014, the junta has attempted to stamp out Thaksin's influence, years after he was deposed in a 2006 coup.
While Theerawan's case moves forward, she is barred from participating in any political activities. If found guilty, she faces up to seven years in prison.
"This is a measure employed to discourage local people [from opposing the junta]," Anond said.
Human Rights Watch senior researcher on Thailand, Sunai Phasuk, said the charge is ridiculous.
"This new level of absurdity shows intolerance even to the slightest form of political dissent. The junta has passed a threshold in which no one knows where this is going to lead."
Additional reporting Teeranai Charuvastra
Update: This story has been updated with comments from Gen. Prayuth
Related stories:
Shinawatras Defy Junta With Publicity Drive
A Country Divided by a Calendar
Junta Warns Redshirts Not to Don Red Shirts