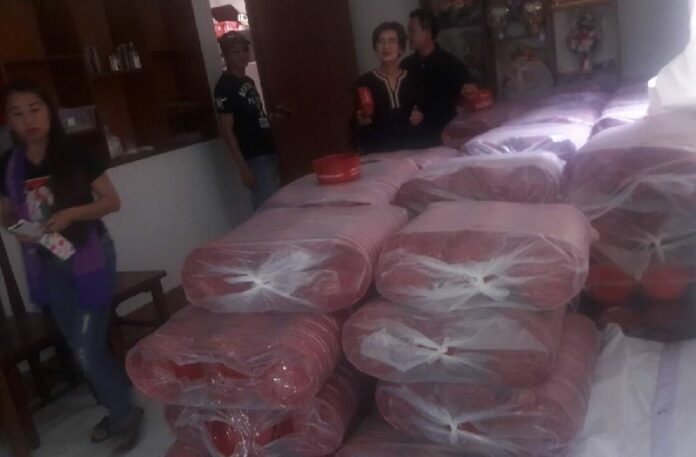 BANGKOK — The ruling junta today justified its ongoing crackdown on Thai New Year gifts from former Prime Minister Thaksin Shinawatra to his supporters by claiming the presents risk creating conflict in society.
A day after soldiers raided the home of a former politician and confiscated more than 8,000 red bowls, junta spokesman Sansern Kaewkamnerd said Monday that Thaksin was trying to "exploit" the festive season for his own political agenda.
---
10,000 'Red Bowls' Confiscated, Deemed Threat to National Security
---
"This is exploitation of the upcoming Songkran festival to mask his agenda," Maj. Gen. Sansern said at a news conference. "Which is unacceptable behavior, because it is intended to incite and instigate division among the people, to separate them into different colors and sides."
Thaksin planned to distribute the bowls to his supporters in the north, where he enjoys significant support, for the upcoming Songkran festival.
Although Thaksin has been living in exile since being ousted by a coup in 2006, he retains immense popularity among his supporters, known as the Redshirts. He's also the de facto leader of Pheu Thai Party, which led the government until the May 2014 coup against the government of his sister, Yingluck Shinawatra.
Gen. Anupong Paochinda, a member of the ruling junta, also said Thaksin has a "hidden agenda" behind his plan to distribute the red bowls.
"I think there's an agenda. If you ask anyone, they will say he has an agenda, too," said Gen. Anupong, who also serves as Minister of Interior Affairs. "It doesn't benefit the country. If he has innocent intentions, there wouldn't be his photo or his name on the bowls at all."
The water scoops contain a printed message saying: "Although the situation is heated, it's hoped that brothers and sisters would be soothed by the water in this bowl," and come with a printed signature of Thaksin.
Hunt for Red Bowls
The military reacted to the red bowls with zero tolerance.
On Tuesday, a 57-year-old woman was arrested and charged with sedition for posting a picture on Facebook of herself posing with the controversial water scoop. Theerawan Charoensuk, 57, will be tried by a military tribunal. She faces a possible prison term of seven years if found guilty.
And then on Saturday, soldiers raided the home of former Pheu Thai MP Sirintorn Rammasute in Nan province and took away 8,862 red bowls before they could be handed out. A further 1,500 red buckets were later seuzed in a raid on the office of another former Pheu Thai MP in the same province, according to a Matichon reporter.
Sirintorn said Monday that the military has summoned her for interrogation later this week, at which point she expects to be charged with sedition.
"They haven't filed any charge against me so far, but I believe they will definitely do that," Sirintorn said by telephone. "They told me in advance that they have to file the charge. They say they have to do their duty."
Meanwhile, Sansern, the junta spokesman, hinted that further action may be taken against Pheu Thai politicians behind the red bowl distribution, as the junta is running out of patience.
"In the past, the government has tried to be patient and tolerate these questionable behaviors in order to give everyone a chance to repent and look forward to the [benefits] of the country, instead of looking at the interests of their own people," Sansern said.
He then referred to a recently announced plan to detain junta critics for seven days of "re-education."
"One measure that will be used in the near future is to bring in politicians or people who still cause unrest for a discussion under the supervision of [the junta]. It will take seven days per session, in army bases throughout the country … we hope this will help reduce and decrease the kind of behavior that incites trouble in the country."
10,000 'Red Bowls' Confiscated, Deemed Threat to National Security
Police Confiscate 'Red Bowls' From Yingluck Supporters
Thai Rath Reporter Taken to Army Base for 'Red Bowl' Report
Woman Charged With Sedition For Posing With Red Bucket
Teeranai Charuvastra can be reached at [email protected] and @Teeranai_C.