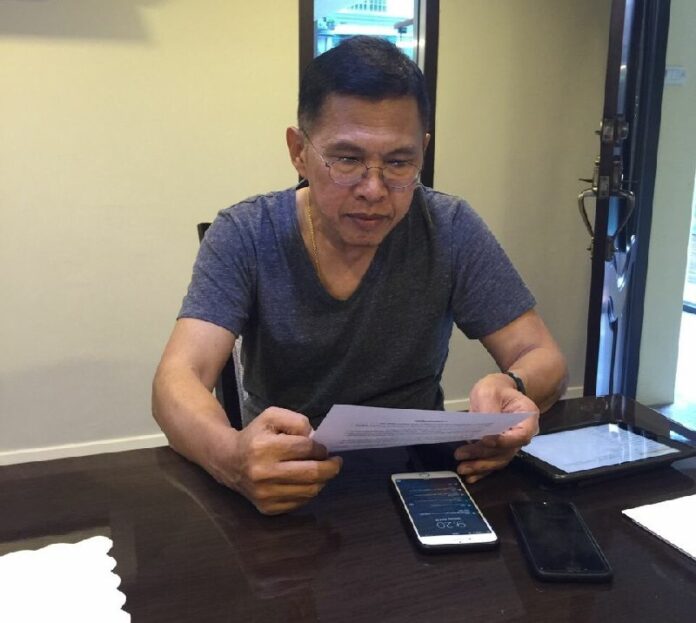 BANGKOK — A former Pheu Thai MP turned himself in to the junta just before noon today for an "attitude adjustment" session but vowed to sue over illegal detention if he is not quickly released.
Just before arriving at the 11th Army Circle headquarters in Bangkok on Monday, Watana Muangsook wrote on Facebook that he will not agree to submit himself to arbitrary, illegal detention.
---
Pheu Thai's Watana Promises to Surrender by Monday
---
"I'm coming to meet the NCPO per its order for me to report myself at 11th AC," Watana wrote, referring to the junta by its formal name, the National Council for Peace and Order. "But the NCPO has no power to detain me for any purpose. If I am not released by 3pm today, it means the NCPO has abused its power and stripped me of my liberty with its detention."
Watana, who has been detained by the military several times since it seized power in a bloodless 2014 coup, was ordered to turn himself in five days ago for his stated opposition to the draft constitution the junta wants voters to adopt in a referendum now slated for August.
Watana said his opinion would be unswayed by the military's tactics and that he would file suit should he be held after 3pm.
"In that case, I will take legal action against everyone involved. Let me insist again that I did not do anything wrong, and that I will certainly not accept the draft constitution," he said.
The military government recently announced it has prepared a seven-day "course" for its most persistent critics who will be detained for re-education on military bases.
Watana arrived at the army base at around 11am and talked to several Western diplomats who were observing the situation.
Watana served as an MP under the civilian government toppled by the junta in May 2014. Since the military takeover he had been one of the most vocal politicians in his criticism of the junta, which landed him in military detentions before.
The latest summon for Watana came after the former politician wrote Wednesday that he would not accept the new charter draft written under the junta's oversight because of its undemocratic features. The draft will be put to a vote in August.
In his Facebook post published Monday, he stressed that his view remains unchanged despite the junta's intimidation.
"Let me tell you something: No matter how many times you adjust my attitude, I will not accept this constitution draft," he wrote.
The junta has clamped down on any public challenge to its regime or the constitution draft, leading to fear among its critics that the upcoming referendum will not be an open and fair one. The regime has already placed a ban on any kind of political activities and protest.
Related stories:
Junta to Detain Critical Politicians 7 Days at Military Sites for Reeducation
Pheu Thai's Watana Promises to Surrender by Monday
Watana Wanted for 'Attitude Adjustment' Again
Politico Accuses Soldier of Punching Him
Teeranai Charuvastra can be reached at [email protected] and @Teeranai_C.