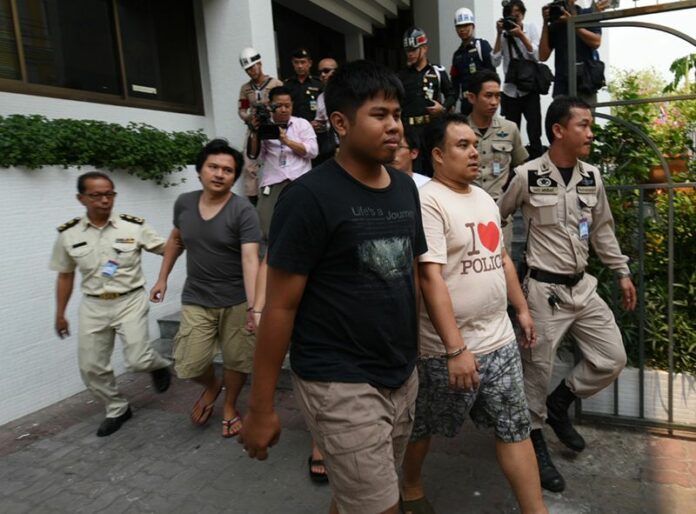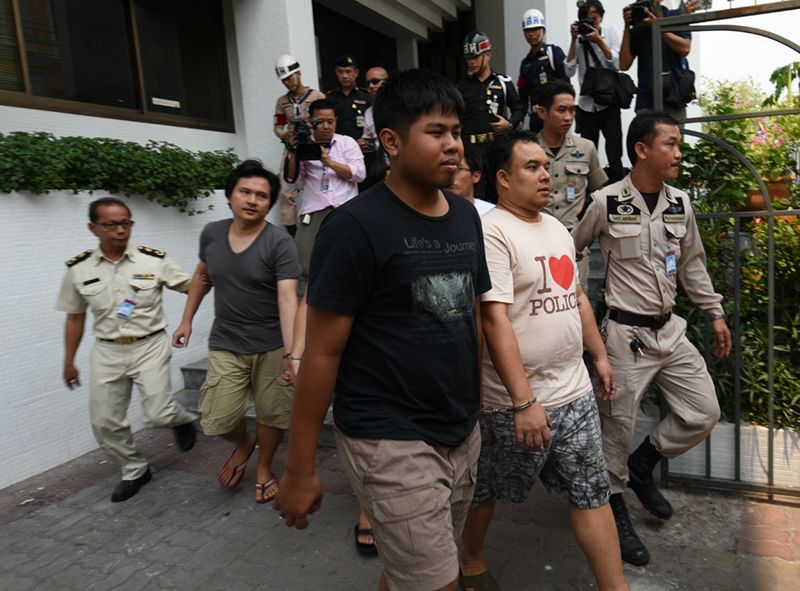 BANGKOK — A military tribunal Friday afternoon ordered eight people seized from their homes by soldiers be remanded into custody and is considering royal defamation charges against two of them.
A military court in Bangkok said the eight, now accused by police of being paid to run anti-government Facebook pages, can be held for up to 12 days. They already face a military trial over chargeds of sedition and violating the Computer Crime Act.
---
Army Abductions: Activists Call for More Protests Despite Arrests
---
Maj. Gen. Chayapol Chatchaidej, a commander of the police's crime suppression unit, said Thursday that two of the eight suspects had written remarks that could be critical of the monarchy and thus in violation of the lese majeste law, a crime which carries a maximum penalty of 15 years in jail.
The military may decide to file lese majeste charges against the pair, Chayapol said.
The eight suspects are Nattatika Worathaiwit, Noppakao Kongsuwan, Worawit Saksamutnan, Yothin Mangkangsanga, Thanawan Buranasiri, Suphachai Saibutr, Kansit Tangboonthina and Harit Mahaton. Their lawyer said they will seek release on bail again Monday.
He earlier alleged they have been treated unfairly.
Attorney Winyat Chartmontree said the suspects were left distressed by police interrogation on Thursday. He said that despite being named their lawyer, he was barred from the questioning. Winyat said police assigned a lawyer to the suspects during the session, despite their request for Winyat.


Charged with sedition and computer crimes, suspects carry belongings to a military court hearing Friday in Bangkok.
"Actually, according to procedure, when suspects request their own lawyer, they must get one. And in a normal situation, law enforcement officers would have done so," Winyat said.
Noppakao managed the official Facebook page for the Redshirt movement, and the other suspects are allegedly behind pages for a Redshirt television program, another satirizing junta chairman Prayuth Chan-ocha and at least one page critical of the military regime.
All but one suspect, police said, acknowledged receiving upward of 18,000 baht per month to run several Facebook pages but disputed it was part of any campaign to defame the government. Harit denied all allegations set forth.
They were taken away from their homes by soldiers in a sweeping early morning raid Wednesday, held on army bases and then brought to police headquarters to be charged with sedition and computer crimes.
On Friday, the eight suspects were escorted to the martial court where their bail release is being deliberated.
Winyat said Thai Lawyers for Human Rights is also providing legal assistance to the eight suspects.
Related stories:
Protest Called for 10 Abducted by Military
Some Abducted Activists Linked to Redshirt Movement
Military Abducts at Least 4 Across Thailand
Teeranai Charuvastra can be reached at [email protected] and @Teeranai_C.