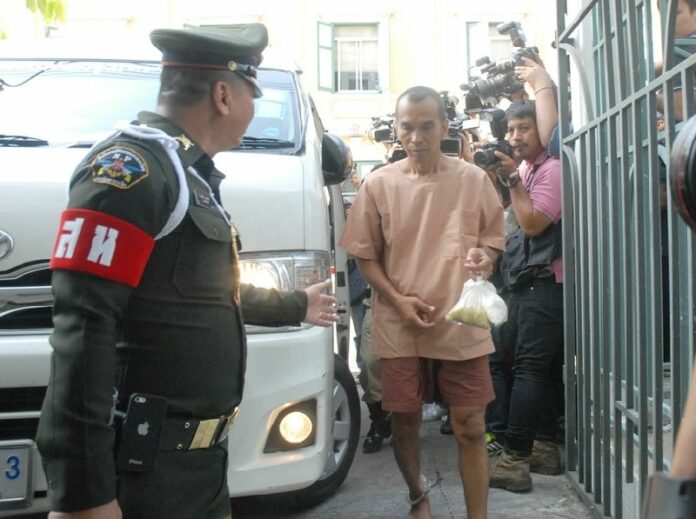 BANGKOK — Told that eight Facebookers accused of insulting the military government would be brought to a military court yesterday for a hearing, the media lined up for the perp walk. And then they saw nine.
As the so-called Facebook 8 filed out of a police vehicle, only the more sharp-eyed observers noticed a ninth suspect trailing behind the other suspects. Even Khaosod English initially assumed him to be one of the online dissidents in the news since late last month.
So who was this unknown detainee?
Civil rights activists said Wednesday they believe him to be a 62-year-old former army sergeant known only as Ruecha. He's accused of insulting the monarchy, a crime punishable by up to 15 years in jail and will be tried by the martial court, despite word he may be suffering from schizophrenia. He has no lawyer.
"When there's a case of a mentally-ill suspect [arrested], police usually phone us to let us know. There are many cases like that," said Yaowalak Anuphan of Thai Lawyers for Human Rights. "But in this case, neither the military nor police contacted us."
The man's case, only inadvertently made public, underscores the secrecy that has overtaken lese majeste proceedings under the military. According to iLaw, a legal advocacy group that tracks political cases, 20 soldiers without a warrant took Ruecha away from his Rayong province home March 29. He was taken to an army base where he was interrogated and charged with insulting the Royal Family.
Read: Lese Majeste Criminal, Not Political: Thai Govt
Ruecha was previously diagnosed by psychiatrists of suffering from a mental disorder, according to iLaw's online case summary. It indicates Ruecha suffered various delusions consistent with schizophrenic behavior.
Ruecha has been held in Bangkok Remand Prison since his arrest. Yaowalak said Ruecha had requested a lawyer provided by Pheu Thai Party to represent him, but she discovered yesterday that no lawyer visited him in prison so far.
"We will try to visit him in prison this week," Yaowalak said. "If he seems to be really mentally ill, we will request that he be formally diagnosed at a hospital."
She said they will offer to represent him.
"We will provide help for this issue," she said. "But supposing he still prefers a Pheu Thai lawyer, we will coordinate one for him."
According to iLaw report, Ruecha stands accused of insulting the Queen and the Crown Prince on his Facebook. The soldiers who arrested him at his home also seized his computer, mobile phone and tablet as evidence for the upcoming trial.
Related stories:
Record Sentences Today For Facebook Lese Majeste Offenses
Man Gets Five Years for Destroying Thai King Portrait
Mentally Ill Woman Jailed for Kicking King's Portrait