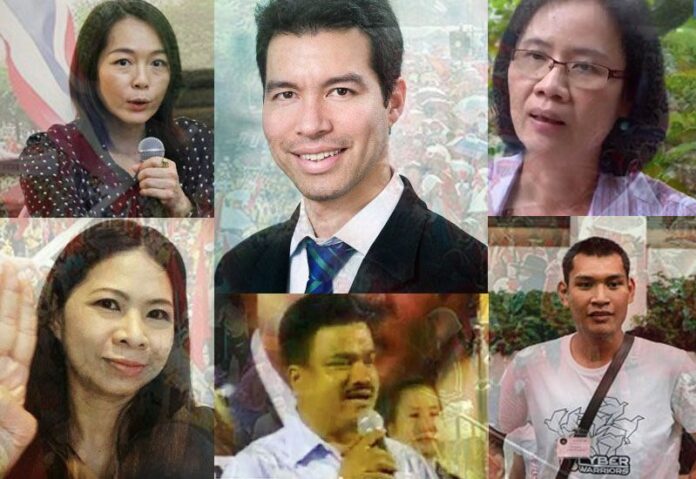 BANGKOK — It was late afternoon in Bangkok, and Suriyan Tonghnu-eid was on a stage calling for the government's ouster.
Little did he know, as he gathered outside Government House with about 1,000 demonstrators on the stage of a group called Network of Students and People for Reform of Thailand, the government had already been deposed by the military. It was May 22, 2014.
"The news about the coup was brought to me. It was just for those with arms to intervene," said Suriyan, now 48. "We dissolved the demonstration that evening because people realized that Yingluck [Shinawatra]'s administration was no longer in power. The coup wasn't our goal, but we could protest no more."
Suriyan Tonghnu-eid speaks at a protest against the government of former Prime Minister Yingluck Shinawatra in 2014. Photo: Campaign for Popular Democracy / Facebook
A 10-minute drive away, on Thammasat University's historic Bodhi Tree Lawn, was Chulalongkorn academic Puangthong Pawakapan along with 50 pro-democracy scholars from various universities. They were protesting the imposition of martial law two days earlier by then-army chief Gen. Prayuth Chan-ocha.
"A reporter told us a coup had been staged," Puangthong said in a recent interview.
Many lives were changed by the coup d'etat which took place two years ago Sunday, and others during the ensuing 24 months. In interviews with people who both embraced and opposed the coup, a consistent theme emerged: anxiety over Thailand's future.
Far away from home, Dhurakij Pundit University law lecturer Jade Donavanik was in California on a business trip. Due to the time difference, it was before dawn in California when the 4pm coup took place in Bangkok.
"When I woke up there were 40 to 50 missed calls, I realized what had happened," Jade recalled.
To former Chulalongkorn University linguist Suda Rangkupan, a prominent Redshirt, the coup was truly life changing. She soon fled Thailand after the putsch and has since campaigned from abroad for the establishment of a Thai Republic, which means the 50-year-old academic may never be able to return to the kingdom again.
"If the goal is achieved, I shall return," Suda wrote in reply from exile. "Otherwise I will have to remain outside [Thailand] for the rest of my life in order to campaign for the establishment of Thailand as a republic, until it materializes."
Suda said the junta has requested governments extradite anti-junta activists and claims it has even sent soldiers hunting for them.
"Military or security officers have been dispatched to various countries. News has spread the hunt is on for those not lying low. Our families back home are being pressured. The 'witch hunt' in Thailand also means people inside are afraid of contacting us."
Lessons Learned
With the passage of two years time, the four and others spoke about what they've learned in that time, and what remains their primary concerns for the future of Thailand under military rule.
To those opposed to the coup and junta, formally known as the National Council for Peace and Order, such as Puangthong, the junta has proven to be an even worse nightmare than expected.

Chulalongkorn University professor Puangthong Pawakapan in an undated image from Matichon TV.
"We grossly underestimated the rightwing groups. I didn't expect them to drag Thailand back [in time] this far," said Puangthong, who left Thailand for a research fellowship in Singapore from July 2014 to January 2015 after being called in by the junta July 3 to be warned about her political stance and views on the controversial lese majeste law.
"I felt I didn't want to be in Thailand anymore," said Puangthong, who has since returned to resume teaching at Chulalongkorn but still feels deeply concerned for the direction the kingdom is moving.
"Reconciliation is not possible, as the junta wants to mold society its way. The path will eventually lead to bloodshed like in the Oct. 14, 1973 uprising."
Suriyan, who protested against the previous government, his initial acceptance of the coup soured long ago. Suriyan said he hoped earnest national reforms would take place under the auspices of the NCPO.
Now he has no such hope, as the people are excluded from all processes branded "reforms" by the junta.
"What we saw over the past two years was the use of special laws over normal laws, and the transgression of bureaucratic power over people's power," he said.
On a personal level, Suriyan is secretary of the Campaign for Popular Democracy and for several years has advocated for community rights issues in the north.
Now he doesn't believe he can continue.
"It's difficult to carry out any activism," he said, as the junta has quashed local activism, and he's been threatened by those who regard him as an enemy in the northern communities of Chiang Mai which are Redshirt strongholds.
"I can't lead my life as before. It's not safe. It's a double whammy, from the military and those on the other side of the political spectrum who dislike me. The [Campaign for Popular Democracy] also can't engage in activism like in the past."
For Jade, life under the junta got busier. He was appointed by the NCPO to help write the first draft of a proposed constitution. When that draft was rejected by another junta-appointed body last year, he was named adviser to the new head drafter, Meechai Ruchuphan.
Now, he feels that past two years were a wasted opportunity.
"It there was to be an election and [political] problems could not be solved, there could be another [putsch]. If the junta stays on it would be grave too," Jade said.
Jade said junta leaders have always suffered from denial that they are politicians, despite that fact that's what they became the moment they seized power and had to deliver results.
Coup a 'Strategic Success'
While some of its supporters express criticism, a member of the so-called Facebook 8 charged with sedition last month accords the military regime some credit.
"I consider this coup to be a 'success' in terms of military strategy. The military used force without deaths and injuries and caused real fear among the general public," said Noppakow Kongsuwan, who was plucked from his home by soldiers for running a Facebook page lampooning Prayuth.
Now free on bail, Noppakow still manages the Facebook presence of Redshirt leader Jatuporn Prompan.
"Another success was coining the term 'attitude adjustment' for violating the rights and liberty of the people, by making them feel there's nothing scary … and that no rights have been violated, while it fact that wasn't the case," Noppakow said.
Chiang Mai translator and pro-democracy thinker Pakavadi Veerapasapong believes the coup's best lesson is that no genuine democratization can take place without reform of the military to ensure civilian supremacy.
"A democratic system with only national-level elections cannot ensure a strong governing system, and decentralization is needed," she said.
Pakavadi is concerned that this time the military is directly running most ministries in a totalitarian fashion, like Burma of the past, without any tangible policies.
She is more alarmed however by belief the junta is undermining the social welfare the people have benefited from and joined hands with big capitalism to plunder resources from rural areas through various mega-projects. She fears uprising as a possible future for Thailand.
As for how she's been personally touched, Pakavadi said even symbolic protest or symposiums have been criminalized.
"Personally, the change is that there has been unprecedented curb on freedom of expression. … I don't know when I or my friends will be dragged into a military camp and charged with severe offenses," she said.
As for Redshirt Suda, the coup wasn't just a regime change, but an attempt to install a permanent dictatorship.
"People have to decide themselves if they will allow a single group of people to decide on their behalf under a dictatorship, or we're to rise up and declare the rights to govern ourselves in accordance with a democratic system," she said. "We've come to the point where both sides, namely the elites and the people, will have to decide whether they want to change 'the system' or not."
Looking ahead, Suda said she's most concerned about violence and the economy.
"People who are not politically awakened fall victim to this violence without knowing the cause," she said. "They turn to superstitions or resort to violence. It's the responsibilities of academics to analyze the real problems, but most do not have faith in people's power compared to their fear of dictators."