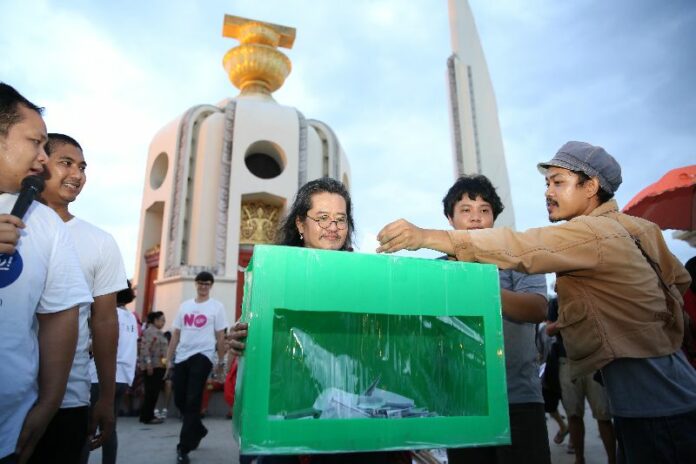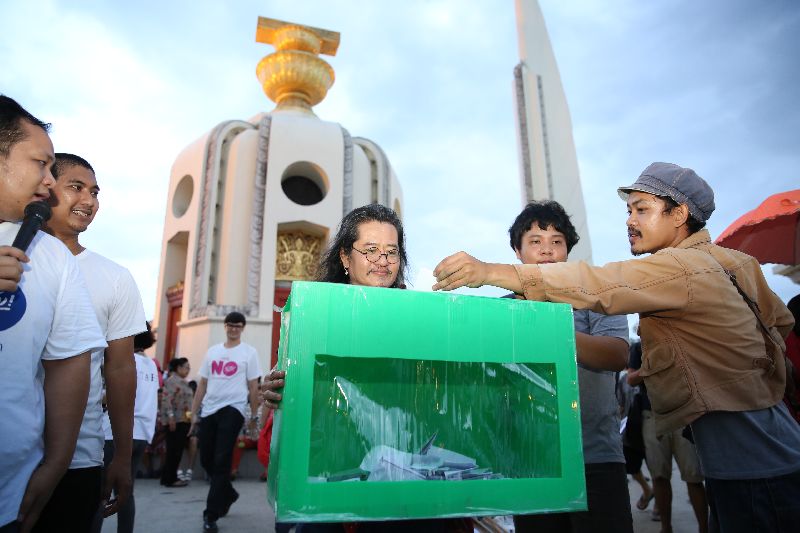 BANGKOK — Several hundred people marched from Thammasat University to Bangkok's Democracy Monument on Sunday on the second anniversary of the 2014 coup d'etat.
Leading the march was the activist group New Democracy Movement, many of whom were arbitrarily detained and charged last year for arranging an event on the first anniversary outside the Bangkok Art and Culture Centre.
Besides police and undercover officers, the event was also monitored by staff of local and international right groups such as iLaw, Thai Lawyers for Human Rights, Amnesty International, Human Rights Watch and the United Nations.
The setting for the protest was heavy with symbolism. The march set out from a memorial to the Oct. 6, 1976, massacre of students by state-backed ultranationalists, past a memorial to pro-democracy demonstrators murdered in 1973 and to the monument, where pro-democracy protesters were shot and killed in 1992.
---
WATCH: Khaosod English reporters Pravit Rojanaphruk and Sasiwan Mokkhasen covered the event live on Facebook. You can watch all streams of the event on Facebook or start with Part 1 here. – Ed.
---
The march took about half an hour and was stopped twice by police, who searched everyone's bags at the Sanam Luang and again in front of the Democracy Monument.
Only a few hundred people joined the march, but New Democracy Movement activist Chanoknan Ruamsap said she was surprised.
"I am glad they came; more than I expected," she said just the group walked out from Thammasat University.
That view was shared by a senior researcher of Human Rights Watch.
"In this climate of fear, where the junta has been putting hundreds and hundreds of people into military tribunals, detaining them for their dissent opinion," Sunai Phasuk said. "The fact that hundreds showed up today is a positive sign for people to realize the aspiration for the return to democratic rule."
Though Thailand's democracy has suffered the past two years, both Chanoknan and Sunai said they were positive about the future.
"If the situation goes on like this, it will be better for the people," Chanoknan said. "Because the more people feel repressed, the more they will dare to express themselves."
Walking along Ratchadamnoen Avenue with the rally, Sunai said the people assembled were confident they can demand democracy peacefully by exercising their rights.
"Democracy is not dead in Thailand," he said. "It takes root among the people. These people are unorganized."
Once arrived to Democracy Monument, prominent activists delivered fiery speeches against the regime as a mock "referendum" on the junta was staged. It was definitely a "vote no" crowd, as evinced by many casting their faux "ballots."
Instead of repeating last year's images of students being dragged away by force by undercover officers, police authorities – and ostensibly the military – allowed the protest take place, as long as it concluded by 8pm. The gathering ended sooner than expected due to heavy rain just after 7pm.

Correction: An earlier version of this story misidentified the nature of the mock referendum. It was on the junta itself, not the proposed constitution written by its appointees.
Related stories:
2 Years On, Has the Junta Kept These 8 Promises?
Bigger Protest Planned for Coup Anniversary; Police Weigh Response
Thai Police Forcefully Break Up Student Anti-Coup Protest
To reach us about this article or another matter, please contact us by e-mail at: [email protected].
Follow Khaosod English on
and
Twitter
for news, politics and more from Thailand.