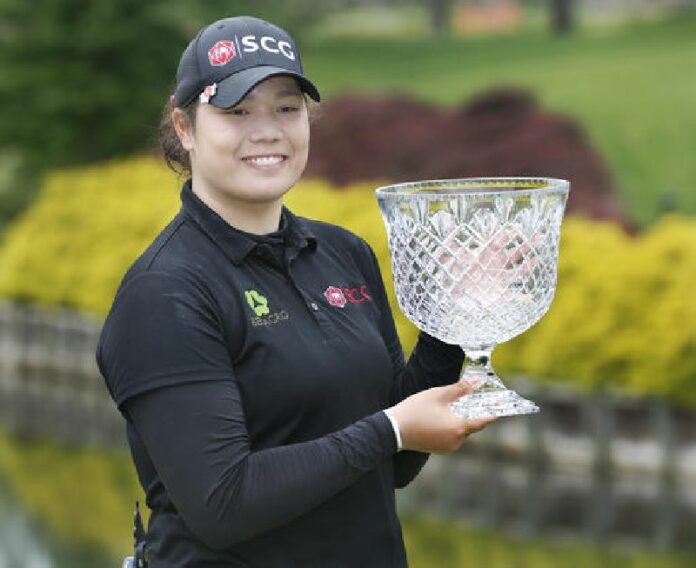 WILLIAMSBURG, Va. — Ariya Jutanugarn quickly has made winning a habit on the LPGA Tour.
The 20-year-old shot a nearly mistake-free 4-under 67 on Sunday and won the Kingsmill Championship by one shot for her second consecutive victory. The bad news for the rest of the tour is that she said this one was much easier to finish off than her first two weeks ago.
That one, she said, allowed her to accomplish her goal for the season. Everything else, it seems, is gravy.
"I mean, last win was like breakthrough everything, so after I won one tournament — because I really want to win one tournament this year — and after I do that, I just feel like whatever it is, I'm just going to take it and have fun, so that's the only thing," Jutanugarn said.
After two final-round meltdowns, Jutanugarn became the first Thai winner in tour history two weeks ago in Alabama. Last month in the ANA Inspiration, she had a two-stroke lead with three holes left and closed with three bogeys to finish fourth — two strokes behind winner Lydia Ko. In the 2013 LPGA Thailand at age 17, Jutanugarn blew a two-stroke lead with a closing triple bogey in a one-stroke loss to Inbee Park.
On Sunday, she gave up the lead briefly after an early bogey. She recovered quickly with back-to-back birdies, and played the final 16 holes in 5 under.
"I didn't feel pressure," she said. "Today I just feel like whatever is fine because I just really want to have fun. I'm not really care. Actually I know they play good, but I'm not really care about them. I really worry about like what I want to do more."
She finished at 14-under 270 at Kingsmill's 6,347-yard River Course.
So Oh finished was second after a 65, with Gerina Piller and Sei Young Kim two shots back.
Jutanugarn, also the third-round leader, closed the round by getting up-and-down from the right side of the green on the 18th hole, hitting her chip to within about 5 feet and rolling it in to become the first player with back-to-back wins since top-ranked Ko in Southern California in the Kia Classic and ANA Inspiration.
If not the chip from about 80 feet on the last hole, Jutanugarn's pivotal moment came at the par-5 15th when she chipped the ball from tall greenside rough with the ball well below her feet to about 5 feet and made the putt, doubling her lead as she reached 14 under par.
She played the entire tournament without a three-putt.
Oh, 19, started the day in a tie for eighth, then played the front nine in 5 under to grab a share of the lead at 12 under. She gave one back on the par-4 12th, got back to minus 12 at No. 15 and holed a lengthy putt from the back fringe on the 72nd hole to finish at 13 under. It was just the second birdie of the day at No. 18.
"I knew I had to get off to a really good start, and I did," Oh said. "It was just one shot at a time."
Piller, seeking her first career victory, trimmed three strokes off par on the front and got to minus 12 with a birdie at the par-4 16th, but she missed lengthy birdie putts on her last two holes. She has finished in the top 20 29 times in her career, including six this year.
Kim shot a 66, finishing with a birdie putt of her own on the finishing hole.
Mi Jung Hur used the round of the day to gain a share of fifth. She had nine birdies and got to 11 under at No. 17, but she made bogey at the par-4 18th and finished tied with Lexi Thompson and Pornanong Phatlum at 274.
All three reached 11 under at one point but faltered in an intermittent light drizzle.
Defending champion Minjee Lee shot even Sunday and finished in a tie for 10th.
Fourth-ranked Stacy Lewis closed with a 74 and remained winless in her last 49 starts. She tied for second two weeks ago in Alabama, her 10th runner-up finish during the drought and the 23rd of her career.
Thompson, ranked third in the world and trying to follow a victory two weeks ago in Japan, was 6-under for the day and got to minus 11 through 11 holes but followed with consecutive bogeys.
Ko started the day tied for 24th. She shot 69 and finished tied for 18th.
Story: Hank Kurz Jr / Associated Press
Related stories: