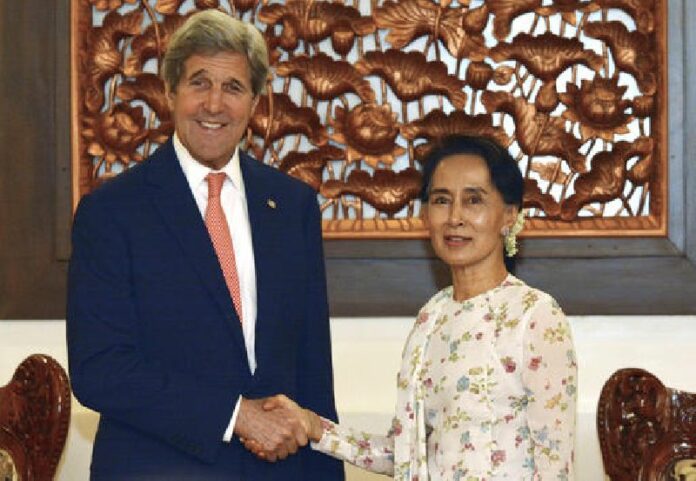 NAYPYIDAW, Myanmar — U.S. Secretary of State John Kerry on Sunday urged Myanmar's new civilian-led government to complete the Southeast Asian nation's transition to democracy by implementing further reforms to enshrine free markets, development and human rights.
Speaking with Myanmar's foreign minister and de facto leader, Aung San Suu Kyi, after talks in the capital of Naypyidaw, Kerry pledged continuing U.S. support for the country and hailed progress it has made since Suu Kyi's political party took office in late March after winning historic elections that ended decades of military control.
"We strongly support the democratic transition that is taking place here," Kerry said.
His visit came less than a week after the Obama administration lifted sanctions against 10 state-run companies and banks in a sweeping modification of penalties imposed while Myanmar was under military rule. The administration, however, left in place restrictions on trade and investment with the nation's still-powerful military. The changes are intended to spur more U.S. investment and support economic growth under the new government, but also to encourage more reforms.
The U.S. waived its longstanding bans on investment and trade in 2012 after Myanmar began political and economic reforms, but retained restrictions on dozens of companies and individuals designated by the Treasury's Office of Foreign Assets Control because they oppose reform, or are implicated in human rights abuses and military trade with North Korea. In addition, the U.S. continues to ban the import of jade and rubies from Myanmar.
"The key to the lifting of the (remaining) sanctions is really the progress that is made within Myanmar in continuing to move down the road of democratization," Kerry said, adding, "It is very difficult to complete that journey, in fact impossible to complete that journey, with the current constitution."
He called for the charter to be revised to fully respect civilian authority and clearly spell out a separation of powers among various branches of government as well as protect minority rights and promote inclusivity. He said he raised those issues with the commander in chief of Myanmar's military before departing later Sunday to join President Barack Obama on a visit to Vietnam.
U.S. Secretary of State John Kerry, left, gestures next to Myanmar's army commander Senior Gen. Min Aung Hlaing during a meeting in Naypyitaw, Myanmar, Sunday, May 22, 2016. Photo: Aung Shine Oo / Associated Press
Suu Kyi said she did not believe the remaining sanctions would stay in place for long, but did not look at them as a punishment.
"We're not afraid of sanctions, we're not afraid of scrutiny," she said. "The time will come soon that the United States will know that this is no longer the time for sanctions."
Under the current, junta-era constitution, Myanmar's military controls the ministries for defense, home affairs and border affairs, and 25 percent of parliamentary seats. Rights groups say stateless Rohingya Muslims and other minorities still face repression.
The treatment of the Rohingya remains a major sticking point in U.S.-Myanmar ties, with the government complaining that even U.S. officials use the term to refer to the group, which many Buddhists inside Myanmar call "Bengalis." They say the 1 million or so members of the minority are mostly illegal immigrants and not a native ethnic group. In fact, the families of many Rohingya have lived in Myanmar for generations.
Because Myanmar does not officially recognize the Rohingya as an ethnic group, it denies most of them citizenship and basic rights. Conflict over land and resources in the western state of Rakhine, where most of them live, caused deadly violence between Buddhists and Muslims that later spread to other parts of the country. More than 100,000 Rohingya were forced to flee their homes and now live in poor conditions in decrepit camps.
Suu Kyi, who won international admiration and a Nobel Peace Prize for her nonviolent struggle for democracy duringMyanmar's years of military rule, has in recent years disappointed many former fans by failing to speak on behalf of the Rohingya. Despite international expressions of concern, Myanmar's previous military-backed government did nothing to ease the Rohingya's plight.
She called on Myanmar's "well-wishers," like the United States, to give the authorities time and space to deal with what she acknowledged was a problem. But she also warned against using the term "Rohingya," saying it is a sensitive matter that complicates efforts to resolve the situation.
"Emotive terms make it very difficult for us to find a peaceful and sensible solution," she said. "People should be aware of the difficulties that we are facing and give us a safe distance. … What we are saying is that there are more important things to deal with than issues of nomenclature."
Kerry agreed that the matter was a sensitive one, but said it is key to ease the crisis in Rakhine state.
"The name issue is obviously very sensitive, it is divisive and I know that it arouses strong passions here," he said, adding, however, that the matter could not be ignored. "What is critical to focus on is solving the problems."
Story: Matthew Lee / Associated Press