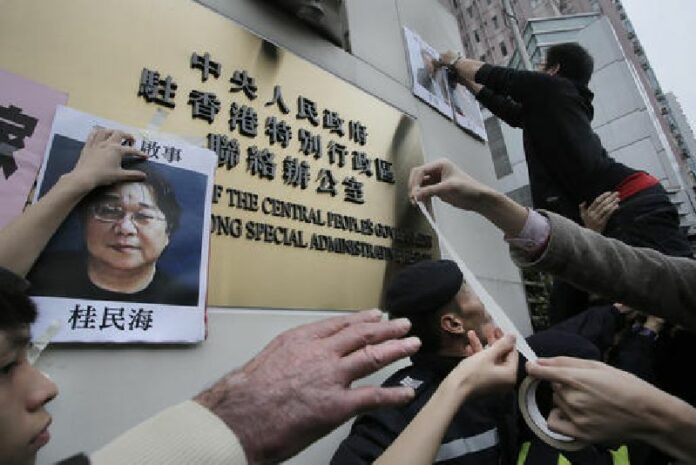 WASHINGTON — The daughter of a Hong Kong-based publisher believed abducted by Chinese authorities eight months ago appeared Tuesday before a U.S. congressional commission urging Washington's help to win his release.
Author Gui Minhai, a Swedish national, is one of five men associated with a publishing house whose disappearance late last year raised international concern that Beijing is clamping down on the semiautonomous Chinese city's freedom of speech.
College student Angela Gui told the Congressional-Executive Commission on China that she last spoke to her father by phone about one month ago but she does not know where in China he is.
He went missing in Thailand in October. He appeared on Chinese state TV in January, tearfully confessing that he'd turned himself in to mainland authorities over a hit-and-run accident that he was involved in more than a decade ago. The daughter said she'd never heard of that incident and believed the statement was coerced.
Swedish authorities have been allowed to visit him just once, in late February, she said.
"It has not been clear what my dad is officially in Chinese custody for," said the younger Gui, who is a student at University of Warwick in England. "I don't know what the official reason is, however it seems to me that it's quite clear that he's there because of his work, and I suppose that's why all of his co-workers are there as well, or have been there."
Minhai was the founder of Mighty Current Media, which specialized in churning out exposes on elite Chinese politics that were snapped up by visitors from mainland China, where they are prohibited.
The daughter said that the others who went missing have "nominally been released," but the publisher's British chief editor Lee Bo has been made to return more than once to the mainland. She appealed for the U.S. and other governments "to keep asking questions" of China about her father's detention.
The Chinese Embassy in Washington did not immediately respond to a request for comment Tuesday.
Under an agreement reached with Britain, which handed Hong Kong to communist Chinese control in 1997, Beijing was meant to leave the city's freedoms intact for a half-century.
Tuesday's hearing examined how Chinese authorities increasingly seek to silence critics overseas. It came ahead of the June 4 anniversary of the 1989 crackdown on prodemocracy protesters in Tiananmen Square in Beijing.
"Twenty-seven years later the Chinese government is increasingly brazen in its repression," said Sen. Marco Rubio, R-Fla., "no longer limiting its reach to China's territorial boundaries, but instead seeking to stifle discussion of its deplorable human rights record both at home and abroad."
Story: Matthew Pennington / Associated Press
Related stories:
Junta Bans Bookstore Talk on Draft Charter
Dissidents Fearful as Thailand, Once a Haven, Favors China