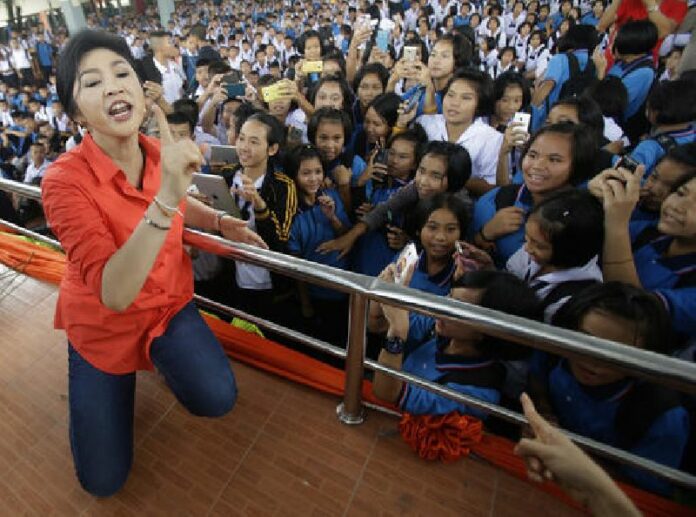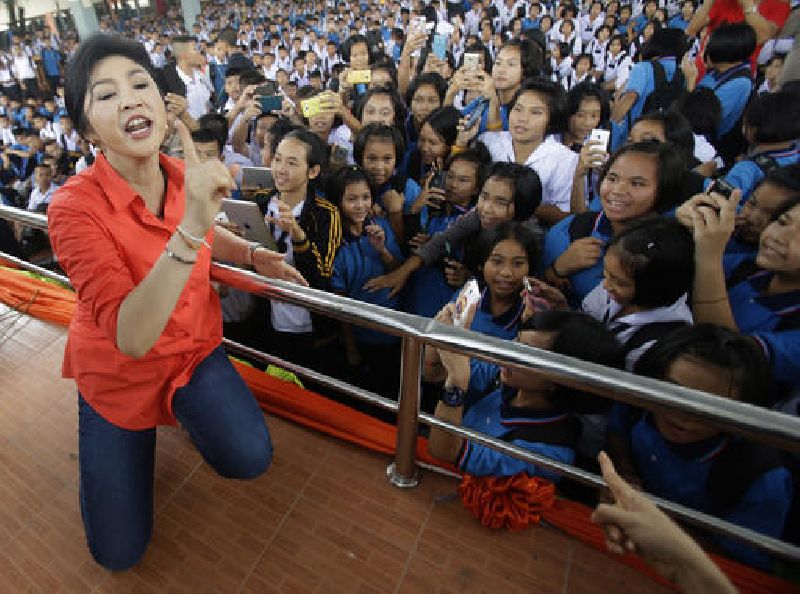 BUENG KAN — As ousted prime minister Yingluck Shinawatra made her way through a line of fans, some cried, others screamed and a few embraced her.
"She touched my hand! She touched my hand!" one woman yelled at a Buddhist temple in the rural northeast where several hundred people came to see her Monday.
This was not a political campaign stop. If it had been, the generals who ousted Yingluck two years ago never would have let it happen. She's banned from politics, and the military government has banned the entire country from trying to sway voters, who will decide Aug. 7 whether to accept a new constitution drawn up by the junta.
 In this May 30, 2016 photo, former prime minister Yingluck Shinawatra meets with fans in Bueng Kan Province, Thailand. Photo: Sakchai Lalit / Associated Press
Yingluck says she's simply greeting and thanking her 5 million Facebook fans for their support, but she appears to be hoping that by touring the country, she can galvanize supporters without saying a political word.
"She will show to her opponent and also to the public that, 'We are still here and there is a huge support for us,'" said Kan Yuenyong, executive director of the Siam Intelligence Unit think tank. "I think this is very important message, a hidden message, that she would like to send to the public."
Yingluck herself conceded no hidden messages in an Associated Press interview.
"I am still banned from being involved in politics for five years, even if the law from the constitution that was used to impose the ban on me is no longer in use," she said. "I still want to work closely with people in whatever capacity. Today I am meeting the fan page followers because during this time of economic hardship, people want tourists to visit their provinces. So we're using this as an opportunity to promote tourist destinations and make them well-known. This is one of the many ways to strengthen the economy at the grassroots level."
The junta wants voters to approve the constitution and a related measure. They would, among other things, allow a non-elected prime minister to lead the country, create an appointed rather than an elected Senate and give unprecedented power to the Constitutional Court.
"This draft will lead the country backwards," Yingluck and her Pheu Thai Party said in a March 30 statement.
The military government has made it illegal for anyone but itself to advocate for or against the proposed constitution. Expressing a strong opinion for or against it before the referendum could bring a jail term of up to 10 years, a 200,000 baht fine and revocation of voting rights for 10 years.
In this May 30, 2016 photo, students of Bueng Kan Wittaya school take photos with Yingluck Shinawatra at Bueng Kan Province, Thailand. Photo: Sakchai Lalit / Associated Press
During Yingluck's visit Monday to Bueng Kan in the northeast — a bastion of support for her — Yingluck and her team were careful to not make any political statements. Her supporters, who in the past have typically worn red shirts as a show of allegiance to her party, carried red roses instead. The junta has arrested its critics for many forms political protest, including wearing T-shirts.
"I came to the temple since early this morning with the sole purpose of welcoming Yingluck because I love her so much," said Pakorn Pali, 48, said while wiping away tears. "I see her goodness, we're the same age and I would love to be friends with her. I'm so happy that she is coming to visit us."
Yingluck did not make speeches at the temple, a school or other places she visited. She just walked around greeting people, accepted gifts of fruit baskets and flowers and took photos with her fans.
She plans to keep traveling, but it's not clear for how long. Her adviser Win Rungwattanajinda says the events are simply intended to allow her supporters to meet her.
"We have always been clear that this is a fan page event, not a political event," said Win. "Yingluck doesn't have anything to gain politically from this event because she's still barred from politics. She still has three years left."
In this May 30, 2016 photo, fans of former prime minister Yingluck Shinawatra give her a scarf as she arrives in Bueng Kan Province, Thailand. Photo: Sakchai Lalit / Associated Press
Her supporters say they have been careful not to violate rules set up by the junta.
"They don't allow us to hold up signs — we don't hold up signs. They don't allow us to organize — we come here individually," said Charoenchai Saponcharoen, a 44-year-old Bueng Kan resident. "Whatever they don't allow us to do, we won't do it."
"She's not here for political reasons," said Kalaya Kalahaan, a 50-year-old Udon Thani local who traveled three hours to see Yingluck. "She's just here to visit her supporters because she misses and loves us."
Yingluck's government fell after months of sometimes violent protests sparked by its plans for an amnesty that would have allowed her brother, former prime minister Thaksin Shinawatra, to return to Thailand. The billionaire Thaksin led the country from 2001 to 2006, when he was overthrown in a coup. He has lived abroad since 2008 to avoid serving prison time for a corruption conviction he says was politically motivated.
When Yingluck led her party to victory in the 2011 general election, becoming Thailand's first woman prime minister, she was dismissed as a lightweight who was just serving as a proxy for her brother. While the characterization was not without merit and she has never shaken it off, she displayed a politically potent charm that won her many fans, especially among women.
Yingluck faces criminal charges for negligence, over a government scheme to buy rice from farmers that cost the country billions of dollars.
At her latest appearance at the Supreme Court on May 13, she spoke out to supporters outside and called on the military government to allow the Thai people freedom of expression ahead of the August referendum. She repeated the plea once more on her Facebook page May 22, the two-year anniversary of the coup.
She wrote that the NCPO justified the seizure by claiming that it wanted to restore unity, build legitimacy for all concerned and reform the country. She questioned that promise in her Facebook statement and implored the junta to return power, rights, independence and freedom to the people.
Story: Natnicha Chuwiruch