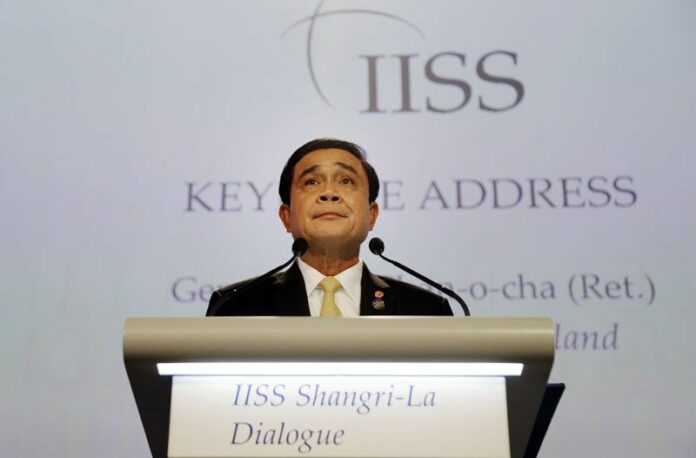 SINGAPORE — Junta leader Prayuth Chan-ocha today defended his government's increasing crackdown on social media dissidents, while promising to restore democracy which he suspended in a coup two years ago.
Prime Minister Prayuth Chan-ocha said Thailand is in a transition toward "a strong and sustainable democracy."
"Anything that cannot be completed during this administration will be handed over to the next," he said in a speech at the start of a three-day security conference in Singapore attended by defense ministers from several Asia-Pacific nations, including U.S. Defense Secretary Ash Carter.
Prayuth seized power in a military coup in May 2014, saying he needed to end political confrontations that had wracked Thailand for years. He has promised to hold elections next year after several postponements, and wants to hold a referendum on Aug. 7 on the draft of a new constitution that has been criticized as undemocratic and designed to keep power in the hands of the military and its allies in the country's traditional elite.
His government has banned most public discussion of the referendum, which will be the first electoral barometer of public opinion about the junta.
Campaigning for or against the draft is subject to nebulous rules that could land activists in prison for up to 10 years. Even the sale of a "Vote No" T-shirt is considered against the law.
In May, authorities arrested eight people on charges of sedition and violation of the Computer Crime Act for material posted on Facebook that mocked Prayuth. The arrests attracted widespread criticism from local activists as well as international human rights groups.
There has been an "abuse (of) social media to engage in libel and a distortion of facts," so it is "necessary for the military to take control for a while," Prayuth said, speaking in Thai. His comments were translated into English by an interpreter.
"We have enforced the law only when the law is broken … so taking action is not in violation of human rights," he said. "In creating a new equilibrium for Thailand, many issues need to be addressed."
Prayuth said he imposed military rule because of "increasing demands for unlimited freedom" in Thailand.
"There was no other way but to interfere and restore peace," he said.
The annual international security conference, known as the Shangri-la Dialogue, includes a session on Saturday chaired by Carter on meeting Asia's security challenges.
While the region upholds a general image of peaceful coexistence, the influence of extremists, tensions on the Korean Peninsula and territorial disputes in the South China Sea, principally between China and several Southeast Asian nations, threaten to disrupt the peace.
An international arbitration court in The Hague will soon rule in case brought by the Philippines challenging the legal basis of China's sweeping claims in the South China Sea.
Countries should look at "sovereignty in less traditional terms," Prayuth said. "Compromises must be made for the common interest, for common security. If there are opportunities for dialogues, we must engage in dialogues."
Growing tensions in the South China Sea will drive up defense spending in the Asia-Pacific region by almost 23 percent by the end of the decade, consultancy IHS Jane's said in a report on Thursday.
Combined regional defense budgets will grow from USD$435 billion last year to USD$533 billion in 2020, furthering a shift in global military spending away from Western Europe and North America toward emerging markets, especially in Asia, the report said.
In recent years, China has been increasingly asserting its claims in the region and has built up atolls and islands to be large enough to hold military facilities. The region is of major economic and geopolitical significance, with vital commercial shipping lanes, rich fisheries and potential natural gas and oil deposits.
Story: Vijay Joshi