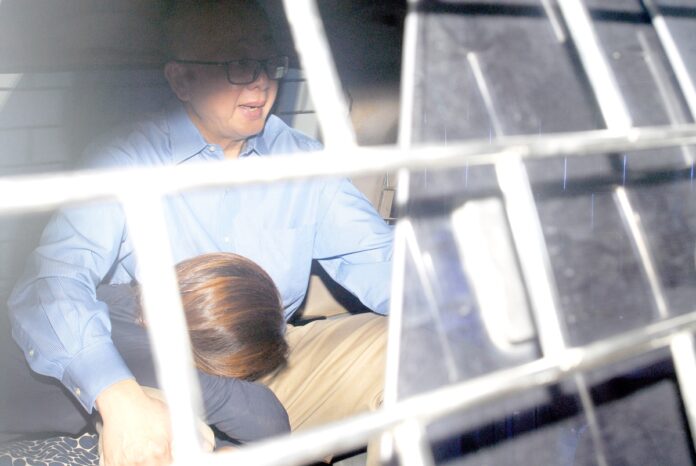 BANGKOK — Former media tycoon and political activist Sondhi Limthongkul is alive and serving his 20-year jail for fraud conviction, despite online rumors suggesting otherwise, director of the Klong Prem Central Prison said today.
He was responding to a rumor circulated on social media Wednesday morning that Sondhi, who's credited with helping topple two governments and surviving attempted assassination, died of stroke in prison Tuesday night, hours after losing his final appeal of a conviction for fraud amounting to more than a billion baht.
Yellowshirt Leader Sondhi Jailed 20 Years for Fraud
"I confirm that Mr. Sondhi is in normal condition. He is not suffering from any illness, as circulated in the online communities," prison director Thawatchai Chaiywat told reporters.
Thawatchai said Sondhi did show some signs of stress but could sleep and eat normally.
The claim, shared by many Redshirts, said Sondhi had a stroke and was sent to prison hospital, where he later died.
According to Thawatchai, the former firebrand Yellowshirt activist even wrote him a letter expressing concern about the rumor, because many of his relatives mentioned it to him during today's visiting hours.
"Mr. Sondhi wrote in his letter that he's not sick. Everything is fine," Thawatchai said.
On Tuesday the Supreme Court upheld a lower court's 2012 conviction of Sondhi and three other executives of Manager Media Group for forging a company report to guarantee a 1.02 billion baht loan from Krung Thai Bank in 1997. Sondhi was immediately returned to prison to serve out a 20 year sentence, without it being suspended as is sometimes the case for well-connected or wealthy defendants.
It was a dramatic downfall for one of the most prominent activists in Thailand's recent history.
In 2005 Sondhi founded the royalist Yellowshirt movement and campaigned for the overthrow of then-Prime Minister Thaksin Shinawatra, whom he accused of corruption, nepotism and disloyalty to the monarchy. The military staged a coup against Thaksin a year later, amidst the escalating street protests at the time.
Again in 2008, Sondhi and his resurrected Yellowshirt campaign successfully brought about the end of a pro-Thaksin government following months of protests, in which his supporters occupied government buildings and airports in Bangkok.
Sondhi receded from public view after a group of gunmen attempted to assassinate him in April 2009. His attackers were never caught.
Related stories:
Anti-Graft Crusader and Yellowshirt Founder Convicted of Fraud