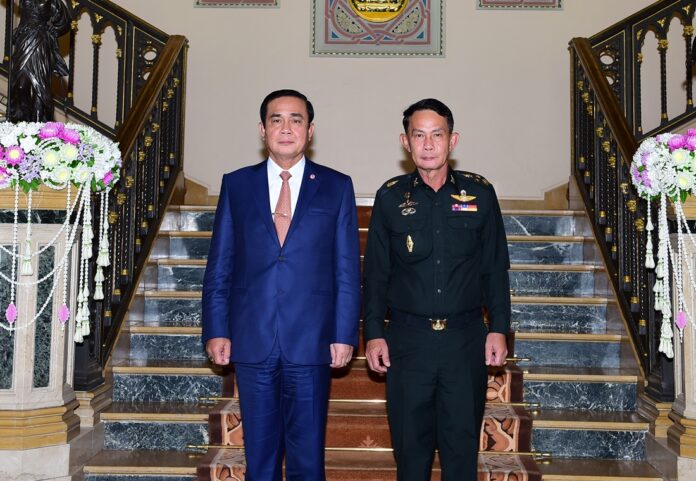 BANGKOK — Military government leaders maintained Thursday there was nothing wrong with awarding contracts to the nephew of junta chairman Prayuth Chan-ocha in the face of mounting accusations of cronyism.
As more information emerged about how Contemporary Construction was awarded nearly 200 million baht in work since December 2014, the junta leader conceded it was somewhat "inappropriate" but also disparaged those calling for further transparency in the case.
"They can investigate whatever they want to investigate. They want to investigate his kitchen or his toilet, go ahead. " Prayuth said of his brother Preecha Chan-ocha who led the army region where the work was awarded to his son.
However the junta chairman also challenged transparency activist Srisuwan Janya, who filed complaints with the national anti-corruption body last week over the company belonging to Pathompol Chan-ocha.
"And that man Srisuwan. What work does he do each day? He makes his complaints every day. Does he have a job?" Prayuth said, fuming. "Someday I will investigate him. What career do they have? Where do they get money from? … Are their jobs honest?"
Critics point to what they say are dodgy arrangements regarding Contemporary Construction. For one, it was founded in 2012 and, without any major projects to its name, went on to be awarded eight multi-million baht construction contracts by the army.
Then there's an apparent conflict of interest. Company owner Pathompol is the son of junta member Preecha, who at the time, commanded the army region where the work was done. In the competitive bid that awarded Contemporary Construction the contracts, it only underbid its competitors by as little as 1,900 baht.
Finally it came to light Wednesday that the company's offices are located on an army base, a clear use of a military facility for private business.
Since seizing power in 2014, the junta has presented itself as committed to cleansing the nation of its endemic culture of corruption.
Now its critics cry foul at what they see as another example of its blatant cronyism, while the military regime maintains there was no impropriety.
Gen. Prayuth said he's put the matter behind him.
"[Preecha] apologized to me. He said he didn't do anything wrong. It's just some things he did were appropriate," Prayuth said Thursday. "He admitted that point."
Prayuth said he didn't even know his nephew Pathompol had such a company.
"I didn't know he had a company in all these years. He's all grown up now. I haven't met him in person for years now. I don't see my family often because I have dedicated all my time to work," the general said.
Deputy Prime Minister Wissanu Krea-ngam also said he found no irregularity in Contemporary Construction.
Since first reporting on Contemporary Construction on Sept. 19, investigative news site Isra News has published more details about the company, including the fact it received total payments amounting to 194.2 million baht from either the central army command or the Third Region Army for construction projects between December 2014 and April this year.
Throughout all those months, Pathompol's father – Gen. Preecha – served as either deputy commander of the Royal Thai Army or chief of Third Region Army.
Preecha, who retired today as permanent secretary of the Defense Ministry, has also been the subject of a separate controversy involving his wife. Earlier this month he had to explain why she was afforded treatment reserved for members of the royal family.
Related stories:
Army Decries Smear Campaign Against Prayuth's Sister-in-Law
Prayuth's Brother Defends Lucrative Army Contracts Awarded to Son