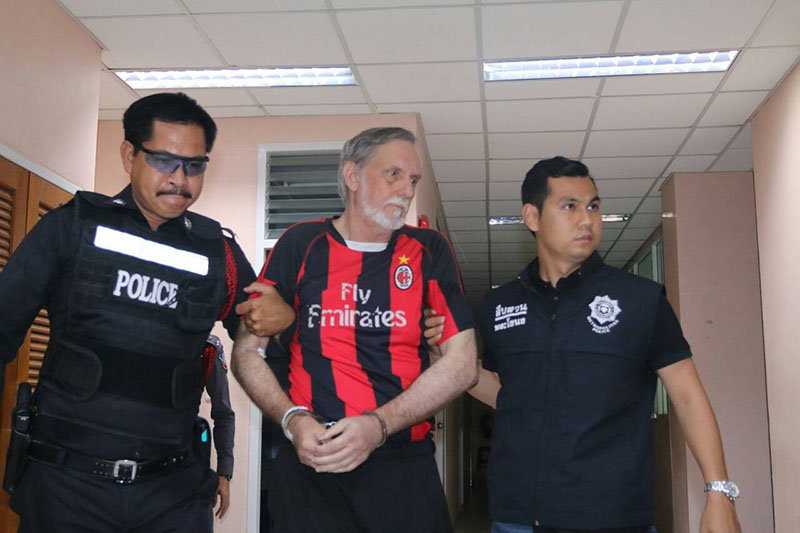 BANGKOK — An American man arrested recently and suspected of keeping a frozen body in a large freezer confessed to murder during questioning Friday, a source in the police station told Matichon.
Herbert LaFon and two other American men, Aaron Gabel and James Eger, were arrested Sept. 23 at a shophouse in Phra Khanong after police raided it on suspicion they were running a passport forgery operation there.
Read: The Americans: Head Forgery Ring Suspect Ran From FBI
Reached to comment on the news, deputy metro police chief Suwat Jangyodsuk disputed the report, saying that La Fon had not confessed but provided "useful information in the case."
During the raid, La Fon allegedly shot a police officer before being captured. The officer survived. In a search of the premises, officers discovered the frozen and dismembered remains of an older Western man they have still been unable to identify.
A former neighbor of La Fon's told police he had seen the 63-year-old man remove the same freezer from his home in the Ekkamai area some months ago.
Additional reporting Teeranai Charuvastra
Related stories:
Suspected Forgers' Frozen Body Thought to be Older Western Man
Police Can't ID Suspected Farang Forgers Or Their Dead Body
Foreigners Arrested After Raid on Forgery Ring Leads to Body in Fridge