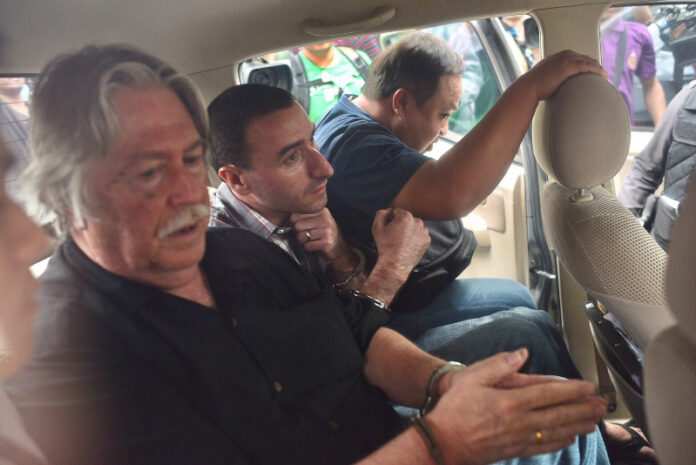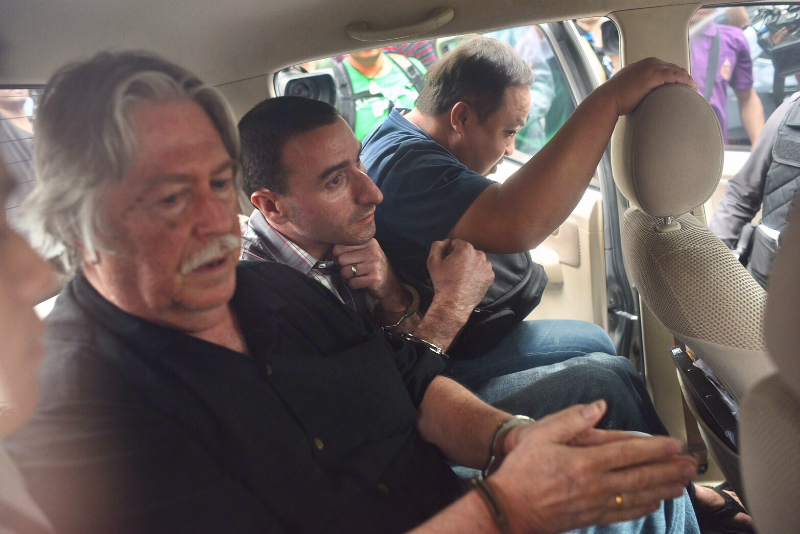 BANGKOK — Three foreign men accused of shooting a police officer during a Friday raid in Bangkok have denied any knowledge of the frozen body found at the scene.
Police said Monday they still can't verify the identities or nationalities of the three suspected forgers, who possessed American and British passports. Neither do they know whose dismembered body they found in cold storage inside the building in Soi Sukhumvit 56 where they were arrested.
"We already sent all the information including photos and fingerprints of the corpse and suspects to foreign embassies to verify," Maj. Gen. Somprasong Yenthuam of the Metropolitan Police Bureau said.
The three Western men have been charged with concealing a corpse, possessing drugs and counterfeiting passports.
Read : Foreigners Arrested After Raid on Forgery Ring Leads to Body in Fridge
Passports in their possession identified them as Aaron Thomas Gabel, 33, and 66-year-old James Douglas Eger, both of the United States. The third suspect possessed an American passport identifying him as 63-year-old William Peter Johnson and a British passport identifying him as 58-year-old Peter Andrew Colter.
Friday's raid was launched to target a suspected foreign forgery ring suspected of making fake passports. Johnson/Colter opened fire on police, shooting Sgt. Maj. Kanjanapong Chedet of the tourist police. He survived.
Johnson/Colter, who was being for injuries at Police General Hospital, told police the freezer with the dead body belonged to a buddy who used to live on Soi Ekkamai 12. He didn't elaborate.
He also told police that he intended to shoot himself, but his gun accidentally fired while police were attempting to disarm him.
"But the police officer who was shot said he directly pointed the gun at him," Somprasong said.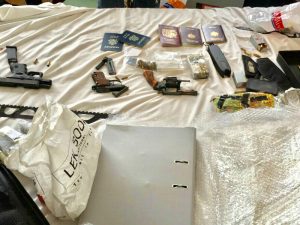 Johnson/Colter was also charged with attempted murder of a security officer and illegally entering the kingdom. Gabel and Eger are both in custody.
A Burmese couple who lived in the building and were swept up in the raid were released without charge, Somprasong said, as police believe they were uninvolved.
Along with the guns, marijuana and crystal meth police found was an unknown chemical they believe was involved in creating fake passports. The substance is being examined.
Metropolitan police commander Sanit Mahathavorn on Sunday said police were looking into the financial records of the group.