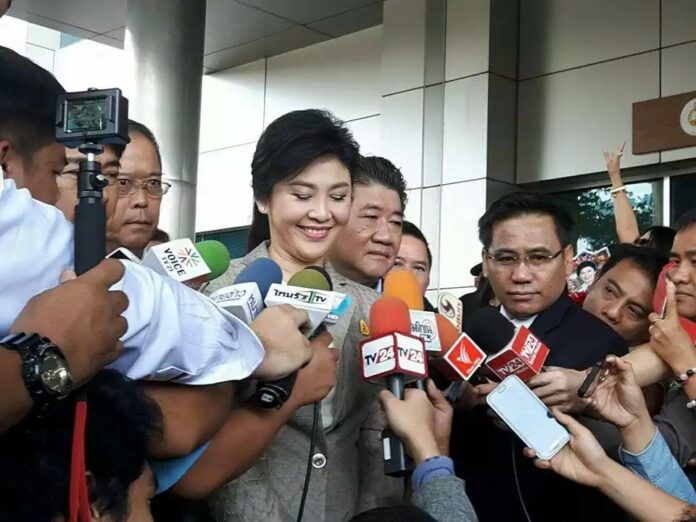 BANGKOK — The Pheu Thai Party has accused the military government and junta leader Prayuth Chan-ocha of not respecting due process by imposing a 35.7 billion baht (USD$1.03 billion) fine against former Prime Minister Yingluck Shinawatra for losses incurred by an agricultural subsidy enacted by her administration.
In a statement issued Sunday, Pheu Thai said it was premature for the government to order Yingluck pay the large sum before the Supreme Court even rules in the malfeasance trial against her stemming from losses the program incurred during the 2012-2014 growing seasons.
"If the court rules that the defendants are in the wrong, then civil liability lawsuit proceedings may be filed against them," the English-language statement read. "It is inappropriate for leaders to lead the society into making conclusions before the court has announced its ruling."
The statement called on Gen. Prayuth to adhere to normal legal procedures and not interfere with the case using the absolute power granted under Article 44 of the junta's interim charter.
The statement also noted Prayuth, who is both prime minister and junta leader, has used his special powers to both empower agencies to seize and sell off the property of those involved in the price-pledging subsidy while granting them legal immunity from doing so.
"This will allow officials involved to take actions without regard to the rule of law, as they will be protected and the actions they take will only be to achieve the aims of those in power," the statement read.
Prayuth defended the move on Sunday, saying his government had to take action before the statute limitations expires in February. He said he was not interfering as it was up to the courts to make the final ruling.
For her part, Yingluck called on Prayuth to show her the same consideration he's shown to his brother, permanent defense secretary Preecha Chan-ocha. Last week the army circled wagons around Preecha, denying there was anything improper about lucrative army projects awarded to his son.
"I would like the PM to apply the same kind of thinking and justice to me as you did to protect your little brother and people who are on your side. The law is for use with everyone, not just people on my side."
Additional reporting Asaree Thaitrakulpanich