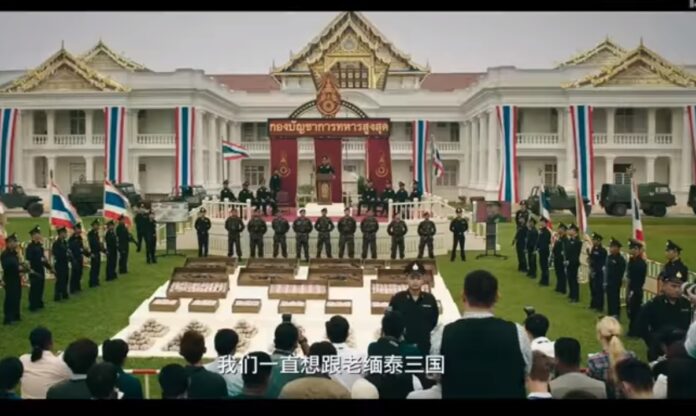 BANGKOK — No domestic distributor has been found for a film inspired by the murder of 13 Chinese nationals on Mekong River after Gen. Prayuth Chan-ocha warned recently it could be banned.
"Operation Mekong," seems unlikely to show in Thailand after Prayuth warned three days before its Sept. 30 opening in Hong Kong that the film would be banned by the Culture Ministry if it was found to defame Thailand.
The action film is based on the so-called Mekong River massacre of 2011, in which 13 Chinese crewmen were killed and nine Thai soldiers were implicated but not prosecuted. It is showing in Hong Kong, China and some theaters in the United States.
"I'll tell the Ministry of Culture to check whether the content is distorted or not," Prayuth told reporters on Sept. 27. "If it's distorted, it might not be allowed to screen because it'll defame our country. And don't forget that the Golden Triangle belongs to three countries. If we protest or proceed with any operation, will other countries join us?"
https://www.youtube.com/watch?v=kM0d3S-JOG4
The 23rd film by prolific action filmmaker Dante Lam is based on what happened Oct. 5, 2011 in a notorious corner of the Golden Triangle. Eight attackers including a Myanmar drug lord along with Thai and Laotian nationals ambushed two Chinese commercial vessels loaded with almost a million methamphetamine pills between Chiang Rai province and Myanmar.
It led the governments of Thailand, Laos, Myanmar and China to join forces and hunt down notorious Myanmar drug cartel leader Sai Naw Kham.
Soon after the incident, nine Thai soldiers from an elite anti-narcotics task force were investigated for their involvement, as they were the first to step onto the vessels to confiscate the drugs. No case ever moved forward.
"Operation Mekong" was shot in Bangkok and Samut Songkhram provinces in 2015 with permission from the national film office.
"In the documents submitted, the crew stated that [Operation Mekong] doesn't specify that the story takes place in Thailand. The committee warned them to be careful not to include imagery or other indications that would convince the audience that this is Thailand," someone working in the national film office said, who only spoke on condition of anonymity.
Related stories:
Horror Film May 'Destroy' Buddhism, Activists Warn