BANGKOK — A 55-year-old woman assaulted by a bystander and humiliated in an online video for allegedly insulting the monarchy suffers from mental illness, according to records released by police Monday.
Somjit Tangsirikul was slapped by a black-clad woman on Sunday after a crowd forced her off the bus and shouted that she defamed the monarchy, one of several violent outbursts against those who seemingly showed disrespect to King Bhumibol, who died Thursday at 88.
Read: Woman Forced Off Bangkok Bus, Slapped for Allegedly Insulting Late King
"She's under treatment," Weerayuth Srisupat, a Nang Loeng police investigator told reporters Monday. "She has a condition of hallucinating and berating other people and shouting all the time."
Capt. Weerayuth also showed reporters a record of her treatment at Somdet Chaopraya Hospital in Bangkok. She's been registered as a patient there for 10 years and often neglected to take her medication, the officer added.
The woman who assaulted Somjit was named as Charinthit Hongthong, 35. Police had yet to file any charge against her, Weerayuth said.
After news got out, the Facebook user who posted a video of Sunday's assault and described Somjit as a royal defamer apologized and removed it.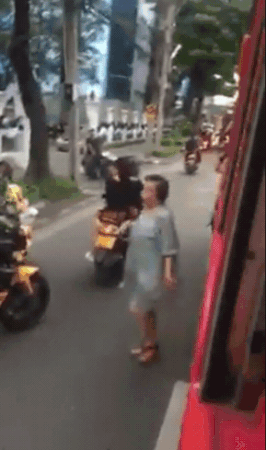 "Now we have confirmation. I have to sincerely apologize to the auntie for posting the video I took," Mai K. Phakaporn wrote Monday evening.
On Wednesday deputy junta chairman Prawit Wongsuwan urged the public not to take matters in their hands if they see any offensive behavior toward the monarchy. Instead they should alert authorities and let law enforcement officers handle the issue, the general said.
Related stories:
Chonburi Man Beaten by Mob Over Royal Defamation
Mob Demands Woman Accused of Royal Defamation Kneel Before Portrait
Another Man Arrested for Lese Majeste in Phuket
Phang Nga Mob Enraged by Alleged Royal Defamation Post