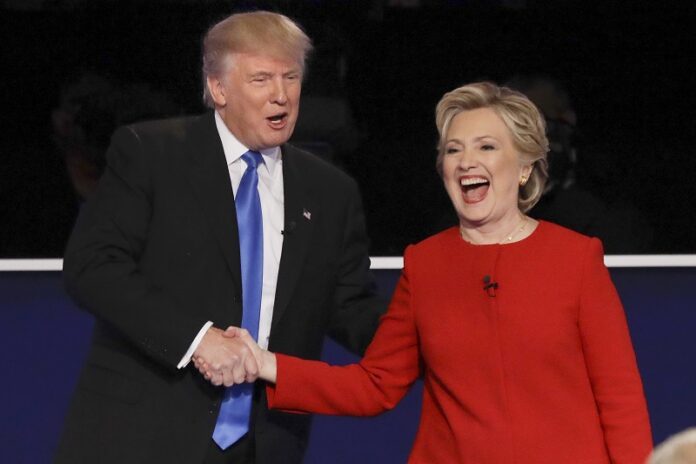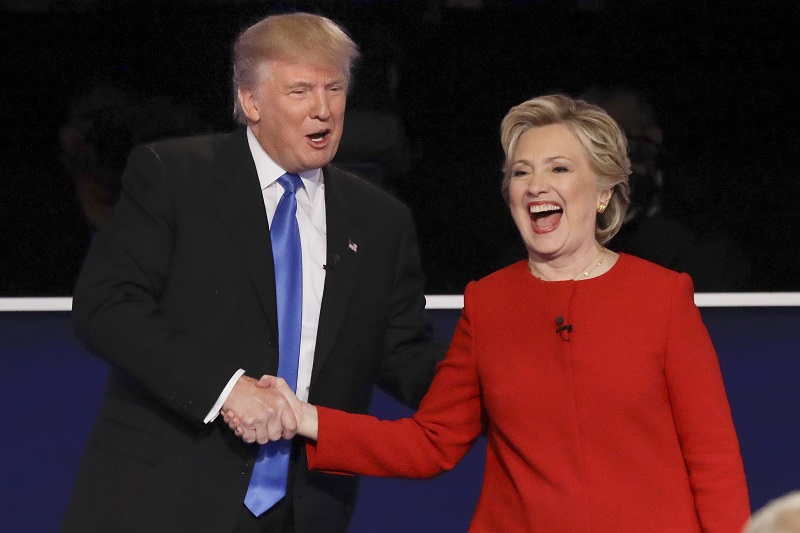 BANGKOK — With the outcome of next week's U.S. elections far from certain, Thai political experts predict a win by Donald Trump would lead to more erratic relations with Washington while a Clinton administration would mean continuity.
While most said a Trump presidency might herald closer relations with Thailand's military regime due to his seeming ambivalence toward human rights and authoritarianism, they agreed less is known of what specific policies he would pursue compared to Clinton on matters of trade and geopolitical alignment.
"The challenge of assessing a Trump presidency is that he is so much of an outsider as to be an unknown quantity. We don't even know who his Asia team is likely to be, should he win," said Chulalongkorn University political science professor Thitinan Pongsudhirak. "For Hillary Clinton, we can sense continuity from Obama on Asia policy, including the role of people like Kurt Campbell, who was assistant secretary for East Asia and [the] Pacific."
Thitinan noted Trump's rise from outsider to de facto leader of the Republican Party has caused a schism between his party's centrists and more extreme elements. Clinton, he said, is a through-and-through establishment figure.
"She represents the sleaze and privilege associated with old-style U.S. politicians," he said. "But Trump is hardly better as a rambunctious representative of Americans who have been left out by runaway globalization and internationalization."
A Trump presidency could upend the world order and prove unpredictable for Thailand, said professor Thanet Aphornsuvan, an expert on ASEAN and U.S. affairs at Thammasat University.
"If Trump wins, everything will shift. He may be able to negotiate with Putin and the Chinese. The old balance of powers may be discontinued under Trump. I think it will affect Thailand as Trump is likely to become more friendly with China and the relationship with the National Council for Peace and Order may be good," Thanet said, using the ruling junta's formal name.
On the other hand, a President Clinton would mean continuity to existing U.S. foreign policy with an emphasis on human rights, Thanet said.
"Trump doesn't talk about human rights," the Thammasat lecturer said.
The dean of Ubon Ratchathani University's political science faculty predicted the election of Trump would mean issues of democracy and human rights, which have been sticking points in relations between Washington and Bangkok, would become less so.
"If Trump wins, Trump may not care about these issues, and it may be in line with those who do not want democracy in Asia," Titipol Phakdeewanich said. "Hillary would likely be more beneficial in terms of strengthening democracy in Thailand and the rest of Asia."
Trump has steadfastly refused to criticize Russian President Vladimir Putin, whose leadership has long been criticized by U.S. officials for its authoritarianism and human rights abuses. Instead Trump has suggested the U.S. government should find common cause with Moscow, while his critics have accused him of being too receptive toward dictators.
"The government under the National Council for Peace and Order is likely to get along better with Trump than Hillary due to Hillary's stance on human rights," Titipol said. "Trump may get along well with the military regime."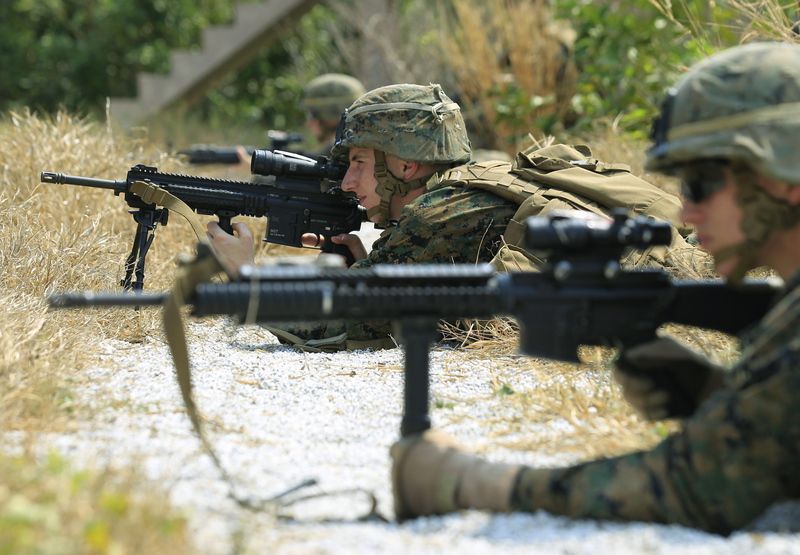 Thitinan, director of Chulalongkorn's Institute of Security and International Studies, is less sure. He said there were several reasons Trump was unlikely to forge closer ties to the junta, the primary of which being strong existing military ties.
"First, Thai-U.S. military relations are still very good under Obama. So it's not like military-military ties are on the rocks and Trump would bring them more in line," he said, describing ties between the two nation's militaries as "the bedrock of what's left."
He also pointed to Trump's isolationist posturing and claims he wants to bring U.S. firms and jobs back home.
"He wants to disengage to save costs and reduce international burdens. He wants to stand up to China," he said. "Trump does not talk of democracy and human rights, and his authoritarian ways have not endorsed authoritarian rule as such. He has expressed some support for Putin on a bilateral basis, but that is far from being supportive of despotic rule."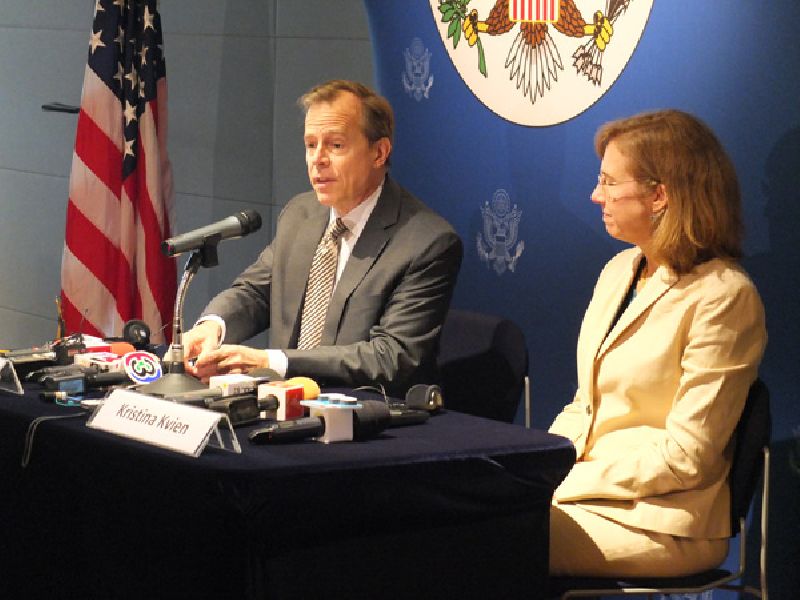 Trade
On economic ties, both candidates have signaled opposition to a trade deal between Pacific Rim nations that Bangkok has expressed interest in joining. Washington has made it clear Thailand would need to institute an array of reforms and standards to join the Trans-Pacific Partnership, or TPP, which neighbors Vietnam and Singapore endorsed with in February.
Trump has steadfastly opposed it; Clinton originally supported the agreement but now says it is flawed.
A one-time activist opposed to such agreements pointed to Trump's daily declarations to dismantle the existing North American Free Trade Agreement and opposition to TPP as evidence he would likely pull the United States back from it.
"Trump has clearly declared that he will not support TPP," Jacques'chai Chomthongdi said.
Read: US Ambassador Dangles Big 'If' on Thai Entry into Trade Bloc
He noted Clinton was leaning the same way under pressure by strong populist sentiments.
"Hillary has been forced to have a clear stance on TPP, and she said the matter must be put under review," said the anti-free-trade activist who predicted that no matter who becomes president of the United States, Thailand could face growing trade barriers as issues of labor rights and the environment could be used as a tool for protectionism.
Thammasat's Thanet warned Trump's protectionism would adversely affect Thailand.
"Trade negotiations will become more difficult, and the Thai economy may face greater hardship as a result," he said.