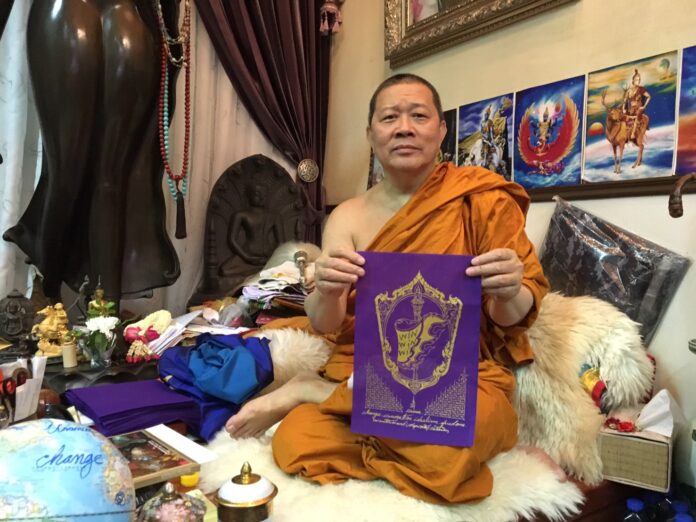 BANGKOK — The same magic monk credited with Leicester City FC's victory earlier this year took some credit for helping Donald Trump ascend to the White House with one of his magic cloths.
Abbot Thongchai Thanjiaokhun of Wat Traimitr said Friday evening that that for the past seven months, Uranus has had a strong impact on Earth. Therefore, the astrologer believes leaders with the qualities associated with Uranus – change, innovation, idealism and freedom – would rise to a powerful position.
"Trump is the most qualified person and has these four qualities; therefore, he is fit to be the leader of 300 million Americans," the abbot said. "Americans' characteristics are like those of cowboys, so they have chosen a fitting leader."
The abbot displayed one of his blessed pha yant, a type of mystical cloth believed to confer powers.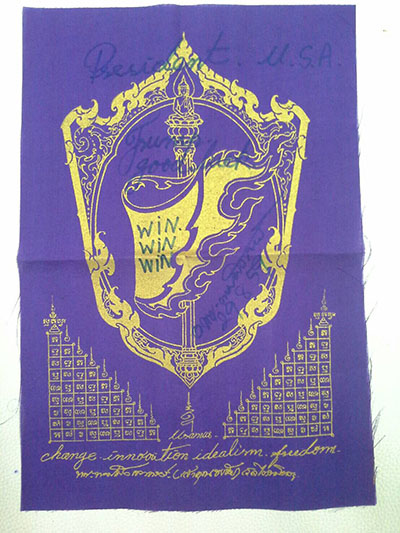 "President USA. Trump. Good luck. Win Win Win," reads the purple cloth along with the date Aug. 29, 2016 written on it. It was shown with a letter claiming it was sent by by the director of a beauty school to Trump.
The Nov. 3 letter indicates the abbot prayed for Trump on Nov. 8, the day of the election, suggesting his powers might extend beyond linear time as well.
On Friday he displayed one of many reproductions of the cloth which he has been giving away since they went into production in August, a temple representative said Saturday.
Thongchai went on to brag that he had predicted Trump's win six months earlier, before Trump won his the Republican Party nomination.
Earlier this year, the superstitious widely hailed Thongchai's magic as a factor in Leicester City's Premiere League improbable win. His mojo failed to help the women's national volleyball team soon thereafter, but that didn't stop the Auditor General's office from going to him to to bless what it called a "corruption-combating spirit cloth" to safeguard public funds.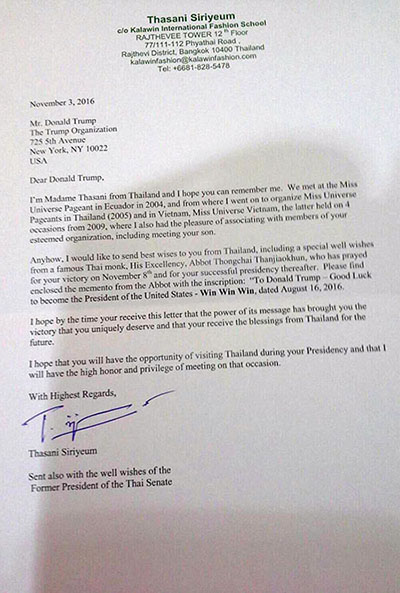 Related stories:
Magic Cloth To Guard 'Virtuous Spending' of Public Funds
Thai Volleyballers Chase Leicester Success To Same Magic Monk
Thailand's Leicester Fans Keep Faith in Team's Title Chase