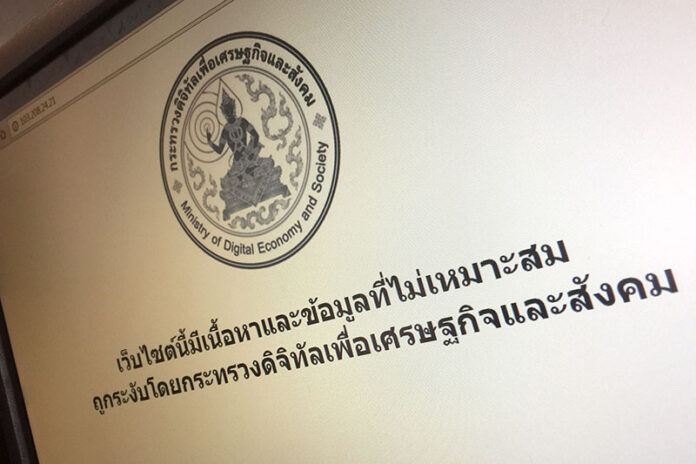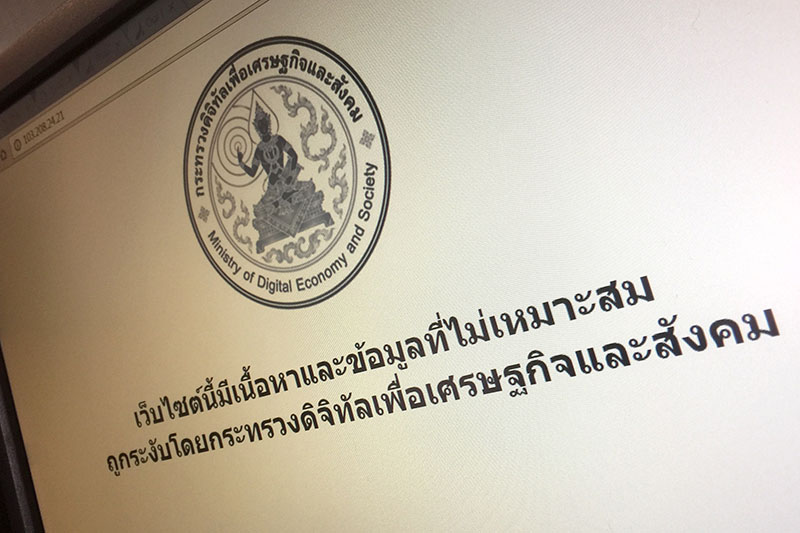 BANGKOK — Authorities cracking down on online insults to the royal family following the recent death of their king pressed Google and Facebook for help as they shut down 1,300-plus websites last month – more than they had in the previous five years combined, according to records released exclusively to The Associated Press.
While the nation has collectively grieved since the Oct. 13 passing of King Bhumibol Adulyadej, the government has also focused on eliminating online remarks it deems offensive to the late monarch, his queen or his heir-apparent, Crown Prince Maha Vajiralongkorn. Thailand's lese majeste law, the world's toughest, makes defaming any of the three a crime punishable by up to 15 years in prison.
Read: Why Thailand Should Worry About an Improved(?) Computer Crime Act
Since the king's death, Thailand has charged more than 20 people with making anti-royalty statements, requested deportations of suspects from at least seven countries and attempted to wipe out content it finds offensive from websites and social media.
"The amount of content restricted in Thailand under these laws is absolutely of concern, particularly as the lese majeste provisions are used to stifle legitimate dissent, both through blocking and content removal," said Madeline Earp, who researches Asian internet censorship for the nonprofit Freedom House.
The military says the lese majeste law is necessary to safeguard the monarchy and national security.
Data compiled by the Ministry of Defense's support group and released to the AP shows that the government shut down 1,370 websites in October, more than the 1,237 shut down in the previous five years. Just two had been shut down in September.
Thailand orders the country's internet service providers to block offensive websites. Users who click on them see only a government seal and a statement in Thai: "This website contains content and information that is deemed inappropriate. It has been censored by the Ministry of Digital Economy and Society."
Deputy Prime Minister Prajin Juntong said the government has set up a team to quickly control online content.
"Thais have been attacked by websites that twist the truth," Prajin said.
The approach is different for Google, Facebook and other online and social media platforms based outside of Thailand. Prajin said he has contacted those companies and asked them to monitor and remove content that could insult the monarchy.
Prajin said Google and Facebook agreed. Both companies dispute that, and say they are only responding to complaints brought to them rather than actively seeking content offensive to the monarchy.
"We have never provided account information or content of any Facebook user to the government of Thailand, nor do we proactively monitor people's content or conversations for potential violations of local law," Facebook spokesman Tim Inthirakoth said after his company met with Prajin on Thursday.
Google said that last year it removed 1,331 items at the request of Thai authorities, up from 74 items in 2014. Facebook said it had five requests related to criminal cases in 2015 and didn't produce data for any of them. Facebook and Google refused to release how many requests they've had since the king's death, saying they will publish that in their regular biannual online reports.
Thailand has long censored online content deemed insulting to the monarchy, but has done so more frequently since a military coup ousted an elected government in late May of 2014. According to the Ministry of Defense data, the junta censored 974 websites in its first two years, more than three times as many as the prior government censored in its last two years.
Thai authorities are thought to be particularly concerned with websites with content about Vajiralongkorn, the 64-year-old designated heir to the throne who lacks the popularity of his father. The public at large has long traded rumors about Vajiralongkorn's finances, hot temper and other matters. Three stormy marriages are a matter of public record. But critical news reports from abroad about Vajiralongkorn are commonly blocked in Thailand.
Thailand remains somber in many ways more than a month after the death of Bhumibol, who was 88 and the world's longest-reigning monarch. Millions continue to dress in black or white every day, boisterous events have been canceled and mourners are flocking by the tens of thousands to pay their respects at the Royal Palace.
Online, for the first 30 days many websites and Facebook pages were also without color. Even Google's trademark red, green, blue and yellow search box was, in Thailand, simply monochrome.
Daphne Keller at the Stanford Center for Internet and Society said internet companies doing business in countries with laws restricting speech know they will be expected to comply with the rules. One common means of doing so without deleting lawful speech elsewhere is to offer country-specific versions of services, like YouTube Thailand, said Keller.
"The company can then honor national law on the version of the service that is targeted to, and primarily used in, that country," she said.
Emma Llanso, who directs the Free Expression Project at the Washington, D.C., based Center for Democracy and Technology, said internet companies have to grapple with how to respond when told to shut down websites.
"This is a perfect example of the kinds of conflicts that make it difficult to protect freedom of speech in the digital age," she said.