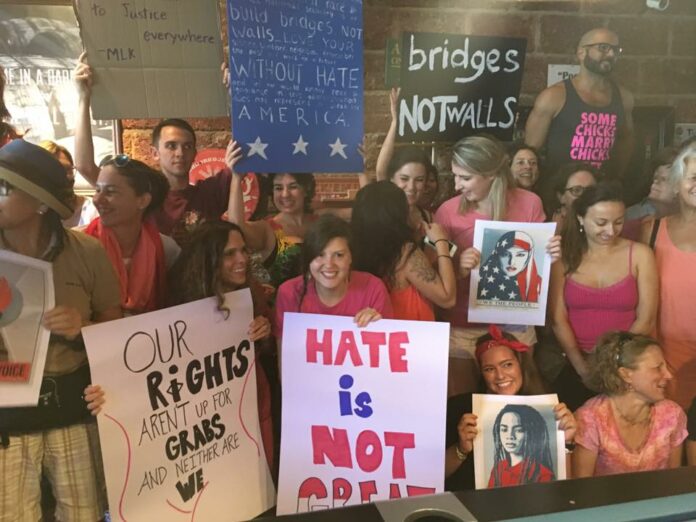 ---
BANGKOK — Activists in Thailand who joined global protests against U.S. President Donald Trump over the weekend said Monday they hope more such events follow in the future.
Since the junta's ban on political protests means street demonstrations like the ones in Washington D.C. and other major cities across the world were not possible, activists in Chiang Mai held a picnic in a park Saturday where they advocated for the advancement of women around the world and in solidarity with American women threatened by a new administration.
"We also hope this gathering could be a starting point for more of this kind in the future," organizer Molly Ferra said in a message. "That will allow us to engage across interests and identities, better inform ourselves, and create collective action points for constructive and meaningful forms of resistance."
Read: Thai Progressives React to Trump's Shocking Victory
About 35 people including men, women and children, showed up for the picnic, Ferra said. She said the event was set up by a team of women from different countries including the United States, Thailand, Myanmar, Fiji and India.
Another Women's March event at a restaurant in Bangkok drew dozens of participants.
Nima Chandler, an American citizen, said she and her friends decided to set up the event to show support for those marching in the United States and other countries after seeing no plans to do so in Bangkok.
"We were very surprised and pleased with the turnout, as we only had it on Facebook for a few days," she said in a message. About 90 people joined the event, she said, including expats and tourists.
The events coincided with Women's March demonstrations in cities around the world, in which millions took to the streets in support of women's rights in response to the election of Trump, who took the oath of office on Friday.
Trump, who once boasted of sexually assaulting a woman and was accused by a dozen of similar conduct, has remarked that women should be punished for having abortions and other comments worrying to advocates of reproductive rights. There are also reports that his administration may move to defund Planned Parenthood and bar foreign aid from assisting abortions or family planning.
Another picnic organizer, Emily Hong, said she and fellow activists were demoralized by Trump's electoral victory. Saturday's event, she said, served a rallying point for opposition.
"Many of us have been in denial and despair since the election of Donald Trump," Hong, a U.S. national, said in a message. "But participating in the global women's march, in our own way, felt like an important step to begin resisting Trump's agenda, and the combination of patriarchy and authoritarianism that he represents."
The military government formally congratulated Trump on his inauguration on Sunday. Junta chairman Prayuth Chan-ocha sent a message to the American president expressing his wish to work with Trump for closer bilateral relations and the "prosperity of the Asia-Pacific region," according to a government spokesman.
Related stories: 
Thailand Can Expect Less Interest From President Trump, Academics Say
Donald Trump's Foreign-Policy Challenges
Gen. Prayuth Plays Down Trump Comparisons
Rising in solidarity with @womensmarch and @iwillgoout2017 in #ChiangMai #WomensMarch #IWillGoOut #SisterMarch with @BettyBarkha @FaiSuluck pic.twitter.com/HTPV3sgr7Q

— Neha (@_Neha_G) January 22, 2017
Correction: An earlier version of this story misattributed a photo to Molly Ferra. The photo in fact was shot by Emily Hong.