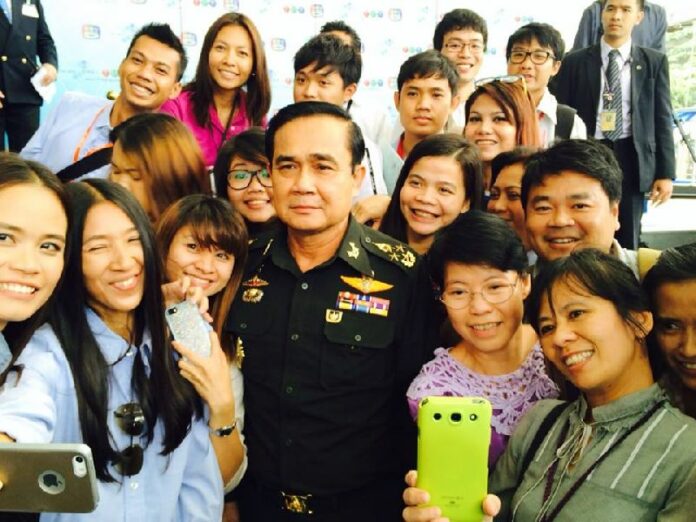 BANGKOK — Media experts say the government has no place on a proposed council empowered to issue and revoke licenses for journalists – not unless press freedoms are to be undermined.
Growing concerns are being raised by media experts and professionals as a junta-appointed body further tweaked the composition of the National Media Council set forth in the bill this week in an attempt to appease critics.
In the latest version made public by ACM Kanit Suwannet, who heads the media reform subcommittee, 15 members would sit on the proposed council instead of 13 and increasing the number of media representatives to seven from five. The two new members would be drawn from regional media representatives. However, two members will continue to be permanent secretaries from the Prime Minister's Office and Culture Ministry.
Read: Junta Lawmakers Advance Plan to 'License' All Media
The latest version also allows existing media organizations to issue licenses to their own journalists for the first two years after the bill comes into effect. After that, the council would take over the task of issuing licenses to reporters. However, new aspiring journalists would immediately be trained, tested and assessed by the council to determine whether they are eligible to practice journalism.
Edgardo Legaspi, executive director of the Southeast Asian Press Alliance, warned that seating government officials on such a panel would lead to limited press freedoms.
"The scary thing about that is that the line of control will be very short," Legaspi said.
Even with more media representatives sitting on the board, those selected may end up being there not to protect press freedom but for the fat salary that comes with the post, warned Mana Trirayapiwat, dean of the School of Communications at the University of the Thai Chamber of Commerce. Mana said they could end up becoming proxies for state control.
Euajit Virojtrairat, secretary general of the Foundation for Media Studies, agreed. Euajit said the military regime must acknowledge that soldiers do not know everything, and they don't understand the relationship between the mass media and society.
Time for Co-Regulation
All three stressed that mere opposition to the proposed media bill alone won't suffice.
They agreed that it's high time for Thai media to truly try and effectively regulate themselves with the cooperation of representatives from civil society lest the government do it for them. The three said media professionals and organizations have so far failed to regulate themselves and rein in abusive behavior.
For example, Mana said the media often abuses its freedoms by violating some people's right to privacy or accepting state advertisement in exchanged of flattering reports or self-censorship. "The media must prove itself capable of self-regulation. There's a need for regulation, but not from the state. The media should work in hand with civil society."
Euajit, meanwhile, had this to say:
"If [the military regime] retreats [on the proposed bill] it's still not considered a victory. It may be the starting point of co-regulation. It's time to acknowledge the need for co-regulation."
Meanwhile, Legaspi also insisted that such proposed professional commission is not the answer as he believes its goal is to undermine the freedom of independent media. Effective voluntary self-regulation is needed, Legaspi added.
"Newspapers can just pull out [from current media associations.] If there was a way to make the regulation more mandatory, that would help," said Legaspi, in reference to the current Press Council of Thailand and Thai Journalists Association which are not state-operated. "There's a need for inescapable authority. But that must not be by the government."
Non-mainstream media and small content creators may also be silenced, as the bill is written.
The latest draft of the proposed bill requires those who earn money posting comments online to fall under the law and obtain a license. Mana is doubtful if any effective control on Facebook Live streaming can ever be achieved.
"Will they bar ordinary citizens from Live Streaming [on Facebook]?" asked Mana, adding that he finds it hard to believe any such licensing can be effective.
Legaspi meanwhile feels that alternative media has been left out of the ongoing campaign against the draft bill. He said there's "little traction" among independent and freelance journalists.
"These journalists will be most victimized," said Legaspi, citing news outlet Prachatai as example. "They're outside the purvey of these [mainstream] organizations. There's a need for stronger voices."
Related stories:
Tweaks Ordered for Media Bill, But Oversight Council to Stay
Genteel Protest to Media Censorship Swatted Aside
Thailand's Media Protests Law to 'License' All Journalists
Prayuth Named 'Press Freedom Predator' – Again
Govt Deplores Foreign Media Coverage, BBC Coverage Blocked