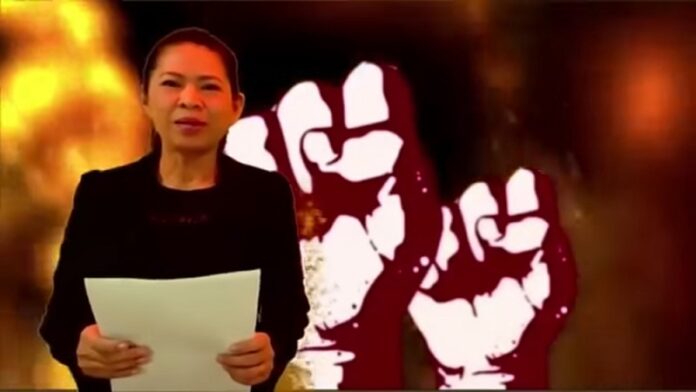 BANGKOK — A week after the military government accused those wanting to turn Thailand into a republic of plotting to assassinate government leaders, a prominent exiled dissident says there exists no such plan and that those seeking political change would do so through peaceful means.
Former Chulalongkorn University linguist Suda Rangkupan, 51, a dissident who uses YouTube to get her message out, said no plot exists as alleged by the military government after last month's seizure of arms purportedly belonging to Wutthipong Kochathammakun, or Ko Tee, a fugitive lese majeste suspect.
At least nine others have been arrested in Thailand and accused of being part of a movement aiming to overthrow the government and assassinate top regime figures, including junta leader Gen. Prayuth Chan-ocha, since the March 18 raid. Wutthipong, who lives abroad and is the target of extradition efforts to return him to Thailand, has also denied any such conspiracy.
Read: Assassination? Extradition? Ko Tee Plot is in the Eye of the Beholder
Suda said there is a fight that is in its early stages, but it is an ideological one that does not include violence.
Suda, who fled Thailand in the immediate aftermath of the coup and is wanted for refusing to report to the junta, said she hopes the people can eventually decide the country's fate through a referendum. She would not disclose where she is living – many suspect Laos – or how she makes a living, saying the regime is trying to have people like her extradited for prosecution.
Once a proponent for amending the royal defamation law within the framework of the existing constitutional monarchy, Suda after the coup became one of several key exiles to spread a republican ideology through social media.
She said that ideology, which is illegal to espouse, was a byproduct of the 2014 coup.
"I didn't have this idea to begin with. It was forged through experience and pressure. We wanted to just reform the lese majeste law," she said, referring to a failed push for the parliament to consider a proposed amendment in 2012. Although 26,000 signatures were gathered on a petition, the parliament declined to hear it. "We only got to the gate of the parliament."
Competing Currents
There exist three ideologies among Thai political exiles wanted by the junta, Suda said. First are those who want genuine democracy under the existing constitutional monarchy. Second are republicans such as herself, while a third group wants Thailand to be a federal republic.
Exiled academic Pavin Chachavalpongpun sees himself as belonging to the first group.
"I don't see myself as a republican," said Pavin, who teaches at the University of Kyoto in Japan and had his passport revoked by the regime. He said the current system of government would work so long as it keeps to the constitution.
Though he said republicanism may find support "in some quarters," it has little chance of taking off and offers no guarantees.
"In many ways, republicanism is an alien concept and antithetical to Thainess," Pavin said, noting that most power centers would oppose it. Last but not least, "How can we trust the new system? Who would lead it? How can [we] be sure that a new republic would be democratic?" he said.
No Going Back
To people like Suda, there's no going back. She and others sharing the same ideology say they are now laying the groundwork.
Among them and often disseminating their views through his own YouTube programs is Jom Petchpradab, 54. Jom also fled after the 2014 coup and lives in Los Angeles. He believes the road toward a republic or federal state is a long and winding one.
"This is because most Thais do not have deep-rooted thinking about freedom and human rights," he said. "Particularly, they have yet to be conscious about their true ownership of sovereign power and do not think that they have the right to determine the future of society with their hands."
He blames the education system for instilling submissiveness in service to an autocratic culture, not just in his generation but those in school and university today.
Suda is not loafing around, however. She, like about a dozen other exiles, gets her message out via YouTube despite attempts to block it inside the kingdom. Sometimes the former lecturer preaches to her viewers for as long as two hours in a single episode.
She said a loose network called Thai People for Republic formed late last year, with dissident members having spread through Europe and Asia.
"Arresting us won't stop the movement," she said, adding that only through genuine dialogue can Thailand find solutions to its problems.
Related stories:
Redshirt Firebrand 'Ko Tee' Says He's Fled Laos
Assassination? Extradition? Ko Tee Plot is in the Eye of the Beholder
Redshirt Fugitive Claims Junta Planted Guns in House
Firearms, Explosives Seized From Redshirt Radio Host's Home
Thai Authorities Seek Political Foes Taking Refuge in Laos