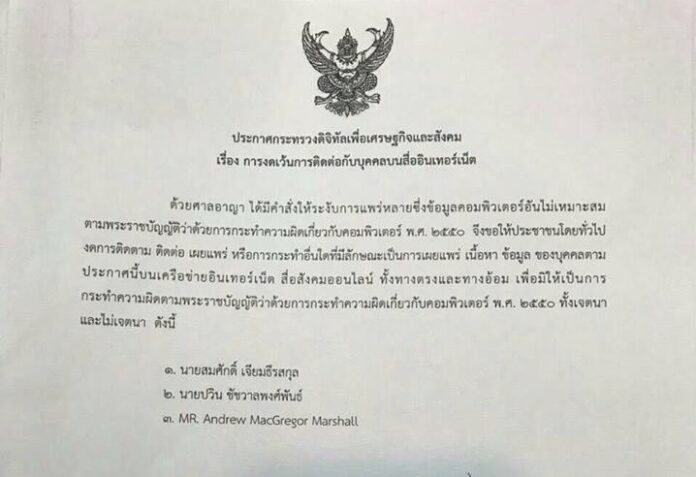 BANGKOK — Three outspoken critics of the Royal Family became persona non grata on the internet Wednesday under an outright government ban on contacting or sharing content from them, either "directly or indirectly."
In an unprecedented move, the Ministry of Digital Economy and Society said citizens are liable for prosecution if they have any online interaction with the trio, all of whom are prolific and widely followed figures social media.
The three people are historian-in-exile Somsak Jeamteerasakul, academic-in-exile Pavin Chachavalpongpun and former reporter Andrew MacGregor Marshall.
"Members of the public are asked to refrain from following, contacting, spreading or engaging in any activity that results in spreading content and information of the persons mentioned in this announcement on the internet system, social media; either directly or indirectly," the statement read.
While it said the content written by the three violates the Computer Crime Act, and it will be be considered a violation of that law, the order did not cite any legal basis.
Somsak is a former lecturer who fled Thailand shortly after the military took power in May 2014, while Pavin teaches at a university in Japan. Marshall is a former reporter who has published a book about the Thai monarchy.
All of the three are known for frequent online commentary about the monarchy.