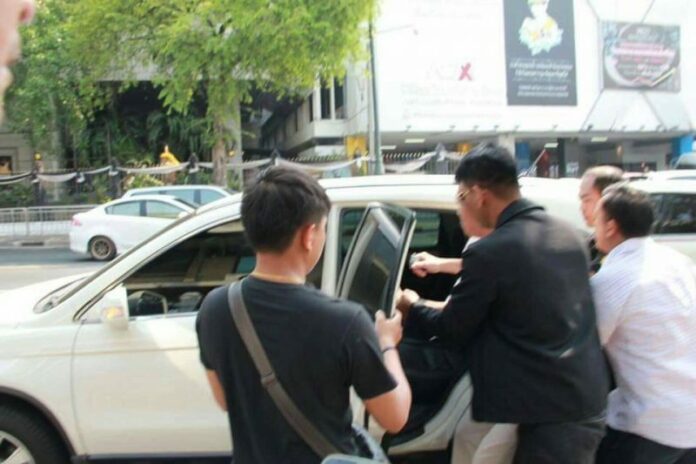 BANGKOK — While the military junta has eased off on its most aggressive tactics, recent cases and observers say it has replaced them with micro-managing resistance to its rule. Two cases occurred Tuesday, nearly three years after the May 2014 coup, and the details suggest the coup-makers are still very active when it comes to keeping a firm lid on dissent.
Political activist Ekachai Hongkanwan was dragged into a nondescript car Tuesday by four plainclothes security officers in front of the Government House as he sought to enter it to present a petition to junta leader Prayuth Chan-ocha.
Ekachai wanted Gen. Prayuth, who serves as prime minister, to find the owner of a mysterious, royalist plaque which earlier this month replaced another one had long commemorated the 1932 Revolution. In the letter signed from Ekachai, a former lese majeste convict who served nearly three years in prison, called for Prayuth to remove the plaque if no owner was found within seven days.
A dozen men were waiting when Ekachai arrived to the Government House at about 9am. None of them identified themselves, though Ekachai said he deduced who they were by their uniforms. He shouted in an attempt to resist being forced into a white car.
"They dragged both my arms and forced my head down [to put me into the vehicle]," Ekachai said on Wednesday, the day after the incident.
'It Was Disturbing'
Ekachai said a dozen bystanders simply looked on – some filming the encounter – but none did anything as he was dragged off his feet and into the vehicle, which eventually took him to the 11th Army Circle for "talks."
"It was disturbing," he said, of what he described as a public kidnapping in broad daylight. While inside the vehicle, he said they snatched his phone from him. Along the way, the men who engaged in small talk, handed Ekachai a piece of pink cloth and instructed him to blindfold himself before entering the military compound, "as the boss required."
Not all have been treated that badly. On the same day, just hours away, Redshirt activist Anurak Jeantawanich or Ford Red Path, was picked up by a military Humvee at his residence in Samut Prakarn province southeast of Bangkok. The arrival of the armored vehicle driven by two uniformed soldiers was preceded by a phone call from representatives of the junta at the province, saying the boss would like to meet him for "talks."
They were apparently upset by Anurak's Facebook posting, making fun of economic hardship suffered by people under junta leader Gen. Prayuth. Anurak did not resist, unlike Ekachai. Anurak has over the years developed some rapport with the local junta representatives, and on the way back he even took some selfies and posted them on his Facebook account.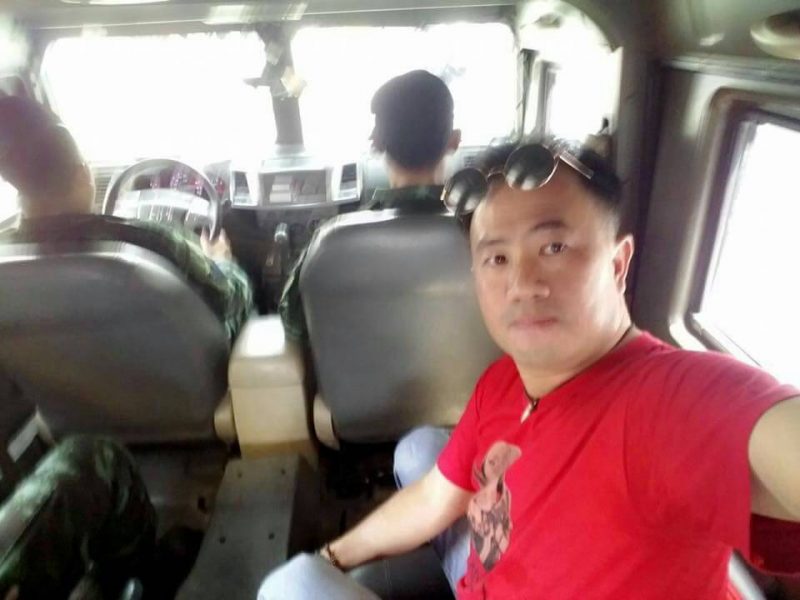 Conditions and Deception
After six hours of interrogation and being told he could be detained incommunicado for seven days under Article 44 of the now-defunct interim 2014 constitution, Ekachai was told to sign a Memorandum of Understanding, or MoU, before being released late Tuesday afternoon. The "agreement" entailed him accepting not to engage in future political activity and seeking permission from the National Council for Peace and Order or NCPO, before traveling abroad. If Ekachai violates the terms of agreement, he will be prosecuted.
"I didn't ask for a copy of the MoU. I reckon they wouldn't give me one anyhow," said Ekachai. The 42-year-old man, who now works to assist political prisoners, asked the officers what would happen if he was to be found engaging in public political activities in the future.
"Just do it quietly. But if you were caught, you would be taken back here again," said one officer. They also told him not to touch on issues related to the monarchy. None of the officers ever formally introduced themselves to Ekachai. After consulting with his human rights lawyer on Wednesday, Ekachai was told to file a police complaint saying he had been misled into signing the MoU because it wasn't specify what the punishment would be if he violated the terms.
"My lawyer told me I could face a maximum of two years imprisonment term if I violated the conditions, as stated under NCPO order 44/2014, but I had no clue about that when I signed," Ekachai said. "The lawyer told me to report to police that I was misled into signing it."
Before signing, Ekachai recalled being engaged in a near-shouting bout with an off-uniform police officer who told him to leave Thailand if he's not content about what's happening. "Thai society has this frame. It's how it is," Ekachai said trying to recall the police's wording as accurate as possible. "If you're not content, you should go live abroad!"
The officer suggested that the majority of Thais, over 60 million, do not have a problem with the current situation. Ekachai argued back, asking the officer how he could be so sure about it.
For Anurak, the deal appears straightforward. Soldiers whom he met for "friendly talks" after the ride to the junta's ad hoc office in the province asked him to remove a Facebook post making make fun of alleged economic hardship people are suffering under Prayuth. They told Anurak that was too harsh.
Hours after being dropped back home, Anurak was surprised to receive yet another phone call in the evening. This time the soldier on the phone asked him to delete a selfie photo he had taken inside the Humvee on his way back – which was eventually posted on his Facebook.
"They don't want society to know about it," said Anurak, adding that it reflects their sense of insecurity. He reluctantly obliged and deleted it – but not before some managed to save the photo and share it on social media.
Come Tuesday night, Anurak posted on his Facebook account that he was fed up of receiving numerous phone calls from junta representatives and that he would not attend any more calls from them for the night.
Ekachai posted on Facebook later on Wednesday saying that Thailand is increasingly resembling the society described by George Orwell in his novel 1984.