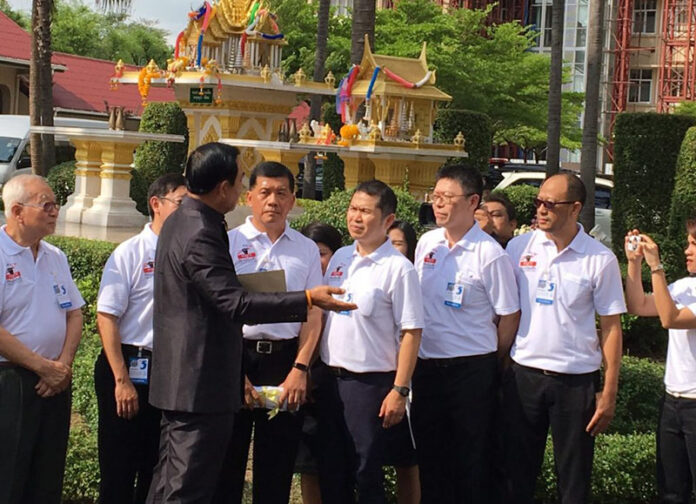 BANGKOK — Prime Minister Gen. Prayuth Chan-ocha sought to allay fears Tuesday morning about a bill to regulate all media that just won the endorsement of his appointed legislative advisory body.
Prayuth told representatives of 30 media organizations at the Government House that while he's willing to listen to their concerns about the draft bill, it was still needed to address problems in the media.
"You are free in every way today. … Don't forget that I gave you freedom and have never messed with anyone. I've never sued anyone, and I've never ordered any media shut down. … What can we do to prevent these things from happening, so the next government can survive?" Prayuth said.
Prayuth's remarks came the morning after a version of the so-called media reform bill was approved Monday by the junta-appointed National Reform Reform Steering Assembly.
Virtually all major media associations and organizations have vowed to defy measures put in place by the bill, should it become law.
The steering assembly approved the bill 141-13 with 17 abstentions after eight hours of fierce debate. During the debate some espoused China's model of suppressing and controlling information, while one member, Lt. Gen. Thawatchai Samutsakorn, said any media whose reports criticize the army should be shot by firing squad. Another member, former journalist Kamnoon Sitthisamarn, warned that passing the bill would be handing a blank check to a tyrant.
Before voting yesterday, the chairman of the subcommittee which drafted the bill, ACM Kanit Suwannet, promised to tweak the bill to address concerns.
For one, he said the number of high-ranking bureaucrats to sit on a proposed 15-member National Media Council would be cut again, this time to two from four. More media representatives would be seated on the council, he added.
His deputy, police Maj. Gen. Pisit Pao-in, said the subcommittee would do away with the plan to issue revocable licenses to all people working in the media, saying it would instead be a "certificate" issued by media organizations. They would also drop three-year prison terms for those working without licenses, he said.
The provisions of the bill cast a wide net encompassing more than the traditional media. Social media purveyors, such as operators of Facebook pages with just tens of thousands of followers, would need to obtain certificates and reveal the identities and residences of their operators, as the definition of "mass media" under the draft bill covers online media as well.
The steering assembling has 30 days to amend the draft before it goes to the cabinet for approval and then the junta-appointed National Legislative Assembly for a vote.
Media organizations continue to voice strong opposition to the bill on Tuesday, saying they would boycott any such media council, were it ever established, because it was tantamount to state control of the press.
Related stories:
Thailand Press Freedom Falls Further Back, RSF Says
No State Role in Media Regulation, Experts Say
Junta Lawmakers Advance Plan to 'License' All Media