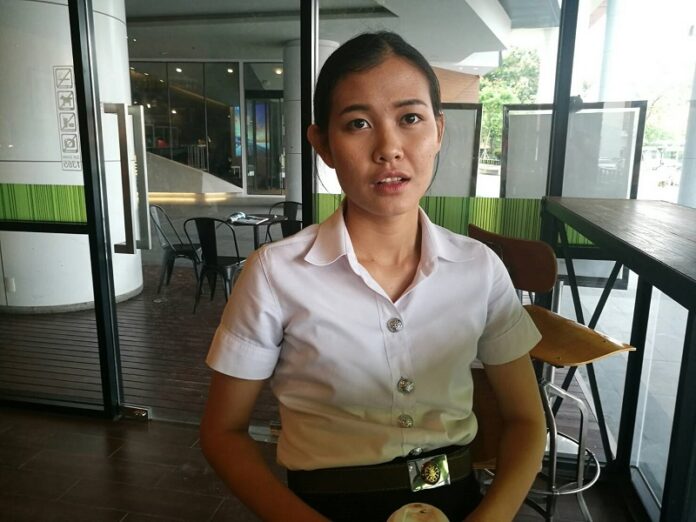 BANGKOK — When Kornkanok Khumta arrives to class, she often gets looks and giggles from her classmates.
It's not because she causes trouble to them or her lecturers but because, for the past two years, her extracurricular activities have included opposing the junta. At 24, the soon-to-be fourth-year political science student will play an even greater role this year when she takes a leadership position in the New Democracy Movement, the group best known for opposing military rule in Thailand.
"They giggle and look at me as a trouble maker," said Kornkanok.
Those classmates have something to do with the group's new focus as well.
"Their mentality is that of just staying still and be cowed," she said. "That's why we have to empower them first. If we lack support of the base, there won't be anything left. We have to link with ordinary people too."
All told, the New Democracy Movement, or NDM, is a network of 20 groups, most of which are student groups such as the one she represents at Thammasat University (PPDD for Democracy) or at Chulalongkorn University (CCP). But there are only about 100 members in all.
The new movement will be less personality driven, Kornkanok said. Less of the famous faces associated with it in the past. Coordinator Rangsiman Rome has left to form a new group called the Democracy Restoration Group, and its most visible partner, Sirawith "Ja New" Seritiwat, will still pitch in but won't lead the group to another major street protest anytime soon.
Kornkanok said the group will play down personalities and street confrontations with the junta and focus more on building a base of support. Kornkanok was even reluctant to give an interview, saying she was just one of the group's 20-member secretariat. She stressed that her views cannot be taken for the movement's resolutions.
A Newer Democracy Movement?
This will be a new NDM, the result of a March meeting to discuss its future. The new focus will be more on base-building and networking and less on confrontation. For nearly the past two years of the NDM's existence, Kornkanok said, many people have been charged, and their mounting legal cases – her's included – have become a burden to not just the individuals but the movement.
She readily admits NDM has accrued its share of negative reputation.
"The negative perception is that it's all Redshirts, troublemakers and people begging to be arrested," said Kornkanok, adding they gain nothing from having more members arrested and charged. "We should try new moves that are safer for the members and the network," she said. "We can't win by using small numbers of people, so we will expand our base and membership. We hope to connect many groups together."
By becoming less confrontational, Kornkanok hopes NDM will become more accommodating to those who found NDM to be too extreme, or "hardcore," as is said in Thai. This is because not all can take the kind of risk of arrest, detention and prosecution she and others have been taking.
"We reduce risk-taking works because we are not ready to shoulder these risks. We don't even have a clear funding structure."
This doesn't mean NDM won't do anything in two weeks on May 22 for the third anniversary of the 2014 coup. She said their plans will be announced via NDM's Facebook page just a few days before the event to keep the National Council for Peace and Order guessing. She insists NDM still maintains hope of ousting the military regime, despite many having given up that goal.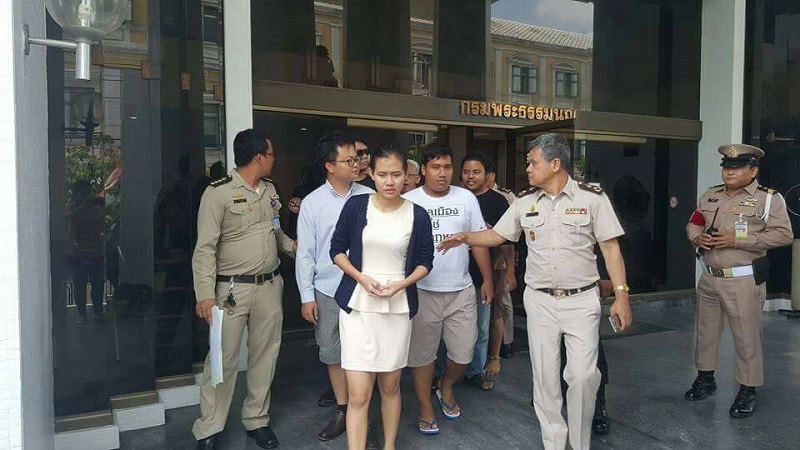 Birth of an Activist
Kornkanok was born to what she described as a "lower-middle class" family in Yasothon province who run an eatery. She was bright and got accepted into Thammasat after a year at Kasetsart University, but was unhappy with the lack of political activism then.
When the coup occurred, she was in Perth, Australia, on a four-month English language study trip. Despite disapproving of the military coup, she had no contacts that opposed it and thus did nothing. She recalled a Thai friend who took the opportunity to buy up stocks that were plunging in value due to the putsch.
She ended up joining the movement a year after the coup. Her parents were concerned, but they also believed someone had to do something.
"They know [about my activism], and they are concerned, but they also knew how vicious the junta is." An anti-coup protest at the Bangkok Arts and Culture Center in May 2015, on the first anniversary of military rule, was a turning point. Kornkanok was arrested with dozens of others.
Although she interrogated and forced to vow in writing she wouldn't engage in political activism, she said the effect was the opposite. That experience sucked her into political activism and a sense of comradery with other protesters, including Rangsiman, who became the most visible face of the student protest movement that day.
In December that year, she was arrested and briefly held at a Bangkok prison for joining a train trip to inspect the historic Rajabhakti Park. She was charged with violating the junta's ban on political assembly of more than four people and faces a possible six months in jail if found guilty.
She has been to the military court about half a dozen times since then. Kornkanok may be most widely known for posting a complaint on Facebook about being forced by a female guard to change all her clothes underneath a sarong in front of 500 other women inmates and being subjected to a cavity search.
This led to big news and debate and to a change in practice, with only inmates charged with drug-related crimes having to undergo cavity searches. Today, some female prisoners who have been freed express their gratitude toward her. She said she's unsure whether the demeaning practice has been quietly reintroduced.
"I am proud. But it was coincidental," she said, adding that her status as a middle class student of a prestigious university helps.
Kornkanok is earnest, and at one point spoke like a Marvel comic superhero about the NDM's future: "As long as there are problems we will keep our guard."
But she also suggested it need not be the center of the pro-democracy universe. She said many have contacted NDM via its Facebook page, which has over 950,000 likes, to ask how they can join or go about engaging in activism.
"If you want to change the country, don't wait for the NDM," she said. "Search for like-minded people and seek help to expand your views."