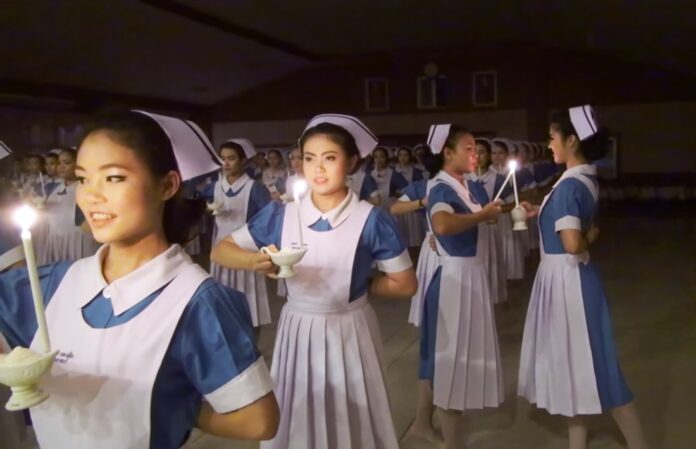 BANGKOK — A number of nurse associations expressed anger Thursday over the government's decision not to hire 10,000 new hospital workers as requested by public health officials.
Some nurses took to social media to air their frustration after the cabinet decided Tuesday to reject a Public Health Ministry proposal to fill nearly 11,000 vacant nurse positions at state hospitals, which have suffered from severe understaffing and overcrowding. The decision prompted the ministry to call an emergency meeting on the matter for Thursday.
"Nurses must unite to ask for sympathy from the government," reads a post by Nurse Team Thailand, a Facebook page that advocates for medical personnel.
The post urged its supporters to change their online profile pictures and use hashtag #SaveNurse to call for the nurse positions to be quickly filled. Some said they were disappointed because they have been working on temporary contracts on the expectation of full employment.
"They work hard and their pay is little. They simply hope that one day they will be employed as civil servants," the admin of Nurse Team Thailand wrote.
Members of the profession said they have suffered from a chronic labor shortage, which has been mitigated by forcing existing staff to work longer hours.
"When there's a staff shortage, we are forced to work overtime," wrote Padsachon Waitayaboon in a thread. "If we don't go, we get threatened with disciplinary action and report, even though we work till our legs are tired from Monday to Friday."
On Tuesday the cabinet was considering a raft of health policy proposals, one of which called for immediately hiring 10,992 nurses. In minutes from the meeting, the cabinet said the ministry should reshuffle personnel to fill the gaps rather than hire new ones or consider outsourcing critically needed positions.
The health ministry called for an emergency meeting on Thursday meeting, though no conclusion has been made public at this time.