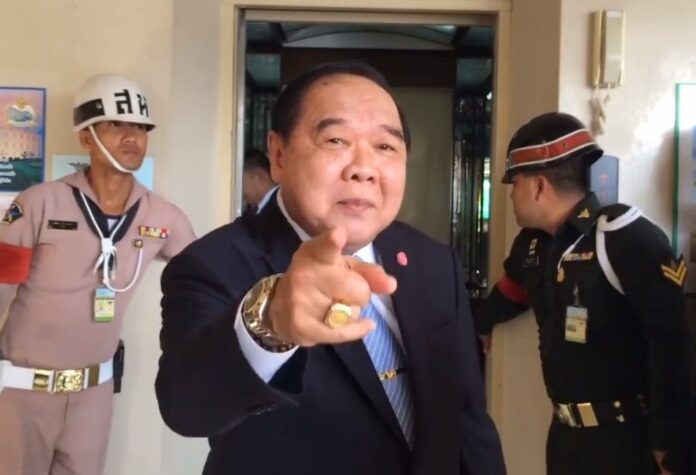 BANGKOK — The junta's second-in-command hasn't been seen in public for over a week now, and the government is mum on his whereabouts.
Questions about deputy junta chairman Prawit Wongsuwan grew sharper after the 71-year-old was nowhere to be seen in the aftermath of Monday's bomb attack on an army-owned hospital. Gen. Prawit, whose oversight includes national security, is a frequent fixture in the media and usually among the first to weigh in on such matters.
"Where is Prawit? Where is he, actually?" a columnist asked Tuesday in Thai Post newspaper.
Prawit himself did not explain his absence. On Wednesday afternoon, after this story was published, he returned a phone call by this reporter.
Asked where he'd been, Prawit laughed, said "It's nothing," and ended the call.
Prawit also sent a message to another reporter Wednesday afternoon saying he'd "recovered" and would be back to work Thursday at the Government House.
Pressed on the matter at his regular Tuesday news conference, junta chairman Prayuth Chan-ocha suggested his second-in-command was ill, but said it was nothing serious and turned things back onto his interlocutors.
"It's normal that he's unwell. Are you well every day? When you're 70, tell me if you're well every day," Gen. Prayuth said.
Gen. Prawit, who also serves as a deputy prime minister and defense minister, is a noticeable figure because he gives interviews to the media nearly every day on a variety of issues. His last public interview was May 16, when he talked about a pipe bomb that exploded in front of the National Theatre a day earlier.
Since then, instructions and comments attributed to Prawit have been communicated through his spokesmen and aides.
On social media rumors have swirled that he's been hospitalized for heart surgery, but no official will confirm it. Even the spokesmen of the very agencies Prawit oversees deny knowledge of his whereabouts.
"I don't know where he is," junta spokesman Winthai Suvaree said.
Defense spokesman Kongcheep Tantravanich likewise said he has no knowledge about Gen. Prawit, and went on to criticize speculation on the matter.
"We have seen groundless analyses based on the media's imagination about this," Maj Gen. Kongcheep said. "I believe society can see for itself the situation with media ethics."