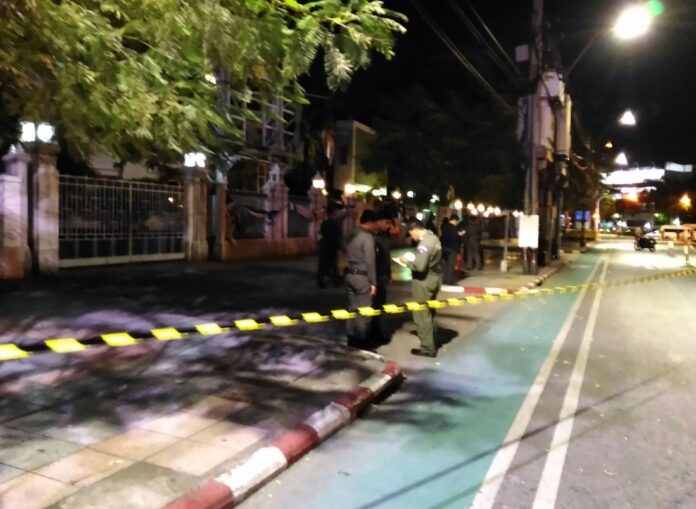 BANGKOK — A police source said Tuesday a timer device commonly used in pipe bombs was found at the site of last night's explosion that wounded two people in Bangkok's historic quarter.
The development undercut the shifting claims made by police brass that the incident, which took place at a particularly sensitive spot opposite a royal landmark where funerary rites for His Majesty the Late King Bhumibol are being prepare, was not a bomb attack.
A source within police bomb squad, who spoke on condition of anonymity, said the timer was missed in the first sweep of the crime scene and only spotted later "five or six meters away." The part is similar to those found in previous small explosive devices and is used to delay its detonation by some minutes, the source said.
After offering several different version of events, police went silent on the incident today but said they would investigate it.
"The incident is still under investigation," Bangkok police chief Gen. Sanit Mahatavorn told reporters briefly as he arrived at the metropolitan police headquarters.
It was a drastic shift in tone for Sanit, who last night visited the scene of the incident, which had been initially reported as a small explosion. Upon arriving, he insisted the explosion was not an explosion after all, but a "loud bang" caused by a plastic pipe breaking under pressure.
Two people suffered slight injuries from the explosion, which was heard at about 8:40pm in front of the National Theatre opposite Sanam Luang. A bomb squad was soon called to inspect the site. Sanit later said no gunpowder was found.
But the source in the EOD team said the perpetrators may have used flash powder, which quickly dissolve upon explosion, hence leaving no trace of gunpowder at the scene.
Reached for comment Tuesday, police spokesman Krissana Pattanacharoen referred all questions to deputy police commissioner Srivara Ransibrahmanakul, who has been placed in charge of the investigation.
Lt. Gen. Srivara is often tasked with issues related to national security and bomb attacks, such as a string of attacks which struck southern Thailand in August.
Srivara declined to speak to reporters other than to say it's too early to rule out any possibility.
"At this moment we cannot yet establish whether it was a bomb or accident," Srivara said Tuesday afternoon. "We have to wait for a clear inspection first."
He added that he has instructed Sanit to inspect footage from all CCTV cameras in the area.
Last night's incident came a month after a small explosive device went off in a garbage bin on nearby Ratchadamnoen Avenue, wounding two city cleaners. It also took place just a week before the third anniversary of the coup which brought the current junta to power.