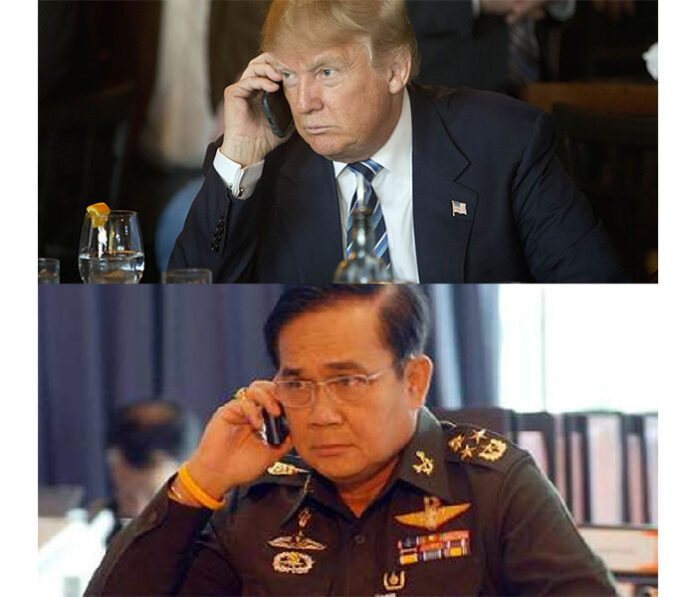 BANGKOK — Prime Minister Gen. Prayuth Chan-ocha will meet American President Donald Trump next month in Washington D.C., a government representative said Friday.
In a turnaround of often rocky Thai-U.S. relations over the past three years, Cabinet Secretary-General Teerapong Wongsiwavila said Friday that Prayuth would meet Trump in July at the White House. Teerapong did not provide specific dates.
The announcement comes after Trump made a phone call to Prayuth on April 30. A clear signal indicating a wind of change in the two countries' relations was made by U.S. Ambassador to Thailand Glyn T. Davies – himself critical of Prayuth until Trump was elected as President. On a Thursday interview for the Thai-language service of Voice of America, or VOA, Davies said reconciliation is more important than pinning down an election date.
"You know, the timing of the elections isn't so important. What's important, I think, is for the kingdom, as soon as possible, to get back to a situation where all Thais can participate in the future of the country and where Thailand can become more reconciled," Davies told VOA in Washington while attending a US-ASEAN Business Council meeting. Davies was in the United States to meet the new set of State Department officials under the Trump administration.
As of Saturday, there had been no official announcement by the White House.
Back in Thailand at the Government House, Prayuth on Friday ordered a letter be sent to his deputies to inform them the foreign and finance ministries had been instructed to prepare Thai-U.S. trade and investment information – including details and status of intellectual property – as a result of the Tuesday cabinet meeting. Prayuth also asked the letter to include information on copyrights and Thailand's status in the Special 301 Report to be used during the meeting and negotiation with Trump next month.
Thailand is among 16 nations targeted by the U.S. for alleged abuse of trade rules.
Some American diplomats in Thailand, who asked not to be named, have expressed concerns about the Thai military government's purchase of Chinese submarines. They added that Trump would likely visit Bangkok sometime in November.
"Well, it means that we could continue to evolve the relationship, to grow the relationship, to deepen it, for the benefit of both the people of Thailand, the United States. And I'm very excited about it," Davies said to VOA when asked about the significance of the meeting in Washington.