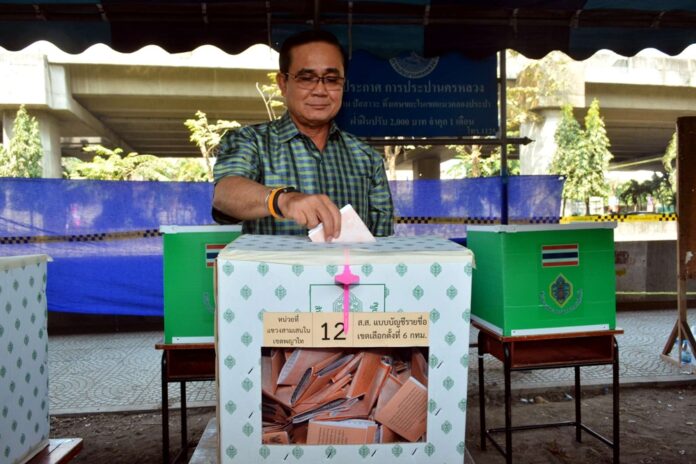 BANGKOK — Next time Thailand prepares to elect new leaders, it may do so through a system never used in its 85 years of democracy: primary elections.
Central party officials voiced skepticism Monday about a system intended to give the public more say in politics after a majority of the junta's rubber stamp parliament approved introducing such a voting system into law when they last met.
According to the proposal, dues-paying party members in each constituency would vote for their own candidates to stand in elections, and the central party committees would have to respect those choices.
The idea was proposed by Gen. Somjet Boonthanom, a former senator known as a hardline conservative and junta supporter. Somjet was appointed in March to head a subcommittee writing the laws that will regulate political parties.
The interim parliament endorsed the idea 180-0 on Friday after a two-hour debate.
If approved, the primary voting amendment would be among a series of changes to the existing election system under oversight of the military regime that took power three years ago with the stated aim of "reforming the country."
By this week, however, some politicians and even one senior junta official had voiced skepticism about the idea. Former Democrat MP Nipit Intrasombat said primary elections would only expose the nominating process to local nepotism and interest groups.
"Suppose someone doesn't want to run but he sends his wife or his children instead," said Nipit, who has been winning elections in Phatthalung province since 1992. "Who will the local party branch choose? … let me tell you, if we have a primary, nepotism will fully enter our system. It will parade right into our system."
The idea's most vocal supporter, a former Democrat Party MP later appointed to the junta's reform council, has been touting the system as a means to decentralize party politics and empower voters.
"If we keep using old solutions to old problems, the problems will never go away," Alongkorn Ponlaboot said, adding that the political party system has in over 70 years been unable to shed the taint of money, nepotism and interference by the elite.
Nipit warned that primaries would weaken political parties even further. The new charter drafted under the regime's oversight has already been criticized for strengthening the military's hand at the expense of elected leaders and making possible an unelected appointee to become prime minister.
"They never managed political parties, so they don't know how complicated the issue is," Nipit said.
Under the amended bill, all registered party members could vote to select their party's candidate to represent their constituencies.
One former MP from Nipit's rival party sat more squarely on the fence. Weng Tojirakarn, who represented the Pheu Thai Party in parliament prior to the 2014 coup, said he believes primaries would bring some benefits, such as empowering local voters to choose their own representatives.
"The people in a constituency know better than anyone else which person fits to represent them as an MP," Weng, a Redshirt activist, said by phone.
But he also had reservations. For instance, he said, it could pit factions and candidates in a political party against each other.
"Opinions will be different from those of the central committees, which can easily lead to conflict," he said, adding that it's also unclear how primary voting would work with selecting party-list candidates.
'It Won't Be Smooth'
Another to voice skepticism wasn't a career politician but one of the new constitution's authors, whose commission will be asked to approve or reject the supporting laws being approved by the interim parliament.
Meechai Ruchuphan, a junta appointee to the Constitution Drafting Committee, told reporters yesterday he's afraid the system will conflict with other laws related to the election. For example, if the house is dissolved, he said the constitutional mandate for a new poll within 45 days was not enough time for primaries to be held for voters to select candidates.
Because of his reservation, the interim parliament and Meechai's commission may have to convene in a joint committee to resolve the contentious issue, as required by the charter. If that happens, Meechai said he will raise his disagreements.
"A primary system will cause problems that affect the next election. It won't be smooth," Meechai said.
Alongkorn, the former Democrat who supports the idea, maintains that though Thailand has not embraced primaries in eight decades of parliamentary democracy, a new system is needed.
He said primaries have proven successful in the United States, and an experimental primary he once staged in Ayutthaya province four years ago was a success, with younger people participating and increased political engagement.
"We want democracy in Thailand to be truly participatory," Alongkorn said. "In the past, all we have had is just one-minute democracy."
Although Nipit, the former Democrat MP, said adding primary voting would see the election delayed even further, Alongkorn said that wouldn't be the case.
"The roadmap will still be the same," he said.
According to the timeframe established by the new constitution, elections should take place by late 2018. Deputy junta Prawit Wongsuwan said Tuesday that the timeframe still stands.