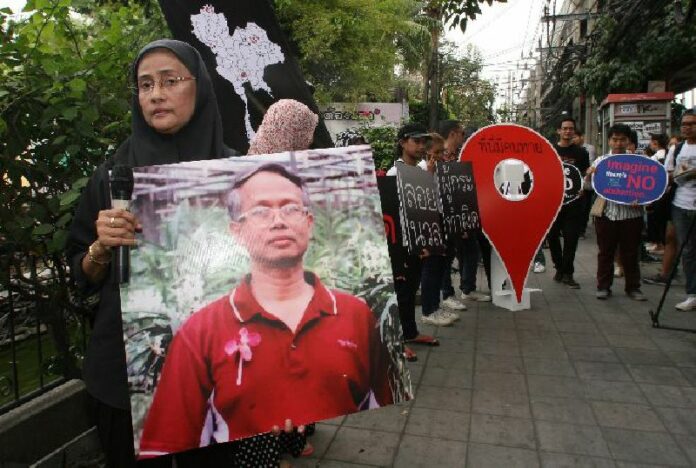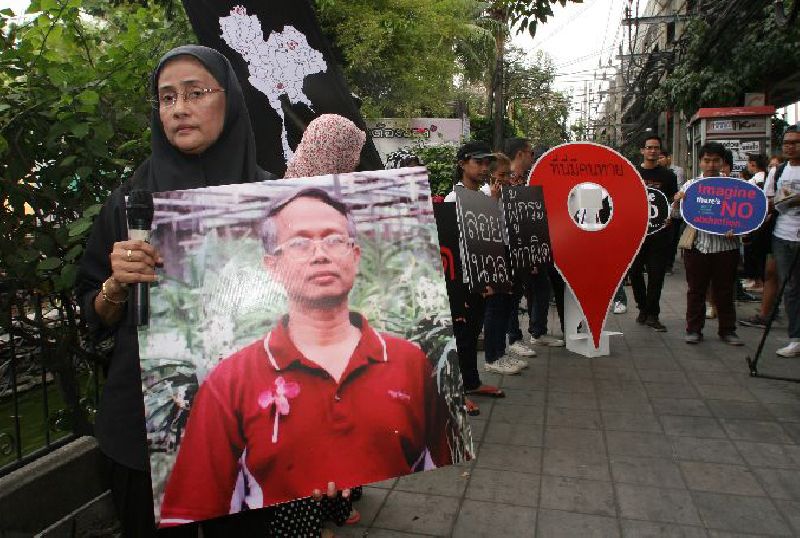 BANGKOK — As Thailand has delayed passage of legislation to criminalize torture and enforced disappearances, a committee created by the junta leader to investigate the matter met for the first time Monday.
The committee, chaired by Justice Minister Suwaphan Tanyuvardhana, was set up under Gen. Prayuth Chan-ocha's capacity as prime minister on May 23. At its first meeting, the 15-member committee resolved to create three subcommittees tasked with examining allegations of torture and enforced disappearance, means of prevention, and the rehabilitation and compensation of victims.
"I don't think the Thai government can shirk [on its international obligations]. Because it's a commitment made to the international community," said Pitikarn Sitthidej, director general of the Rights and Liberties Protection Department and a default member of the committee.
But Critics are largely skeptical as to what the new body can accomplish, particularly under military rule, where secret detentions remain in routine practice and no legal definition of torture exists.
"This initiative can't be taken seriously. Without a law recognizing these crimes, the new committee can do little beyond providing compensation for victims and their families. Abusive officials will remain untouchable and could carry on the brutal practices without fear of punishment," said Human Right's Watch senior researcher Sunai Phasuk on Tuesday in reaction to the new committee. "Gen. Prayuth is talking with both sides of his mouth. While giving pledges to end torture and enforced disappearance, his regime has routinely put people in secret incommunicado detention and interrogated them without safeguards against abuse."
But Pitikarn, who will head the subcommittee on rehabilitation and compensation, was upbeat when interviewed Monday.
"Although there's no law criminalizing torture as of yet, there exist laws stating that severely causing injuries to someone is illegal. It's just that there has been no definition on what constitutes as torture," Pitikarn said.
A subcommittee, she said, will pursue and examine complaints as if the yet-unpassed law was already in effect.
10 Years of Waiting
On Monday, just as the new committee met for the first time, two international rights groups issued a statement urging the Thai government not to further delay the enactment of laws against torture and enforced disappearances.
Marking the 30th anniversary of the UN Convention against Torture and Other Cruel, Inhuman or Degrading Treatment or Punishment; Amnesty International and the International Commission of Jurists urged the Thai government on Monday "to ensure no further delay in implementing these undertakings." It noted that October 2017 will mark the passage of 10 years since Thailand pledged to respect and protect the rights of all people to be free from torture and other ill-treatment by ratifying the convention against torture.
"Torture is impermissible in all circumstances, including during public emergencies or in the context of threats to public security," the joint statement said. The two organizations also urged Thailand to ratify the Optional Protocol to the Convention against Torture which would establish a national preventive mechanism, including "an independent expert body authorised to visit places of detention, including by carrying out unannounced visits – as well as to allow such visits by an international expert body."
Both organizations argued that such independent scrutiny is critical in the prevention of torture and other ill-treatment. What's more, they urged Thailand to allow the inspection of detention centers in line with the UN Standard Minimum Rules for the Treatment of Prisoners, also known as the Nelson Mandela Rules.
"The Thai government has yet to ensure in law, policy and practice that individuals are not held in conditions that increase the risk of torture," the joint statement read. "In particularly, laws and executive orders allowing individuals to be held by the military personnel in unofficial places of detention, without judicial authorization or access to lawyers, family members or medical personnel for up to a week, create conditions that facilitate torture and other ill-treatment."
The organizations said this would require the National Council for Peace and Order, as the junta calls itself, to repeal Order No. 3/2015 which was enacted by the junta leader along with existing emergency laws. It also called for a credible report on torture to be written and made public.
Pitikarn said there's no telling when the anti-torture bill – currently back at the Justice Ministry for revision – would be considered by the junta-appointed National Legislative Assembly, or if it would be enacted prior to the promised elections vaguely slated for 2018. She said the revision is required under Article 77 of the new constitution enacted in April.
Pitikarn added that while the law may not exist as yet, but that "the intent" of the government was reflected in the creation of the committee.
"There is no existing idea that supports torture because it's a crime against humanity. It's bad for the image [of Thailand]," she stressed.
Rights Groups Unimpressed
To, Pornpen Khongkachonkiet chairwoman of Amnesty International Thailand and director of Cross Cultural Foundation – a rights group working on rights issues in the deep south – the setting up of the committee cannot make up for the lack of anti-torture laws. She said setting up the committee is a mere tactic to buy time.
"It's just there to buy time. The prime minister must have been briefed that the international community is keen [on the issue], so he set up the committee, which is only created under his order. Whether it works or not, there's only half a political will present."
Pornpenh said there exist 150 alleged torture cases compiled since 2012 in the three southern-most provinces alone waiting to be resolved. However, the committee used different stats. The committee's chair and Justice Minister Suphawan on Monday cited UN figures which stated that 82 people have been tortured or forcibly made to disappear in Thailand.
On Tuesday, Kingsley Abbott, a Bangkok-based senior international legal advisor for the commission of jurists, tried to drop a compliment before piling the skepticism.
"While Thailand should be commended for any steps it takes, in good faith, to address torture and enforced disappearance, it is concerning that the committee was established shortly after the National Legislative Assembly returned the draft Prevention and Suppression of Torture and Enforced Disappearance Act to the Cabinet for more consultation, effectively prolonging the passage indefinitely," Abbott said, adding that the establishment of the committee could not be used to supplant a law complying with the country's international human rights obligations.
He said the criminalization of torture and other forms of ill-treatment were among such obligations along with the "provision of other safeguards against these acts, conducting independent, impartial and effective investigations to bring perpetrators to justice and providing remedies and reparations to victims."
The list of critics seems endless. Ekapan Pinthavanit, director of Mahidol University's Institute of Human Rights and Peace Studies, questioned the authority, legitimacy and longevity of the committee. He said that if there exists a law, criminalization of torture would be legally binding to all state organs while this could not be possible with a committee but without a legislation.
Even the wife of a famous Muslim rights lawyer who went missing – whose case the new committee vowed to tackle, wasn't convinced.
"You may set up a committee, but without the law [criminalizing torture] you can't do anything. There's no legal definition in the Penal Code," explained Angkhana Neelapajit, a National Human Rights Commissioner in charge of civil and political rights and whose husband – rights lawyer Somchai Neelapajit – went missing in 2004 during the Thaksin Shinawatra administration.
Somchai represented some Muslim defendants in cases of terrorism. He was last seen 13 years ago on March 2 in Ramkhamhaeng area in Bangkok, close to a police station, where eyewitnesses saw four men drag him from his car.
Angkhana said without the law criminalizing torture and enforced disappearance, she – as Somchai's wife – could not even take legal action. The Department of Special Investigation declared the case closed after a decade last year in 2016. The new committee vowed to investigate it.
Angkhana said she doubts the committee's authority, adding that the best it can do is to provide monetary compensation to victims and some rehabilitation.
Committee There to Fill the Legal Gap
Narong Jaiharn, a law professor at Thammasat University who specializes in criminal law and  who is also a member of the committee and chair of its subcommittee on prevention, insisted the organ was there to fill the gap while it waited for the law to be enacted.
Narong said alleged victims of torture or relatives of those suspected to have forcibly disappeared, can petition the committee, who will coordinate with related agencies. Narong added the committee would meet once every two months and that it was considering setting up a system to accept complaints upcountry so that affected people were not required to travel to Bangkok.
"We may also inspect prisons and places of temporary detention," he said.
Narong stressed that the committee would also examine detention facilities and determine the attitude of security officials – both commanders and subordinates – when it came to torture and enforced disappearances.
"Enforced disappearance is something that shouldn't occur or should be forbidden… Fostering such consciousness will be the next step," he said.
Asked if the committee would inspect Bangkok's infamous 11th Army Circle – used since the coup to detain opponents of the military regime for up to seven-day without charge – Narong said it wasn't sure yet.