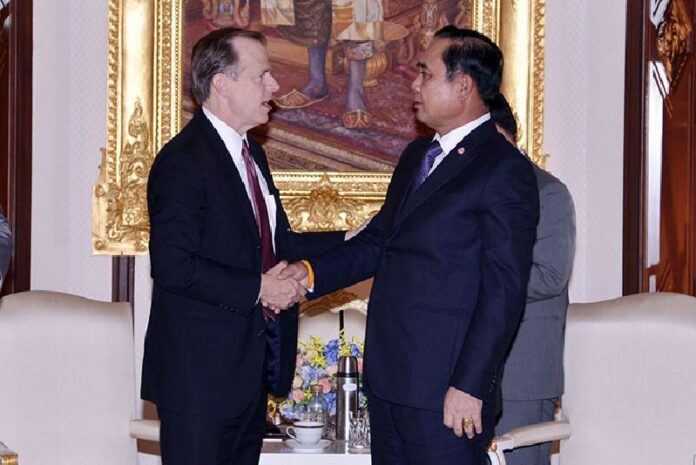 BANGKOK — It may be an invitation coveted by many Thais, but pro-democracy student leader Netiwit Chotiphatphaisal publicly turned down an invitation by US Ambassador Glyn Davies to attend this year's Fourth of July reception.
Netiwit, a 20-year-old Chulalongkorn University sophomore and arguably the most famous anti-junta student activist of his generation, said Wednesday that he wanted to send a message to the United States about the Trump administration's cozy relationship with "dictator" Gen. Prayuth Chan-ocha, who staged the 2014 coup and installed himself as prime minister.
"I must speak out so they will understand how the democratic side [in Thailand] feels," Netiwit said.
Netiwit, who's president of his university's student council and a second-year political science major, said he had informed a US embassy staff member that he was rejecting the invitation through a Line message. Netiwit then posted on Tuesday evening a dressing-down in Thai on his Facebook page, along with a photo of the invitation. The reception to which he was invited – the first Netiwit had be invited to attend by the embassy – is slated for Thursday evening.
In his Facebook post, Netiwit criticized Trump's decision to invite Prayuth to the White House as contradictory to the American stance on democracy.
"Is this not contradictory if the US truly cares for human rights and democracy?" Netiwit wrote, adding that Prayuth is responsible for various human rights violations, including the detention of people who disagree with his regime. He also said Prayuth has destroyed the rule of law, and curbed freedom of expression.
"Why did the United States, under the current president, take no stance in criticizing these things and not warn the junta, which is trampling upon the Thai people? The people of the United States should very well know how important rights and liberties are to them, and that it's crucial for the development of its nation and citizens as expressed in the slogan of 'Give me liberty or death,'" Netiwit wrote.
The post on his Facebook account "Netiwit Ntw," which is followed by more than 92,000 people, was shared more than 1,100 times and attracted more than 500 comments and 7,200 likes as of Wednesday morning.
"Very well written," Facebook user Thanongsak Rataanasukon wrote in reply. "The declination was reasonable and smooth. The logic is solid."
"Diplomacy is diplomacy. America is America. They are hypocrites," Facebook user Kritsanapol Sriburapa wrote.
The move comes at a time when deputy junta leader Gen. Prawit Wongsuwan – instructed the military chief on Monday to draw a list of arms for possible purchase from the United States while Prayuth visits Washington, a trip originally scheduled for next month.
Prayuth last visited the states in February 2016 by invitation of the Obama administration for an ASEAN-U.S. Special Leaders' Summit in Rancho Mirage, California.
Netiwit nonetheless thanked the US ambassador for having expressed pro-democracy sentiments in the past and for the invitation.
Messages to Davies' Twitter account @GlynTDavies went unanswered as of Wednesday morning. Embassy spokesman Melissa Sweeney said she "hasn't seen that" post. Sweeney later said that "the United States strongly supports freedom of expression and respects the rights of all individuals to express their opinions," adding that Prayuth's visit to the states was "an important opportunity" for him and Trump to "discuss the broad scope [their] partnership."
Asked how the embassy staff member reacted to his message, Netiwit said "the male staffer said it was okay, that these kinds of things happen every year when both sides [of the political divide] are invited."