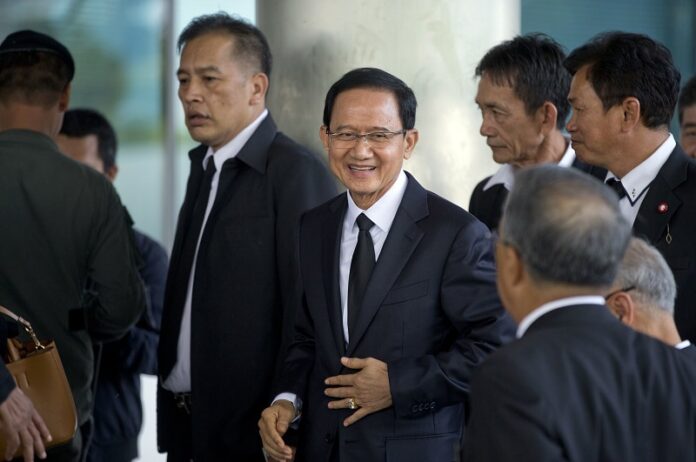 BANGKOK — Two former prime ministers arrived in court in Bangkok on Tuesday to hear verdicts in their trial arising from the quelling of an anti-government protest in 2008.
Somchai Wongsawat and his then-deputy Chavalit Yongchaiyudh have both denied the charges of abuse of power.
The charges allege they authorized police to use force to clear protesters who had blockaded the National Assembly building. A pitched battle erupted, injuring several hundred people and causing two deaths. Some of the most serious wounds were caused by tear gas canisters that exploded as they landed.
Read: Fates of 2 Former PMs Hinge on August Verdicts
A man who lost his leg in the crackdown held up his prosthetic limb outside the court building and blamed the men on trial. Tee Saetaw, 73, said the order to use force had to come from Somchai and Chavalit. "If the prime minister hadn't ordered it, they wouldn't have shot at us," Tee said. "The order had to come from the prime minister and the deputy prime minister. At that time it was Chavalit."
Somchai is the brother-in-law of Thaksin Shinawatra, the popular prime minister deposed by a 2006 coup. His supporters see the various cri
minal cases against Thaksin, Somchai and others as attempts to erase his influence from Thai political life.
Thaksin's sister, former Prime Minister Yingluck Shinawatra, declared her innocence and asked for "kindness" from a court Tuesday in a separate trial that alleges she mishandled a rice subsidy program that was the centerpiece of her party's victory in the 2011 general election.
Her bank account has already been frozen after an administrative court held her responsible for some of the losses incurred in the subsidy program. The verdict in Yingluck's case is to be issued Aug. 25 and could see her sent to prison for 10 years if she is convicted.
Thaksin has been in self-imposed exile since 2008 to escape a prison sentence on a conflict of interest conviction.