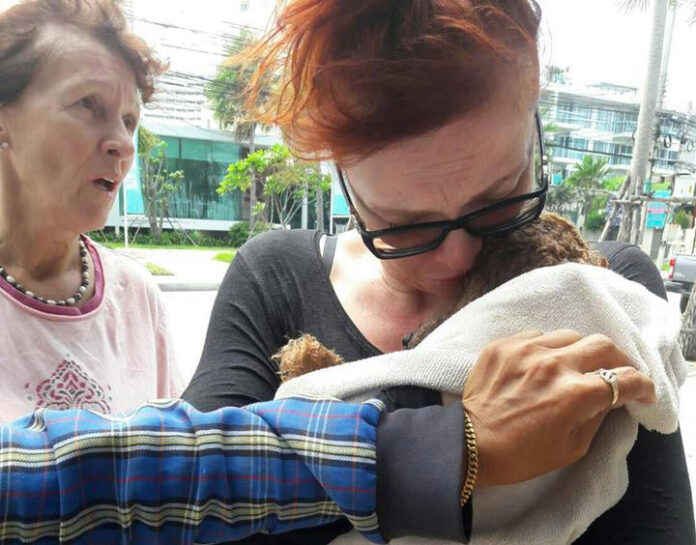 PATTAYA — Police said Wednesday they don't expect to find two women who allegedly drowned a dog at Jomtien Beach.
Two days after an animal rights group filed a complaint alleging animal cruelty by two unidentified women who appeared to kill the animal in a disturbing video clip, Lt. Col. Theerasak Sinsang of Pattaya city police said they would be found if they were still around.
"If they're still in Pattaya, we'll find them. If they went back home overseas, then it's gone way over our heads," Police Lt. Col. Theerasak Sinsang said.
Animal rights group Watchdog Thailand said it filed the police complaint in response to a clip posted Monday in which two women are seen walking to the waterline. One woman holds a small dog wrapped in a blanket in her arms and heads into the water. She dunks the dog into the water twice until witnesses said the dog died.
"How can someone just decide for the dog that they should die? The law is there for the rights of the animal," said someone identifying themselves as a legal advisor from Watchdog Thailand who refused to give her name. "Even if it was a mercy killing, you cannot just shoot or drown the animal, it has to be administered by a veterinarian."
But Theerasak said police didn't have much to go on.
"The witness didn't follow the women or observe where they went," he said. "All the CCTVs in the area are broken as well."
According to the Prevention of Animal Cruelty and Provision of Animal Welfare Act of 2014, maliciously killing an animal is a crime punishable by up to two years in jail and a 40,000 baht fine.
Pattaya city police said they are looking for the women, but Watchdog Thailand believes the prospects of locating them are slim.
"The drowning happened with only a few witnesses, like a beach rental lady. She already gave her testimony. The foreigners probably already went home, and we don't have much to go on," said the unnamed Watchdog legal adviser. "Still, we have to try, even if they thought it was a mercy killing. They did look like they loved the dog, from the way they hugged it."
Internet commentators were less kind. Some speculated without evidence that the dog was drowned because the women didn't want to bring the dog back home with them.
"You're foreigners, so you really must know that putting animals to sleep can only be done by vets, and that the animal has to be really sick, and the owner has to consent as well. Let's see how you explain yourself out of this one!" Facebook user Russie Jankasem wrote.