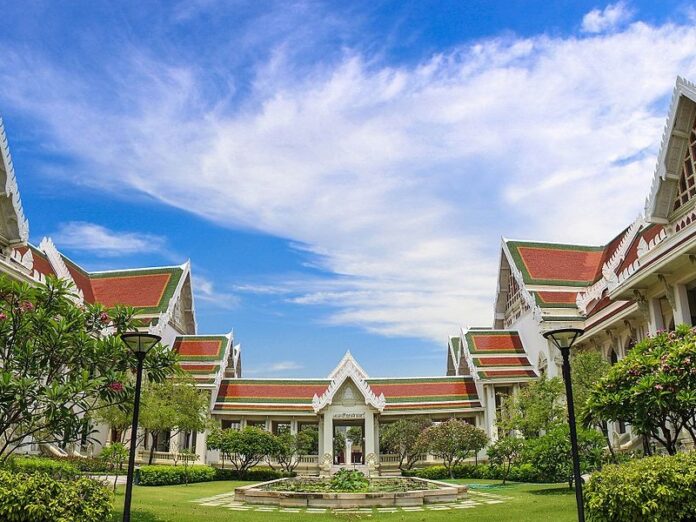 BANGKOK — Academics are alarmed by a recent order from junta leader Gen. Prayuth Chan-ocha to pave way for outsiders to become administrators at state state universities.
The order, issued under Prayuth's self-granted absolute power, was described as necessary to move stalled appointment of university executives forward. Critics said it opens the door to militarizing higher education as generals or proxies could be appointed to top positions like they were in the early 1960s.
"There are past lessons and this makes us recognize [the possibilities]," said Anusorn Unno, a Thammasat University dean and coordinator of the 400-member Thai Academic Network for Civil Rights. "This order will enable interference to appear more lawful."
Anusorn and others cite the days when one-time dictators Field Marshal Prapas Charusathian and Thanom Kittikachorn were appointed presidents of Chulalongkorn and Thammasat universities, respectively.
A junta spokesman said such fears are groundless, however.
Even more, Col. Winthai Suvaree said such views were distorted because any selection process would still be done under each university's governing regulations.
"This is likely a distortion. The selection process is a matter of the university, and no outsider will get involved," Winthai said, adding that the order merely enables problematic posts to be filled at some universities due to complaints lodged by some lecturers.
Winthai said the order was the result of a proposal made by the Education Ministry and not initiated by the junta, formally known as the National Council for Peace and Order. Asked about the fear of seeing generals head top universities as Prapas and Thanom did in the '60s, Winthai said the problem lies with the attitudes of academics.
"It's their attitude," said Winthai, who said that any scholar opposing the measure should study it in greater detail.
Told what Winthai said, Anusorn wasn't convinced. He said that even prior to the order being passed, the military government has curbed anti-junta sentiments and activities on campus by banning symposiums and using administrators to keep check of active lecturers and students.
The dean and 300 of his peers from many universities issued a statement Friday opposed to what they perceive as military interference into academia.
History Lesson
For almost four years between 1960 and 1963, Thanom, then an army general, deputy junta leader and deputy prime minister, served as rector of Thammasat, the more politically progressive counterpart to historically conservative Chulalongkorn University.
It was a move meant to rein in democratic, socialist and communist sentiments among student activists, wrote historian Thamrongsak Petchlert-anan in an undated online university journal chronicling Thanom's time as rector. Thamrongsak noted that this took place despite Thanom having no prior link, academic or otherwise, to Thammasat.
By 1958, Thamrongsak wrote, Thailand came under a period of full-fledged military dictatorship, "so the control of political activities by students in the two institutions would be very important."
"In summary, Field Marshal Thanom Kittikachorn was appointed as rector of Thammasat due to the political desire to rein in students," Thamrongsak said. Thanom only resigned from his rectorship when dictator Field Marshal Sarit Thanarat died and he succeeded him as prime minister in December 1963.
In a June 1961 speech commemorating the school's founding, Thanom urged all students to oppose communism.
"May all students be united and not allow communists to infiltrate our university. Our world is facing a communist crisis that interferes and corrodes, and creates disturbances to expand its aggression in all directions and is threatening our nation."
Under his leadership, Thanom also initiated the expulsion of a student, Paitoon Theppreecha, because he visited communist countries including China and Laos.
Eighty-four-year-old social critic Sulak Sivaraksa remembers the time when dictators presided over Thailand's two top universities.
"The more such opportunities exist, the more chance we will return to the Stone Age. Dictators are creeping inside universities," Sulak said.
Sulak recalled a time when lecturers and students at both Thammasat and Chulalongkorn dared not disobey the generals heading their institutions.
Soraj Hongladarom, professor of philosophy at Chulalongkorn University thinks his school may be able to fend off any attempted intervention, but that may not be the case upcountry.
"We must be careful, however," said Soraj, a critic of military rule.
Presence Already Felt
At Ubon Ratchathani University, a political scientist acknowledged the need to sort out appointment problems at some universities but said it was wrong to rely on Prayuth's absolute power clause to do so.
Titipol Pakdeewanich, dean of political science, said he understands there are problems at some state schools with filling key positions due to alleged conflict of interests and nominations of unqualified candidates. He said that using Article 44 would open room for possible infiltration by military personnel who could be handed administrative posts.
The political scientist thinks top universities such as Chulalongkorn and Thammasat are likely more immune to such interference. But in the northeast, where his university is located in a stronghold of anti-junta sentiment, the temptation to rein in student activism is higher.
"We must be careful," the dean said.
Even before the coup, military brass at the provincial level were appointed to some local university councils, according to an assistant professor at Kalasin University, another state-owned institution in the northeast.
Kathanyoo Kaewhanam said many provinces which have military bases in the region have senior-ranking soldiers appointed to university councils. Kathanyoo pointed out three as examples: Srisaket Rajabhat University, Nakhon Ratchasima Rajabhat University and Nakhon Panom University.
"Even without a military officer at the helm, it's already like having one," Kathanyoo said. "This is because before various important days in politics, they call and ask what kind of activities are being organized. If Article 44 is used, who will we get as university head? It would be the so-called good people or people who linked to the military."