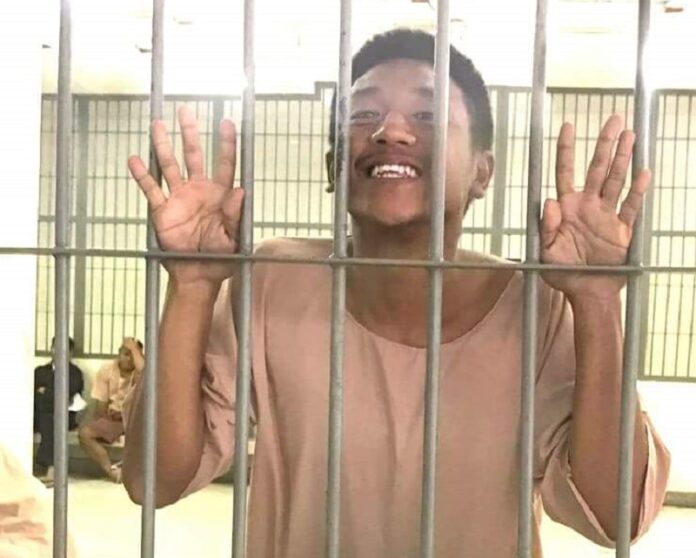 KHON KAEN — A provincial court on Tuesday sentenced a well-known anti-junta activist to two and a half years in prison after he confessed to less majeste charges brought against him for sharing a controversial biography of King Vajiralongkorn on social media.
The Khon Kaen Provincial Courts sentenced Jatupat Boonpattaraksa, 26, or "Pai Dao Din," to a two-and-a-half-year prison term for sharing the biography produced by BBC Thai on his Facebook account in October 2016. The sentence was reduced from five years, for confessing to the charges.
Jatupat was first arrested Dec. 3 and indicted in February. Jatupat has been in prison ever since, being denied bail on nine separate occasions.
Political activist Noppakow Kongsuwan, who was present at the court, said Jatupat looked calm before the sentence was delivered. Only the defendant, his parents and his lawyers were allowed to remain inside the courtroom while the verdict was being read.
The decision to confess was made abruptly by Jatupat and his parents earlier today and lawyers were not involved in the decision, said lawyer Pavinee Chumsri, a member of Thai Lawyers for Human Rights.
The mood on Facebook was one of sympathy toward Jatupat's decision to confess.
"Hat off to Pai Doo Din who shared the problematic article from BBC Thai and dared to admit that he did it," wrote on Facebook Thanapol Eawsakul, founder of Same Sky Books, a left-wing alternative magazine.
"I wanted to thank my friend for having made such a decision. As for the law, be it its principle and legal details, there's no other way to fight in order to attain quick freedom…," wrote anti-junta activist Piyarat Chongthep on Facebook Tuesday.
But not all were satisfied.
Prin Jindasantisakul, a self-employed Chiang Mai native who lives in Nijmegen, the Netherlands, posted on Facebook asking why Jatupat had to confess when he did nothing wrong.
Nuttaa Mahattana said she was disappointed by the length of the sentence, adding that she had expected it to be lower given his confession. Nutta also said the struggle to end lese majeste convictions continued.
Jatupat is a prominent anti-junta activist who had staged public protests against the National Council for Peace and Order, or NCPO, a few times before his arrest.
To date, he is the only one of 2,600 people who shared the biography to have been prosecuted.
The trial has been held in secret with the press barred from observing courtroom proceedings, unlike other previous lese majeste cases. Jatupat – who won South Korea's Gwangju Human Rights Award in April – became only the second Thai honoree after Angkhana Neelapaijit to receive the award, but was denied bail and could not attend the ceremony.
Jatupat's family said they were initially told the sentence would be much lower, according to Isaan Record.