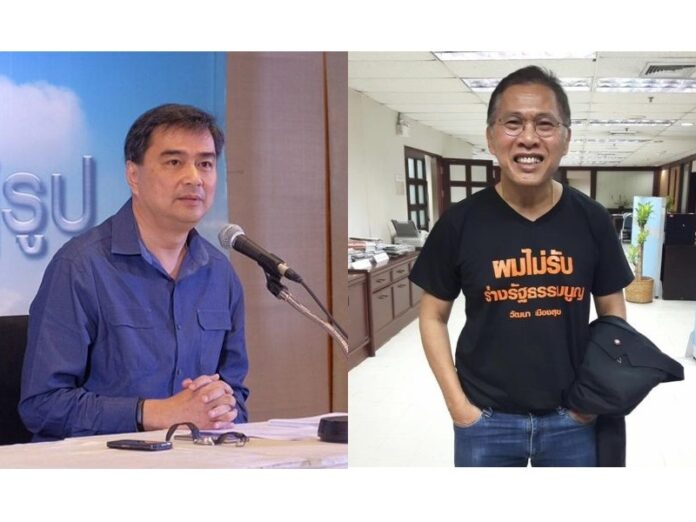 BANGKOK — Pheu Thai heavyweight Watana Muangsook called out the rival Democrat Party on Thursday, saying it should go ahead and forge a political alliance with junta leader Gen. Prayuth Chan-ocha.
Sensing an opening after Democrat Party leader Abhisit Vejjajiva indicated his party was willing to work with Prayuth, Watana took to Facebook today to say the Democrats shared the same political stance with those who organized street protests to force out the elected government and the junta which replaced it.
"Just do it. Don't be shy… However, this is a stance that's opposed to the democratic path," Watana wrote. "As for myself, I say no to the [junta], as well as all types of underlings to dictators, without having to consider how they work."
Read: Does Prayuth's New Facebook Herald a Kinder, More Electable Strongman?
As Watana, a former MP and Minister of Social Development and Human Security, singled out the one-time dominant political party that has been unable to win at the ballot box since the Thaksin era began, Abhisit said his Wednesday comments that his party could support Prayuth after elections if they shared "compatible" policies, were taken out of context.
Reached for a response, Abhisit said the comments were in response to questions by a foreign correspondent, and it's too early to say at present. The former premier said he will have to wait and see if the policies of other parties are in line with the Democrat Party. He said several of his party's principles are not in line with those of Prayuth's military regime, some of which Abhisit said he doesn't support.
He did not elaborate on which policies he differs from, saying he was in meetings and indisposed.
Watana, in his post which painted the Democrats, the People's Committee for Absolute Democracy with King as Head of State and the National Council for Peace and Order as birds of a feather, said he would push for the abolition of laws restricting people's rights and liberties, such as the Computer Crime Act and compulsory military conscription.
"Those who love the democratic path and reject dictatorship can then choose the Pheu Thai Party," he said.
No date has been set for elections and political activity remains banned under the junta which seized power in 2014 after ousting the remnants of the Pheu Thai-led government of Yingluck Shinawatra.