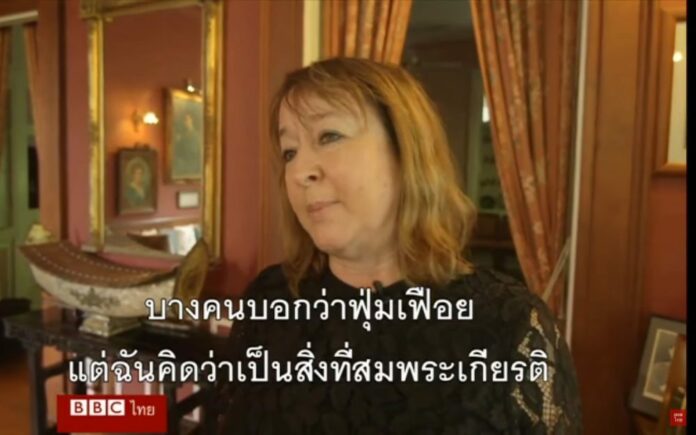 BANGKOK — A small number of protesters gathered Thursday in front of the British Embassy in Bangkok to demand a BBC regional correspondent be removed from Thailand following a recent report relating to King Bhumibol.
The demand to remove Jonathan Head came in response to an Oct. 27 news segment in which he quizzed royal descendant Narisa Chakrabongse. During the interview, Head asked about the affection Thai people felt for the late king, who had been cremated the day before in a spectacular rite.
"We see this really emotional connection between him and ordinary people – genuine personal affection, there is that kind of bond. Yet in a country where royalist propaganda is so prevalent, and you have so many restrictions on what you can say about the royal family, people outside are bound to ask: Is it genuine, this love?"
Although the Narisa replied in the affirmative, the question enraged hard-line royalists on social media, leading to yesterday's protest.
Read: Thailand's 'King of Kings' Laid to Rest in Ancient Ritual
Calling themselves "Young Thai Blood," four people staged a rally in front of the embassy and urged the British government to expel Head from Thailand, according to a copy of the letter they delivered.
"[Head] has shown no respect, courtesy nor consciousness toward our culture at any stages [sic] by questioning the love to our late King Rama IX throughout his public broadcast," the English-language statement said. "Giving to his action, he has proven to be a bias and unprofessional, field reporter who lacks in conduct or ethics. [sic]"
The group is said to be led by Petchmongkol Wassuwan, an activist who's campaigned on education reform and community rights. Petchmongkol did not reply to messages seeking comment.
Head, BBC's Southeast Asian correspondent who's worked from Thailand for the better part of two decades, declined to comment for this story.
The BBC interview was published as part of its coverage on the royal cremation of King Bhumibol, an elaborate ritual that took a year of preparations. Narisa is a great-granddaughter of King Rama V, who in turn was the grandfather of King Rama IX.
Narisa, who went on to acknowledge her own criticism of the lese majeste law, said she believed the affection was sincere.
"I think it is genuine," Narisa replied in English. "I mean, for example, I've been brought up in Britain and in Thailand, so I'm quite interested in democracy and equality and all that sort of thing, but I feel it, just as much as anyone else. I was surprised how upset I felt when he died, and going on the streets and seeing people."
She added, "So yeah, I think it's very genuine."
Despite the benign response, a number of royalists saw the question as an attack on the monarchy. Those critical of the interview included deputy education minister Panadda Diskul, who took to Facebook to denounce the BBC.
"It's a question that lacks basic knowledge about history, culture, tradition and ethics," Panadda wrote. "To sum it up: He does not know Thai people and Thailand's important institutions."
Head, a longtime resident of Thailand, covers a wide range of regional topics for the BBC which has included Thai politics, the monarchy and lese majeste law.
Head and other foreign correspondents based in the kingdom are often subjected to witch-hunting and backlashes from hardline conservatives incensed by critical or questioning coverage of the monarchy.
Correction: The headline and portions of this story have been changed to reflect that the four protesters in fact asked the British government to expel Head, not shut down the BBC in Thailand. We regret the error.
Related stories:
Govt Deplores Foreign Media Coverage, BBC Coverage Blocked